DALLAS WORLD AQUARIUM SAVES AMAZONIA MANATEES

A team of veterinarians, biologists, and conservationists from The Dallas World Aquarium's manatee project reached a milestone recently with the release of five rehabilitated Amazonian manatees into their natural environment.
The release occurred near Iquitos, Peru, and is part of an international nine-year effort to keep one of the Amazon's most unique aquatic mammals from becoming extinct, the aquarium said in a release.
Five more manatees are scheduled to be released in May 2018 by the team. The project is being filmed by the British Broadcasting Corp. for its documentary series titled Earth From Space.
"The release of these manatees is emotional and incredibly uplifting."
Daryl Richardson
The rescue was done by the DWA/CREA Amazon Rescue Center, which was founded by The Dallas World Aquarium and its CEO Daryl Richardson. The release team included people from Mexico, Japan, Great Britain, Venezuela, and Peru.
"The release of these manatees is emotional and incredibly uplifting," Richardson said.  "We've worked hard for years, trying to help this charismatic species survive. It's breathtaking to see these creatures slip into their natural waters and swim away when released."
Richardson travels from Dallas to the remote rescue center often to support his team of 18 professionals working there. It's only accessible by boat or plane, and the aquarium paid for the Peruvian Army to provide aquatic plans to help move the manatees to the release site safely.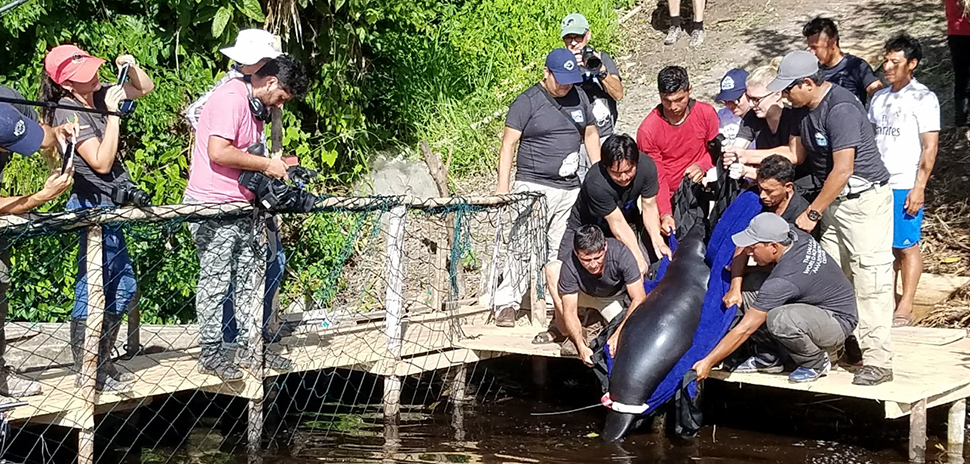 [Photo courtesy of Dallas World Aquarium]
"So much work is needed to protect our natural world — from oceans to the Amazon. The mission has gone from important to imperative," Richardson said. 
The animals are threatened by the local population who kill them because they mistakenly think the manatees eat the fish local residents need to survive. Manatees only eat aquatic vegetation.
You can find out more information on this effort here.
---
UTA CHEMISTS AMONG WORLD'S TOP ANALYTICAL SCIENTISTS
Two University of Texas at Arlington chemists have been named among the top analytical scientists in the world by The Analytical Scientist magazine.
Daniel Armstrong and Purnendu "Sandy" Dasgupta were included in the magazine's fifth annual Power List edition, which was composed of the Top 10 scientists in 10 categories — Separation Scientists, Spectroscopists, Mass Spectometrists, Giants of Nano, Pharma Pioneers, Omits Explorers, Public Defenders, Inventors, Mentors, and Leaders.
Armstrong is Robert A. Welch Distinguished Professor, and Dasgupta is the Hamish Small Chair in Ion Analysis at the university.
They were the only honorees from Texas universities to make the 2017 Power List, according to UTA.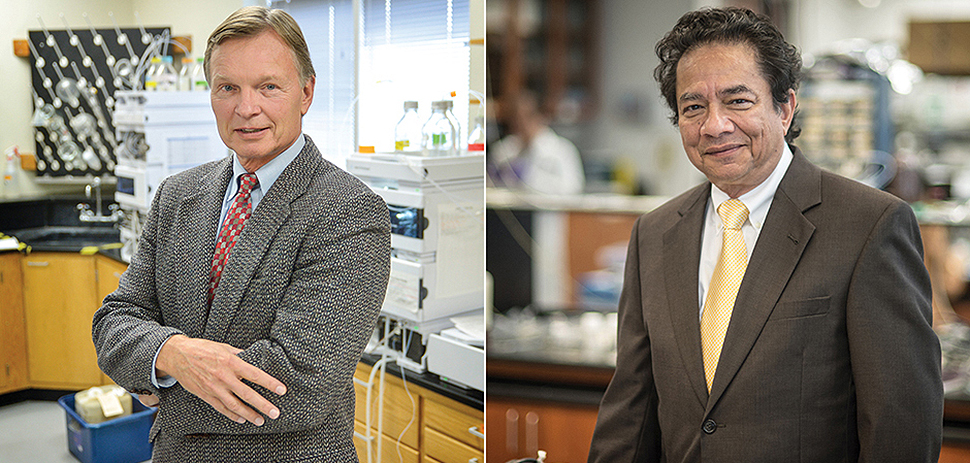 Daniel Armstrong and Purnendu "Sandy" Dasgupta are chemists at the University of Texas at Arlington. Photo Courtesy University of Texas at Arlington
Armstrong was ranked No. 5 in the Mentors category and was No. 7 in the Separation Scientists category, while Dasgupta ranked No. 7 in the Investors category.
"Congratulations to Dr. Dasgupta and Dr. Armstrong for being included in this very prestigious group of analytical scientists," College of Science Dean Morteza Khaledi said in a release. "It shows the high regard which their peers have for them. With their contributions, they have achieved a level of excellence attained by few scientists. Their work has had and continues to have a major impact in a variety of fields, here in Texas and around the world."
---
UNT RESEARCHERS: CAN ENGINEERING CHANGE BASIC LAWS OF PHYSICS?
A team of physicists at the University of North Texas has received a $1,997,222 grant from the National Science Foundation for research in new wave propagation and nonreciprocal devices.
They want to know if the basic laws of physics can be changed by engineering, among other questions, UNT said in a release.
"It is very exciting because there are so many potential uses for this technology."
Arup Neogi
The team is led by principal investigator Arup Neogi, a professor in the College of Science's Department of Physics. Co-principal investigators Arkadi Krokhin, also of the physics department, Tae-Youl Choi of the College of Engineering's Department of Mechanical and Energy Engineering, and Zeke Walker, founder of Echonovous. Walker earned his doctorate at UNT.
According to the UNT, the team has the four-year grant to confirm preliminary results from their creation of a prototype of a device that changes the characteristics of ultrasound as the device's position is changed.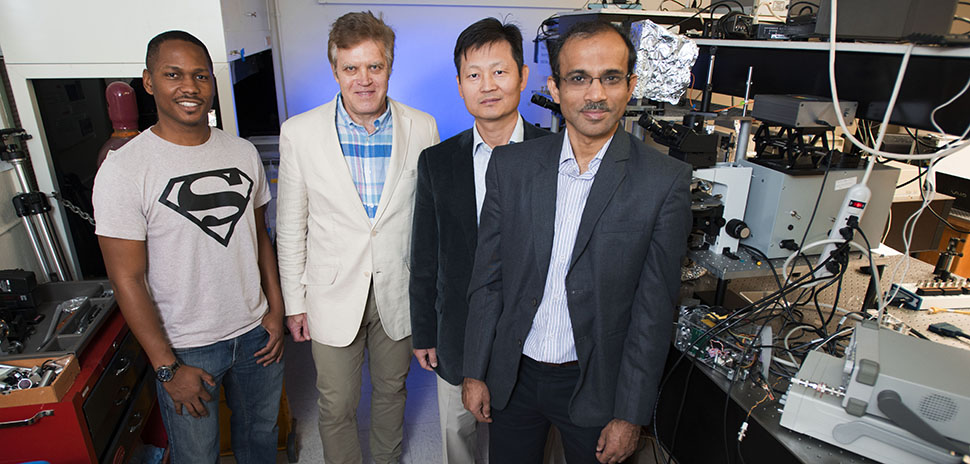 University of North Texas alum Ezekiel Walker, left, with University of North Texas professors Arkadii Krokhin, Tae-Youl Choi, and Arup Neogi. [Photo: Gary Payne/UNT]
"It is very exciting because there are so many potential uses for this technology," Neogi said.
Uses could include ultrasound technology, biomedical devices and imaging, and the ability to more securely communicate, the release said. 

Get on the list.
Sign up to keep your eye on what's new and next in Dallas-Fort Worth, every day. 
And, you'll be the first to get the digital edition of our new Dallas Innovates magazine: 
The annual edition publishes in January