Dallas Innovates covers people in Dallas-Fort Worth business—from new hires to promotions to accolades. Here's the latest news tied to innovation and technology moves in the region.
Don't miss a move: Get Dallas Innovates Every Day. Have a move? Let us know.
---
Robert Isom takes the helm as CEO at American Airlines
Robert Isom has become CEO of American Airlines, as of April 1. Isom replaces Doug Parker. The change was announced in December.
Isom, who has been in the airline industry for more than 25 years, has been president of American Airlines since 2016. Like Parker, he held leadership roles at America West, US Airways, and American Airlines.
Parker will remain as Chairman of the Board of Directors.
---
Appspace names new CEO
Dallas-based Appspace has named prominent tech entrepreneur Tony DiBenedetto as the new CEO of the company that offers services such as space reservation, modern intranet, digital signage, and other services on a platform that helps connect, engage, and manage both onsite and remote employees.
DiBenedetto, who succeeds Brandon Miles, joined Appspace's board of directors in 2020. According to a company statement, DiBenedetto was founder and CEO of Florida-based Tribridge, which specializes in software and services.
---
The Food Hall Co. names new CEO and COO
The Food Hall Co.—a Plano-based food hall developer and operator that helps small businesses grow into thriving restaurant brands—announced top leadership hires today as it's poised to increase its U.S. expansion. 
The company appointed Michael Morris as its new CEO and Jessica Keller as its chief operating officer. The two leaders will help Food Hall grow its U.S. presence beyond its signature properties Legacy Hall (below, located in Legacy West in Plano) and Assembly Food Hall in Nashville, Tennessee.
Read more in our story.
---
Copart announces co-CEO
Copart, the Dallas-based leader of global auto auctions, announced that Jeff Liaw has been named as co-CEO by the company's board of directors.
The company said that current CEO Jay Adair will continue his role as co-CEO and as a member of the board.
"Jay's continued oversight of strategy, business development, capital allocation, and the company's vision will allow collaboration with Jeff, further strengthen the leadership of Copart and ensure continuity in management and succession planning," said Willis Johnson, chairman of Copart's board, said in a statement.
Liaw joined the company in 2016 as CFO and was promoted to president in 2019, Copart said. He was named CEO North America in February 2021. Previously, Liaw was CFO of FleetPride Inc. and a principal at private equity firm TPG Capital Management.
---
Fintech startup adds three director-level hires in North Texas
Clear Street, a New York-based fintech that is expanding its presence to North Texas, has announced three new director-level hires to its prime brokerage sales and trading team in the North Texas region.
Joining Clear Street's team of roughly 300 people are Dean Mele, Dallas branch manager and managing director of sales and trading; Mark Hall, managing director of sales and trading; and Danny Shapiro, director of sales and trading. Before joining Clear Street, Mele served as an equity trader at National Securities Corporation. Hall's experience as an equity trader includes stints at Fidelity Investments, Capital Institutional Services, and WFG Capital Markets. Shapiro most recently served as the VP of equity sales at Citigroup, after holding a similar position at Credit Suisse.
"Expanding our operations into Dallas, and bringing on top industry talent, continues to give Clear Street an edge in supporting our rapidly growing roster of prime brokerage clients," said Chris Pento, Clear Street co-founder and CEO, in a statement.
---
Dallas tech unicorn Island names new CMO
Ellen Roeckl has joined Dallas-based Island, developer of the Enterprise Browser, as chief marketing officer.
As Island's new CMO, she will oversee its communications and business marketing strategy in a period of rapid growth following its recent $115 million Series B financing, which cemented the startup's unicorn status. To her new position, Roeckl brings decades of experience leading integrated marketing efforts at B2B technology leaders including Fastly, Symantec, and Juniper Networks, as well as multiple executive leadership roles at Weber Shandwick, one of the world's largest communications firms.
---
Solutions by Text announces new Chief Marketing Officer
As the new CMP at Solutions by Text, Stacy Adams will be responsible for "creating and accelerating the company's global marketing strategy and brand development," the company said in a news release.
Previously, Adams was head of marketing at video-tech market company Vyond where she spearheaded the creation of the brand and played a role in overall business growth and strategy.
"Her background and experience is a great addition to the leadership team as we focus on accelerating the growth of SBT 2.0," said David Baxter, Solutions by Text's CEO, in a statement.
---
Recreational Realty announces senior hires
Recreational Realty LLC announced a number of strategic senior hires, including the appointment of Mike Schwartz as chief financial officer, effective April 11.
The company is an owner, operator, and developer of specialized recreational vehicle and marine storage facilities.
Schwartz brings more than three decades of financial and leadership experience to his new role. Most recently, he was at CyrusOne, a global data center REIT, where he was vice president of finance. Schwartz played an instrumental role in the successful acquisition of CyrusOne by KKR and Global Infrastructure Partners in March 2022, according to a statement.
In addition to the appointment of Schwartz, Recreational Realty announced five new senior hires:
Theresa Chareunsab joins as VP of customer success and operations. She most recently led the information systems team at CyrusOne.
Tom Berry joins as VP of financial planning and analysis. He most recently led investor relations efforts for Ribbon Communications, and previously held finance roles with CyrusOne and Hewlett Packard Enterprise.
Tom Stimmel joins as operations manager. He recently oversaw all Houston data center operations as regional director at CyrusOne.
Amit Rai joins as an accounting advisor. Rai is the founder and Principal of myController.
Sahil Rai joins as the controller to the company. Rai is also an adviser with myController, where he has previously served as the controller for several high-growth companies.
---
MYCON gets a new HR Director
Ivy Pennington has joined Dallas-based MYCON General Contractors Inc. as human resources director.
She will serve as a strategic partner and adviser to MYCON's senior-level executives in change management, organization effectiveness, work environment, culture, and leadership, the company said in a statement.
"She is an innovative leader who brings extensive experience in talent management and workforce strategic planning to the table. Her leadership will launch us towards our goal – to become the employer of choice in our industry," said Charles R. Myers, president and CEO of MYCON.
Pennington has 22 years of experience and a proven track record as a human resources professional, having served in various leadership roles, the company said.
---
Cristo Rey Dallas appoints retired admiral as president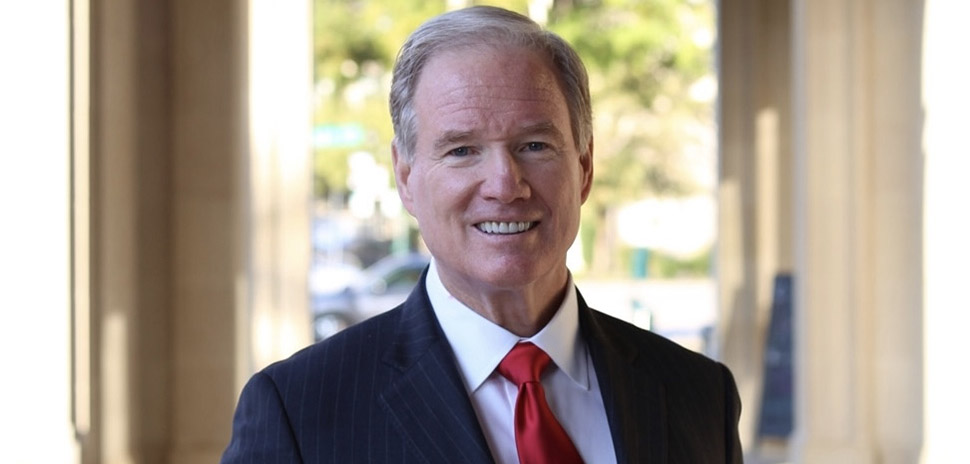 Patrick M. Walsh, Ph.D., Admiral U.S. Navy, Ret., has been appointed as president of Cristo Rey Dallas beginning April 15, per the Catholic college prep high school's board of directors.
Walsh, a nationally recognized military, business, and education leader over the past four decades, brings extensive leadership experience to his new role, including a 34-year decorated career serving as a deputy-director, director, commander and vice chief of Naval Operations in the United States Navy.
The school said in a statement that Walsh is charged with leading the next phase of development and community engagement for Cristo Rey Dallas, which focuses on an innovative model of college preparatory education. The school provides students from limited economic resources with an exceptional education while earning hands-on, corporate work experience to help lay a foundation for success in college, professional endeavors, and life.
---
Mizzen+Main names former Under Armour Exec as Chief Design Officer
Retail industry veteran Noreen Naz Naroo-Pucci becomes Chief Design Officer of Mizzen+Main, effective April 4. Naroo-Pucci was previously Senior Creative Director and then V.P. of Global Design Engine for Under Armour Inc. for about a decade. Most recently, she was the SVP of Design Menswear – North America for Calvin Klein as well as Co-founder and Chief Creative Officer of KIK Axion Sports.
"Noreen is an industry leading talent that will drive Mizzen+Main to new heights, integrating and improving product, brand, and design in exceptional new ways. We've admired her work and look forward to her leadership on our team," said Founder and Chairman Kevin Lavelle in a statement.
Naroo-Pucci says, "Mizzen is the perfect storm of craft and purpose. We have the opportunity to take the art of being well dressed into the future, and I am super excited to see where we can take our modern Mizzen man by simply making and giving him beautiful, desirable, and meaningful products—all with purpose."
---
Ranger Investment Management appoints two partners
Dallas-based Ranger Investment Management has appointed Marta Cotton and Dana Ousley as partners.
Ranger is an employee-owned boutique investment manager that specializes in small- and micro-cap U.S. growth strategies. As of the end of 2021, Ranger Investments managed and advised more than $2.6 billion in assets, including model accounts.
Ranger said that Ousley, who has 25 years of finance and accounting experience, joined the firm in 2008 as controller. She was promoted to chief accounting officer in 2021. Previously, she previously worked at Spyglass Trading LP. as controller.
Cotton joined Ranger Investments in July 2021 and previously was a principal and director of client development at New York-based Matarin Capital Management.
---
North Dallas Bank & Trust taps new CIO
North Dallas Bank & Trust Co. has named Shane Harkins as its new chief information officer and tasked him with dealing with data management and cybersecurity—two major issues facing the banking industry.
Harkins told the Dallas Business Journal that his new role will focus on ensuring security and facilitating more efficient community banking.
"I believe that the function of technology is to enable the business to pivot and respond to market needs and customer demands, but do so in a way that is secure," Harkins told the DBJ. "If technology can drive efficiency that allows my bankers to continue to spend their time developing relationships, then that's a win."
Harkins comes to North Dallas Bank & Trust Co. after a 13-year stint at the Federal Home Loan Bank of Dallas.
---
Texas Security Bank names its first president, along with CFO and COO
Drew Keith has been promoted to the newly created role of president at Dallas-based Texas Security Bank.
The bank, which has doubled its assets in three years, also announced that Jamie Britton will take on the roles of chief financial and chief operations officer.
Keith will oversee what Texas Security Bank calls an ambitious Tarrant County expansion.
Launched in 2008, Texas Security Bank is still run by its founders, Keith and chairman and CEO Craig Scheef.
"With this expanded leadership team now in place, I look forward to broadening our horizons for growth within our organization and community. Britton brings a breadth of financial services experience and will be an important addition to the Texas Security Bank leadership team and its growth," Scheef said in a statement.
---
Encompass Group taps new chief talent officer
Tony Bridwell has been hired as chief talent officer by The Encompass Group, a Lewisville-based certified human capital management firm.
In his new role, Bridwell will collaborate with organizations to elevate results through the cultivation of high-performing cultures, according to a company statement. Bridwell has consulted and coached executive leaders at some big-name organizations, including Halliburton, Citibank, Dell, and the Centers for Disease Control and Prevention, according to the statement.
---
McKesson appoints new committees director
Irving health care services giant McKesson Corporation has named W. Roy Dunbar as a member and director of its Audit and Governance Committees.
Dunbar is the former chairman and CEO of Network Solutions and president of Mastercard's global technology and operations businesses. In addition to McKesson, Dunbar serves on the boards of SiteOne Landscape Supply, Johnson Controls International, and Duke Energy.
---
TCU's Ralph Lowe Energy Institute gets new executive director
Ann Bluntzer has been named as executive director of the TCU Ralph Lowe Energy Institute, the TCU Neeley School of Business announced.
Bluntzer is an associate professor of professional practice in management and leadership.
"Bluntzer's deep experience with and passion for energy, combined with her extensive network among domestic and global industry leaders, positions the Ralph Lowe Energy Institute to further advance TCU's distinctive contributions to the energy space," said the dean of the Neeley School of Business, in a statement.
According to the statement, the institute is "dedicated to developing tomorrow's energy leaders for a sustainable future." In her role as executive director, Bluntzer works in concert with TCU's Ralph Lowe Energy Institute Board of Advisors to provide strategic direction and leadership for the program. She has served on the board since 2013.
---
Susan G. Komen adds five to its board
Susan G. Komen, the breast cancer nonprofit organization, announced that five industry leaders from healthcare, finance, and technology are joining its board of directors.
They join a group of 13 executives to help govern and advise the nonprofit in its mission to end breast cancer.
Jerri Johnson, executive director of business technology at The Walt Disney Company will continue as vice chair, and Ed Dandridge, SVP of communications at The Boeing Company, will continue as board chair.
The new members are:
Julie Gruber, EVP and chief legal officer of Gap Inc.
Kristen Maple Racich, partner and chief impact officer for Lord Abbett
BJ Schaknowski, CEO of Symplr
Robyn Shepherd, partner and the head of corporate engagement at Bridgewater Associates
Lydia The, partner in McKinsey's life sciences practice
---
Research organization gets director of diversity training, education
Total Diversity Clinical Trial Management announced that Kenyetta Sims has joined the global contract research organization and full-service diversity organization as the director of diversity training and education.
Sims most recently served as the VP of research operations at Forest Springs Clinical Network.
"Kenyetta's role with Total Diversity is timely as many clients are turning to us to learn how to train their sites and site networks," said Kim Kundert, SVP of Site Development Services at Total Diversity.
---
Ryan names leader of its Complex Property Tax Practice
Global tax services and software provider Ryan announced that Jesse Noneman has joined the Firm as Principal and Vice Practice Leader of the Complex Property Tax practice.
Ryan President of U.S. Operations Damon Chronis said Noneman's "knowledge and proven expertise will be key in identifying and implementing property tax minimization strategies to better serve our clients, and his leadership experience will further grow and develop our Complex Property Tax team."
Noneman previously developed and oversaw a national complex property group dedicated to providing property tax consulting services for large, often state-assessed, taxpayers.
---
BackBox hires leaders as it ramps U.S. growth
Seeing the opportunity to continue its growth in the U.S. market, the former Israeli startup BackBox, which focuses on network automation and security, has planted its global headquarters in North Texas—solidifying an announcement it made towards the end of last year.
Recently, the company announced bringing on Pete Morrison as its new VP of sales, Thierry Guenoun as its EMEA regional sales director, and Jonathan Moore as its VP of marketing.
Read more in our story.
---
Fuzzy's Taco Shop adds franchise sales leader
Nick Booras is joining Fuzzy's Taco Shop as SVP of franchise sales, the Irving-based restaurant group announced.
Fuzzy's Taco Shop was founded in Fort Worth in 2003 and now has almost 150 franchise- and corporate-owned locations in 17 states, the company said.
Most recently, Booras was senior director of franchise development at Atlanta-based FOCUS Brands LLC, where he was responsible for selling all seven of the FOCUS Brands in the southwest region, according to a statement from Fuzzy's. Before that, Booras was responsible for franchise sales at Dallas-based Corner Bakery Cafe and Boston Pizza.
The company said that Booras' hiring fits with NRD Capital's acquisition of Fuzzy's as the anchor of its newly formed platform Experiential Brands, which plans to buy other experiential brands in the food and beverage space, the statement said.
---
ClubCorp names EVP of operations
Dallas-based ClubCorp announced that Ron Vlasic will join the company in the newly created role of executive vice president of operations. He will oversee all aspects of its operations, including setting strategy, elevating financial performance, and member satisfaction.
The company said in a statement that Vlasic "will play a critical role in selecting and developing new clubs while refining and enhancing the experience across the current network of nearly 40 clubs nationwide."
Vlasic brings more than 30 years of hospitality experience to his new role. Vlasic comes to ClubCorp from Hostmark Hospitality Group, where he's served as chief operating officer since 2019.
---
Complexity Gaming adds key hires
Frisco-based Complexity Gaming, a GameSquare Esports-owned company, has announced new key hires as it looks to boost its offerings for both brand partners and fans.
The new additions are:
Rita Landells, director of creative strategy and brand partnerships
Tyler Wentz, manager of sponsorships
Brennan Altringer, director of audience development
Duane Jackson, head of Complexity's gaming division
---
Dallas defense exec named awards chairperson
Lone Star Analysis, a Dallas-based provider of applied decision intelligence and engineering solutions announced the appointment of Laurie Cummins, vice president of systems engineering and integrated solutions, as awards chairperson of the Integrated Precision Warfare (IPW) division of the National Defense Industrial Association.
Lone Star says it harnesses "predictive and prescriptive analytics, artificial intelligence and inherent knowledge to enhance innovation, create economic strength, and make the world safer."
Once known as the Precision Strike Association, NDIA's IPW division presents two awards each year. The Richard H. Johnson Technical Achievement Award, presented in the fall at the Precision Strike Technology Symposium, recognizes outstanding personal technical achievement resulting in significant contribution to precision strike systems.
The William J. Perry Award, usually presented in the spring, recognizes public or private sector leadership or achievement that results in an immediate and long-term impact that an individual or team has had in shaping the U.S. precision strike combat advantage.
Get on the list.
Dallas Innovates, every day.
Sign up to keep your eye on what's new and next in Dallas-Fort Worth, every day.