DFW business owners snagged top spots on the 10th annual 50 Fastest-Growing Women-Owned/Led Companies list.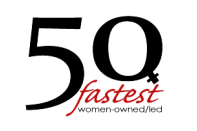 Pinnacle Group of Dallas, led by president and CEO Nina Vaca, took second place on the list, which is compiled every year by the Women Presidents' Organization, in conjunction with American Express. It's Vaca's third year on the list.
For the past 20 years, Pinnacle Group has provided innovative workforce solutions. For example, it manages more than $65 million in payroll spending, and more than 1,000 contractors across North America.
Nina Vaca still owns 100 percent of the firm she founded at age 24 with $300 of startup capital.
Vaca saw Pinnacle Group break the billion dollar barrier ($1,159,815,799 in 2015, up from $201,493,192 in 2013). Vaca still owns 100 percent of the firm she founded at age 24 with $300 of startup capital.
Joining Pinnacle among the top 25 were:
Plano-based Akorbi, headed by Claudia Mirza (#8) — Mirza, who grew up surrounded by violence in Medellin, Colombia, has led the company's evolution from a language translation company to a global provider of multilingual business solutions, including staffing, contact centers, global marketing, eLearning, and more. What started as a home-based translation business in 2003 has blossomed into an award-winning, fast-growing, international company with more than 600 employees.
Ivie & Associates, headquartered in Flower Mound and led by Kay Ivie (#15) — Ivie Companies was founded in 1993, and employs more than 700 professionals through Ivie North America and Ivie International. It provides an array of marketing solutions including creative and production services, sourcing, procurement, staff enhancement, media services, public relations, digital and interactive marketing, and general project management for organizations worldwide. 
Elizabeth Prim's PRIM Construction of Fort Worth (#21) — PRIM is a full-service design/build construction firm that has been awarded multiple U.S. Green Building Council LEED Awards and is currently certified as a Women's Business Enterprise and a state of Texas HUB contractor. PRIM is certified by the North Central Texas Regional Certification Agency, according to the company website.
THE BUSINESSES ARE RANKED BY A SALES-GROWTH FORMULA
The 50 Fastest-Growing Women-Owned/Led Companies list honors companies that are owned or operated by women. Businesses are ranked according to a sales-growth formula that combines percentage and absolute growth.
A business owner doesn't have to be a WPO member to qualify, however, it must be privately held and woman-owned/led, with an annual revenue of at least $500,000 as of Jan. 1, 2012.
This year's winners were honored May 5 at a special event hosted by American Express at the 2017 WPO Annual Conference at the Ritz-Carlton Grande Lakes in Orlando, Florida.
The WPO is a nonprofit membership organization that provides education, advice, and support to women presidents, CEOs, and managing directors of privately held, multimillion-dollar companies. The WPO has 137 chapters throughout North America, Latin America, Europe, the Middle East, and North Africa.
Additional reading: Tech Entrepreneur

Nina Vaca

Goes Global
---
Get the e-newsletter