Roy Vann knows how hard it is to book a concert in Dallas. The hip-hop artist had venues cancel or move the date, not to mention the back and forth emails it takes just to get anything done.
"It was hard for artists to get into shows because you have promoters who pick and choose who they want to open up for a national act," Vann said. "It's usually the same five to 10 people."
Vann wants to modernize the entire process with Zenu, an Airbnb-style app where people can view professional photographs, take 3-D and virtual reality tours, and book the venue with a few clicks.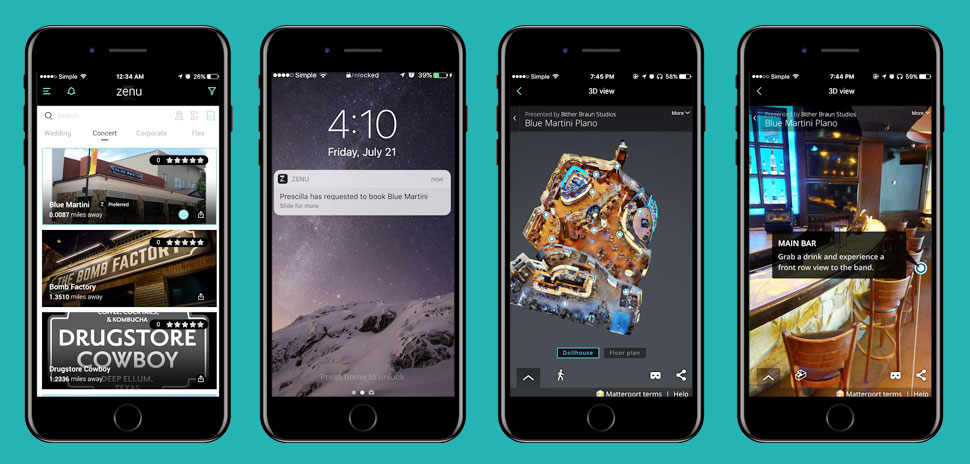 This could be used for concerts, birthday parties, weddings, office parties, or any other event that needs a special venue. Users can search venues by size, capacity, amenities, price, and availability.
"We want to scale to as many cities as possible as quickly as possible."
Roy Vann
"We should be able to do this in five minutes," he said. "You can search it any way that you want to make sure that you're finding what you want."
The startup launched its Kickstarter campaign recently in Dallas to get venues, event planners, and everyday users signed up at discounted prices. Vann self-funded the company to this point and after the Kickstarter campaign, he plans to launch the app in September on the Apple store.
If Zenu has a successful launch in Dallas, Vann sees the app expanding rapidly.
"We want to scale to as many cities as possible as quickly as possible," Vann said. "We can stay here in Dallas and sign up a whole other city."
There's also a two-way rating system so venue owners and event planners can rate their experiences.
FOR THE VENUES
So far, Zenu has 20 venues signed up.
Each one has a profile on the app that can be accessed at the click of a button.
Through the Kickstarter, venues can get a premium subscription for $1,000 for the first year that includes a 3-D and VR profile and professional photography. Having the VR integrated into the app gives venues the edge over competitors because users can take a high-definition digital tour, Vann said.
"This is hugely needed. Just one booking through our app at the presale price pays for itself with the top subscription plan we have," Vann said.  
The VR tour is 99 percent accurate, giving users a real representation of the venue's square footage so people can really get a sense of how it will function without having to take an in-person tour.
Zenu offers two other subscription levels that have fewer features on the profile.
When someone books a date, the venue operator gets a notification and can confirm or deny it. The user automatically pays the deposit required to book the venue and the deal is finished.
Zenu takes a percentage of the fee for booking the venue.
It also makes it easy for venues to block out a date if they already have an event planned, whether it was booked through Zenu or through traditional means.
FOR THE USERS
Wedding planners, musicians, and corporations always need venues.
For a $50 pledge, they get access to the live app and VR glasses. Users who pay $10 toward the Kickstarter get access to the beta app.
If the app expands to other cities, Vann envisions wedding planners using it to set up destination weddings so couples can take virtual tours without having to travel.
"If you're a wedding planner, you want to have as many different types of venues as you can," Vann said.
All the back-and-forth communication is done through the app so no one has to give out a phone number or email address. The payments are processed in the app by Stripe.
HOW HE GOT HERE
This isn't Vann's first business.
In 2009, he started Dallas Knight Life to promote clubs in Dallas. He also started a party bus system that ferried college students to clubs on college nights.
The 2013 University of Texas at Arlington graduate was a musician, too, so he lived through the frustration of double bookings and rescheduling.
That prompted him to take his sales expertise and become an entrepreneur.
He knew what he wanted in an app but didn't have experience coding. So, he outsourced that to India, meaning he had long nights until 2 a.m.
"The coding part is kind of scary knowing I didn't know the ins and outs of everything," Vann said. "I learned a lot about coding so I could communicate with the coders efficiently to build a viable product."
Now, he's just weeks away from launching an idea he just came up with eight months ago.
---
Dallas Innovates, every day