Airbnb shook up hospitality by enabling renters and homeowners to rent out their living spaces when they weren't using them. Now a Dallas-based startup aims to do the same thing for electric vehicles—and it's pitching its launch to EV owners in Dallas and Austin.
Zevo calls itself "the world's first peer-to-peer electric-only vehicle sharing platform" with a two-sided marketplace in which users and hosts "connect for a seamless, emission-free car-sharing experience."
"Owners of EVs are sitting on an asset and we want to incentivize them to help make a difference while also putting money in their pocket," Hebron Sher, co-founder and CEO of Zevo, said in a statement. "Ideally, we'd love to see people running their own business, providing small fleets of EVs, offering users more access and making a difference for their community and the environment."  
'A seamless experience'
Speaking with Dallas Innovates, Sher said Zevo will offer "a seamless experience as opposed to [traditional rental companies] still using paper like these three or four paper contracts that they fold up and you put in a glove box. For Pete's sake, we're in 2023. It's just dated."
By contrast, peer-to-peer EV rentals on Zevo will be done with a few taps on the company's app, which is now available for iPhone users and will be coming soon to Android. And instead of hunting down keys, cars can be started right on Zevo users' smartphones.
"What we're solving for here is building a culture around people who care about the environment," Sher told us. "They want to do their part, but at the same time are tech-savvy and say, hey, I want my car, but I don't want to have to go to the gas station. I want my car to be smart and telematically advanced. And I want it to, perhaps, even make me money."
Sher believes people should view their cars as tools rather than sentimental possessions, and take advantage of the financial opportunities presented by the sharing economy. His startup will make money through hosting fees, which he says will be "a small percentage" of the transaction between the host and the guest.
He told us he believes that Zevo vehicles will be equally priced—if not cheaper—and more accessible than conventional rental cars.
Sher co-founded Zevo in 2021 with Booster's co-founder and former CTO
Sher started up Zevo in 2021 with co-founder and Chief Technology Officer Diego Netto, who previously was a co-founder and CTO of Booster Fuels, a mobile fuel delivery startup that launched in Fort Worth in 2014 and is now based in San Mateo, California. (In May 2022, Booster announced a $125 million Series D funding round that included a longtime local backer of the company, Dallas-based venture capital firm Perot Jain.)
Netto's transition from co-founding a fuel delivery startup to a peer-to-peer EV sharing platform may seem like an interesting shift. But Sher notes that both ventures have one goal in common: reducing carbon emissions.

Zevo has 13 people on its team now, but no physical office space. The startup says it wants to remain working remotely in order to minimize its carbon footprint.
$2M pre-seed round from Dallas angel investor
Zevo's funding to date came from a single Dallas angel investor, who snapped up the entire $2 million pre-seed round, Sher said. The startup plans to raise another round of funding soon to optimize its ability to take over the market, he added.
Sher says Zevo's margins "are significantly higher than our competitors" due to the platform's exclusivity and its ability to provide owners with real-time data and control over their vehicles.
Asked about competition, Sher mentions vehicle-sharing companies Turo and Getaround, which don't focus on net-zero emissions and don't provide the same EV infrastructure and charging options. Car rental companies are different too, since they focus on daily rentals and not EV-only vehicle options.
Aiming to disrupt car rental companies and rideshare platforms
Zevo aims to disrupt traditional rental car and rideshare platforms—and it's starting that disruption by seeking EV owners in Dallas and Austin to join its platform as hosts. Its national expansion plan will initially begin with a Q2 2023 rollout in those two cities. 
Zevo—an acronym for "Zero emission vehicle organization"—is rolling out with a mantra: "If we are going to drive, why not do it cleanly?" 
The company says it plans to expand to additional markets in the future, including the Los Angeles metro and San Francisco Bay areas, as well as the East Coast.
"We believe our technology is significantly more advanced than any competitor sharing platforms out there," Sher said. And Zevo is also a form of public transportation, he says, noting that for people living in urban areas, having access to a shared EV through Zevo can be a more convenient and eco-friendly option.
Sher foresees B2B potential in his startup as well. "There are folks that will probably use this from a fleet management standpoint," he said, "in the sense that one person could own five or six EVs and make a couple hundred dollars a day on each of them [using Zevo]." They might say, "Hey, this is my this is my profession now. I share EV vehicles in a metro area."
With Zevo, Sher envisions a new way for people to think about cars and car ownership. "Everybody doesn't need to own a car, because not everybody can afford it," he said. "But everybody should have access to a car." With Zevo, they can glide to destinations in net-zero electric style on their own schedules, then go car-less when they don't need to drive.
Launching from a city and state that most people think 'is all gas'
Sher, who's originally from London, England, calls Dallas a great market for his company—not only because it's centrally located, but also because the state of Texas is the second-largest state for EVs, with a significant number of Tesla owners.
While Dallas may not be known as a major player in the clean tech space and most people "think that Texas is just all gas," this perception creates an opportunity for Zevo to make a big impact in the local market.
"I think this is big for innovation coming from Dallas that will be nationally if not globally disruptive," Sher told us.
How Zevo's platform will work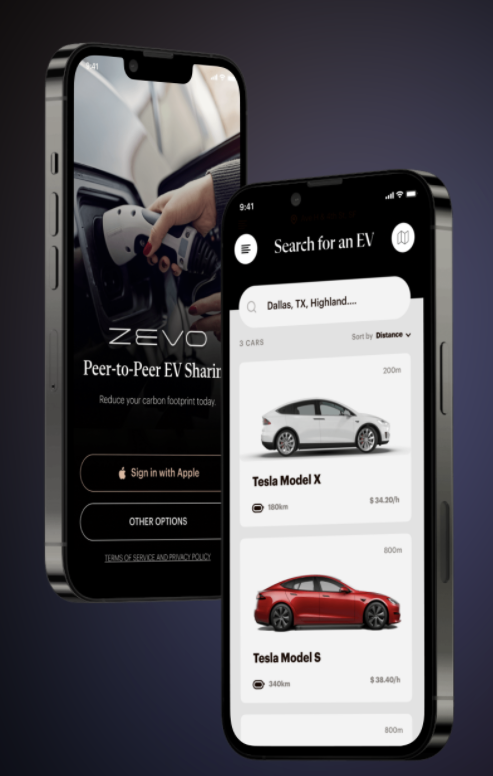 First, hosts will make their EVs available for booking on the Zevo app when they're idle or not needed. Users can book the vehicles in real time by using the app, getting "on-demand access" to the EVs by the hour, the week, or even a month at a time. Zevo says interaction will be contactless and automated, "eliminating the need for driver-dependent schedules or traditional rental car reservations and fees."
That's cool for users. What do hosts get out of it?
Zevo says hosts can leverage their EV "to create passive income while not in use and reduce their carbon footprint." 
Hosts will have full control over their EVs, Sher says: They can monitor who is in the car, its location, battery level, and more.
As an added incentive, the first 100 EV hosts in Dallas and Austin who sign up their vehicle on Zevo's website will receive $1,000 in rewards, along with free EV charging for a year.
The platform includes advanced geo-locating and geo-fencing capabilities, allowing users to quickly locate and access electric vehicles in their area, and to track the location of their rental in real-time. The platform uses Apple Pay and credit card payment methods to ease the use of rental payments. 
One advanced feature of the platform is its use of smartphone technology to unlock and start rental vehicles. Users can simply use their phones as keys, eliminating the need for physical keys or complicated access systems.
Zevo's tech "is modern, it's cool," Sher told us. "I can unlock the car with my iPhone and the app works well with all my other apps."
Adding Zevo's own EVs to jumpstart the company in Dallas and Austin
To jumpstart its Dallas and Austin presence, Zevo is adding its own electric vehicles for early users to test and use, and plans to offer around "five superchargers within metro areas."
The startup will also work with local businesses to create parking spots as "exchange points" for its platform. Sher says this could help mitigate logistic problems that existing rental and sharing car companies struggle with, resulting in "a flexible and enjoyable on-demand user experience."
Promoting the use of electric vehicles
Part of Zevo's call to action, Sher says, is to "get people into electric cars." The startup believes that anyone should be able to participate in the adoption of EVs, and as they become more affordable, people will be able to offset the cost by sharing their EVs on the platform.
Zevo's goal is to increase the adoption of electric vehicles by making them more accessible and affordable to a wider range of people. Through its peer-to-peer model, the company says it can offer a more flexible and cost-effective alternative to traditional car rental services, while also helping the environment by reducing carbon emissions.
Tracking clean carbon miles driven—and looking at carbon credits
Sher told us his platform will do more than just help users and hosts share EVs. It also aims to be a player in the growing market of carbon credits.
"We track clean carbon miles driven, actually trying to translate to carbon credits," Sher said. "California certainly understands what we're talking about [with] data tracking on clean miles. Let's say your Tesla that you shared on the Zevo platform was driven 15,000 miles in a year. You made money on that too. But ideally, those 15,000 clean, zero-emission miles act as carbon credits, because those could have been gasoline miles driven that would have been emitting carbon dioxide into the atmosphere.
Sher says sharing on Zevo could ultimately lead to carbon credits, with companies buying down carbon credits to reduce their carbon footprint. He notes that carbon credits are already being traded among nations, serving as "a new form of almost fiat currency."
Plans to integrate blockhain tech in Zevo's 'clean miles' program
Zevo has future plans to integrate blockchain technology with their clean miles program, says Sher. They aim to tokenize carbon credits earned through clean driving and make them a tradable asset within the app. Sher notes that this is something that no one else is doing at this stage, but Zevo is able to do it because their platform is completely zero-emission.
By pairing blockchain with clean miles, Zevo hopes to create a more transparent and efficient way to track and incentivize clean driving. This is in line with the company's focus on reducing the environmental impact of transportation and promoting the adoption of electric vehicles.
"We have a bit of a tokenization form of carbon credits that are cleanly driven on this to be a tradable asset within the app," Sher said. "So that's something that nobody's even doing or touching at this stage. We're able to do it because we're a completely zero-emission platform."
Goal: 10,000 active users nationwide this year
Zevo's goal for this year is to have 10,000 active users nationwide, which includes guests and hosts. The company has worked with back-end technology companies to help with its tech stack and things like identity verification software to help streamline getting people signed up on the platform.
As it approaches its Dallas-Austin launch, Zevo is balancing supply and demand by aggregating a waitlist "to create buzz and hype" about the service, to help ensure both sides of the equation will fill its app. The company wants to avoid situations where guests download the app but can't find available vehicles.
Positioning for a coming onrush of lower-priced EVs
Sher believes the potential marketplace for Zevo could rapidly accelerate as more affordable EVs hit the market in coming years.
"As electric vehicles become more affordable—which they are, Tesla just dropped their price another 20%—you will be able to get into a comfortable electric vehicle, significantly cheaper than even a gasoline car today, probably anywhere from $15,000 to $25,000," he said.

Get on the list.
Dallas Innovates, every day.
Sign up to keep your eye on what's new and next in Dallas-Fort Worth, every day.