Over the years, MakersValley has seen smaller fashion brands focus more on things like branding, quality, and experience to connect with customers. Now the Dallas-based fashion tech platform is launching a new spinoff to help brands bring transparency into the supply chain and make those meaningful connections with consumers.
Called Orma, the app allows businesses to bring the kind of content found on a social media feed or online shopping experience into brick-and-mortar retail.
"I like to wander the store and love the vibes of the brands wherever I'm shopping," said Jessica Morales, marketing director at MakersValley. "Orma gives brands a cool opportunity where customers can go into the store and scan that tag and connect to their digital experience, so they can really have an even richer in-store shopping experience."
'You're buying the experience'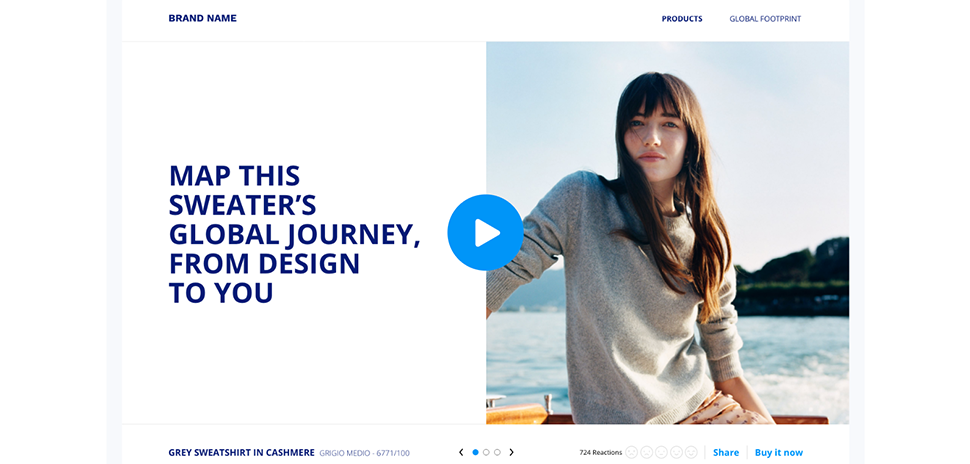 Co-founder and Chief Technology Officer Babajide Okusanya describes Orma as being like WordPress or Shopify, but based around curated experiences for small brands. Launched at the beginning of this month, the app allows brands to create a visual story of their product. Using a template, brands are able to show the journey of the product from creation and the people behind it to manufacturing and its journey to a store as an extension of their e-commerce presence. A QR code can then be attached to the product's label or to its display in a retail setting that allows shoppers to engage deeper with the brand.
"If you're buying a Burberry bag, you're not just buying the bag itself, you're buying the brand, you're buying the experience," said Alessio Iadicicco, MakersValley Co-founder and CEO. "It creates engagement for the brands. It gives an experience to the consumer, and it makes everybody more aware about how that product came to life. Everybody just forgets that it's not just about the designer that makes the product. There are a lot of people that come into place into the supply chain."
Iadicicco said that Orma has been in talks with large luxury brands like Versace and Ferragamo, which he said saw benefits in the app by being able to continue to tell the story of one line of clothing, after companies have already moved on to the next that they're promoting on their websites.
Helping smaller brands stand out
Tiffany Chimal, MakersValley co-founder and COO, said the app can help smaller brands differentiate themselves to help stand out from bigger players in the space, while making it easier to target and engage with customers who are increasingly looking for brands focused on things like social impact and environmental issues.
"Consumers are pushing to see more transparency," Morales explained. "It's very important to them when they shop their brands and make the decision of who they're going to choose in the marketplace."
MakersValley moved to Dallas in 2018
MakersValley, a B2B company that connects fashion brands to a network of vetted luxury Italian manufacturers, was launched in 2016, gaining early traction going through the Puerto Rico-based Parallel18 accelerator program, followed by the St. Louis Arch Grant startup competition and the MassChallenge Texas accelerator program in Austin. At the end of last year, the company joined Capital Factory's program, which holds a 1% stake in MakersValley.
In 2018, MakersValley relocated from New York to North Texas, where Iadicicco and Chimal are based. The idea behind Orma came from a timeline feature rolled out on the MakersValley platform that provides businesses with video updates while their products are being made, to make them feel like they're on the factory floor. Iadicicco said he noticed brands were \ using those videos for social media marketing and crowdfunding campaigns.
"One of our brands raised like $30,000 on Kickstarter, just by using all these images," Iadicicco said. "So, we were like, 'Okay, let's sit down and let's figure out how we can make this happen.'"
Scaling from North Texas, planning a $1M seed funding round
With a network of more than 10,000 emerging designers that have used MakersValley's platform and partners with permanent show space within the Dallas Market Center, Orma aims to grow through trade shows and fashion meetups across the U.S. Chimal said MakersValley is planning to raise a $1 million seed funding round this year and, depending on traction, will likely look for outside investments to fuel Orma.
"What I've seen interacting with these new emerging designers is that a lot of them just don't find stuff in the market that fits people like them," Chimal said, "and they want to create it and they want to tell the story of how they did it to inspire other people. I feel like that's where the (direct-to-consumer) movement is moving."
"You're also seeing a lot of these bigger brands acquiring some of these homegrown brands that are local to make themselves seem fresh, new, raw and real," she added. "Orma really appeals to brands that don't have a team of 200 graphic designers making content for them, that don't have a budget of $100,000 to do a photo shoot with a model."
Iadicicco said the North Texas region is ideal for the startup's main base, though it has team members in Italy and Canada in addition to Texas. He noted that while fashion hubs like New York and Los Angeles are oversaturated with resources to help small fashion brands, the Dallas region is still growing with areas like the Design District and brands like Neighborhood Goods. He believes the region's geographic location makes it easy to connect with customers on either side of the country.
"The first year is a lot of our testing to ensure that we talk with our customer," Iadicicco said. "We have this idea that the first year we'll get 100 customers that love you 100%, because then these 100 customers will easily spread to 1,000. Definitely 2023 would be like the year where we are scaling."

Get on the list.
Dallas Innovates, every day.
Sign up to keep your eye on what's new and next in Dallas-Fort Worth, every day.