The DFW Alliance of Technology and Women sent a message last week to hundreds of tech and community leaders: To get more women into tech jobs and world-changing leadership positions requires "collective courage" to drive positive change. DFW*ATW's 19th Annual Executive Leadership Forum was aimed at cracking that code.
The forum brought nearly 300 tech and community leaders together in an idea-packed virtual event brimming with top talent—urging them to "connect their brains to their brilliance."
The DFW*ATW is a nonprofit on a mission to empower women leaders in technology and grow the pipeline of girls entering tech fields. To achieve this, the group has created leadership and educational programs aimed at elevating women technologists across North Texas.
---
READ NEXT: Shanthi Rajaram on Persistence, Determination, and Being "Fearless" as a Female Leader in Tech
---
Shanthi Rajaram, President of DFW*ATW and CEO & founder of Frisco-based Amazech Solutions, kicked off the event by sharing some stats on women in tech: 
Only 20 percent of engineering graduates are women; 40 percent of these either quit or never enter the profession
50 percent of women said they had experienced gender discrimination at work, compared to only 19 percent of men
Only 11 percent of CIOs

 in the U.S. are women
Those aren't just facts—they're big challenges. And they show why DFW*ATW is determined to change the tech landscape for women.
Participants buzzed across eight virtual "floors"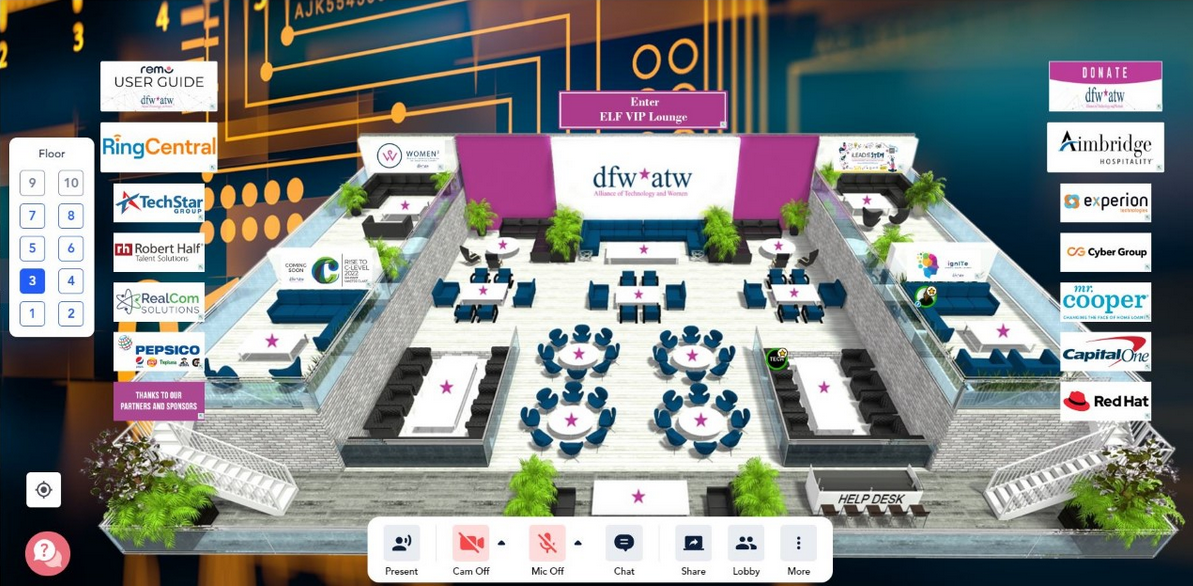 The forum's audience was a lively group, bumping into each other on any of eight different "floors" and frequently utilizing the chat function—especially when a speaker spoke their truths.
Here's our take on last week's event:
Keynote: 'Cultivating Courage'
Danyel Surrency Jones—founder and principal business strategist of Danyel Surrency Jones Consulting and co-founder and CEO of Dallas-based POWERHANDZ, a product tech company that designs solutions for athletic training and rehabilitation—delivered the keynote.
Jones began by asking the virtual audience to take a deep breath—and reflect on the last time we were courageous.
"Courage comes from the Latin word 'core,' meaning heart, and refers to the ability for us to follow and lead with our heart." Jones said. "Sometimes we get the word courageous confused with being heroic. Risking our lives is heroic. Risking vulnerability is courageous."
That's the secret to innovation, Jones added: One must be courageous enough to be vulnerable.
"Vulnerability is the gap between innovation and the unimaginative. Innovation comes from the discovery of the vulnerability," she said.
Overcoming impostor syndrome
Danyel Surrency Jones had to cultivate this courage throughout her career. Like many, impostor syndrome loomed over her and had her questioning every single thing she did. 
When Jones was 24, she got invited to her first-ever boardroom meeting. She arrived early to find her seat and hoped that someone nice and well-mannered would sit next to her—only to have the most tenured person take a seat beside her, who was also an "impostor syndrome advocate," she said.
Jones described how the tenured leader looked shocked to see her there—and how he boldly asked her to fetch some coffee for him. Luckily, Jones had backup in the meeting. A colleague graciously stepped in to remind the tenured colleague that Danyel was not there to fetch his coffee. 
But that wasn't the end. In a game of one-upping, the man asked if Jones would be taking notes. She gently pushed back by telling him that he had better handwriting and that he could borrow her pen. "I was supposed to be in that chair." Jones recalled at the forum. "I was supposed to be sitting next to him at that very moment, to build up my courage muscle."
"Courage is when you tell the impostor syndrome to find another victim," Jones said. "Courage is having fear about the new strategy that you want to present, but believing in the value more than the backlash."
'Courage is collective'
Jones ended the keynote with a powerful reminder: Courage is collective.
"I have full confidence that we have the collective courage we need to push innovations forward, eliminate inequalities, advance talented women, and leave the door open for all the future leaders to follow," Jones said. 
Fireside Chat: 'Embracing Identity'
Indra Nooyi, former CEO and chairman of PepsiCo, was the guest speaker for the fireside chat moderated by Aneesa Muthana, president, CEO, and co-owner of Pioneer Service Inc.
The chat began with an anecdote: When Nooyi was a girl, her mother would give her chocolates for successfully debating her sister. Nooyi savored every last piece of those chocolate squares, knowing that she earned them. Now, she reflects on her journey as a mother finding the same feeling within her children—"when they don't use me as a punching bag," she joked. 
Transcending cross-generational boundaries
The conversation moved toward the aging society in which we live, and how transcending cross-generational boundaries is key. Nooyi believes we must rediscover and grow these social interactions. 
"We have to explore how to rebuild social interactions within communities," Nooyi said. "So as our communities age, the older people can feel like they're passing on values. They're passing on stories and oral traditions. And most importantly, providing that wonderful love and frame for the young people."
The value of mentors
Muthana then asked Nooyi to share her thoughts on mentorship. 
Mentors have unique characteristics—they love to promote and advance others' success, Nooyi said. "In my case, I think people just saw somebody who was determined to do whatever I was taking on." 
You don't pick the mentor—the mentor chooses you, Nooyi explained. Likewise, when a mentor pushes you, take that as a vote of confidence that they believe in you.
What's your 'unique proposition'?
Nooyi then encouraged all the attendees to view themselves as an app or a product. "What is the unique proposition that you are building for yourself? When do they come to you with a problem? What is that skill that everyone knows you for?" Nooyi asked.
The speakers then shifted gears into the nuances women face in business—including raising children, gender discrimination, and the incessant need to always be there for your team and company. 
"As a CEO, you always want to be there for your team, you want to be a resource to your team, and you don't want them to feel abandoned. But I think that sometimes women, in particular, feel an obligation that's not there, that we put on ourselves," said Muthana. 
On being 'hardwired to help'
Being hardwired to help can be both a virtue and a vice, Nooyi believes. Never saying no can complicate this.
But sometimes saying no is the only option. Like when Nooyi had to seek opportunities elsewhere when a boss wouldn't stop calling her "honey." She dealt with the situation by asking him to refrain from using the pet name, and when he refused she already had a list of champions in the workplace that would help her find a new position. 
"If you're valuable on the outside, you're valuable on the inside," Nooyi said.

Get on the list.
Dallas Innovates, every day.
Sign up to keep your eye on what's new and next in Dallas-Fort Worth, every day.