The pandemic put the work-from-anywhere trend into hyperdrive, although many businesses and schools were unprepared for the change. 
But a few organizations had already made the leap into the online space with Walkabout Workplace, which places everyone in an organization—whether in an office or a school—into an elaborate virtual world, which has been called "coworking meets Ready Player One."
Walkabout Workplace provides virtual offices and classrooms with customizable individual spaces, conference rooms, and lecture halls for presentations, with a virtual water cooler where you can hang out with team members while you sip coffee from home. The platform also gives employees or students easy access to all of its collaboration tools (think Zoom, Microsoft Teams, Slack, Trello, and more).
"Place matters. Even before COVID, it was projected that by 2025, 72.3 percent of all US workers will work either partially or fully remote from their teams," Toni Portmann, the Dallas-based CEO of Walkabout Workplace, said in a statement.
Portmann was already making a big bet on working remotely before social distancing was a common phrase. She prototyped Walkabout Workplace in 2016 and relaunched it in 2019, Brandon Call reports in D CEO.
"By making presence possible with the physical approach of a real office, we build social schemas that reduce learning fatigue and keep teammates engaged," she said. "You get to know their kids, their pets, their degree, their style—aspects of their personality in their place—and you have the kind of exchange you would in that space physically. Then, you 'move' to the boardroom or the science classroom and have a completely different interaction."
In August, Japan's Hitachi Solutions Co., Ltd., signed with Walkabout Workplace. Several universities, including UT Dallas and the School of Communication Arts in London, began developing virtual classrooms earlier this year. Walkabout is also currently in its second round of seed funding, according to a spokesperson.
Portmann, who is the former CEO of DHISCO and Stream as well as four other companies, believes the move toward virtual workplaces will accelerate as the next generation, made up of digital natives who grew up in a world filled with video games, becomes a larger part of the workforce.
"Baby Boomers use technology to do work, but Generation Z and younger live in a world of technology. In five years, 40 percent of the workforce is going to consist of that younger group," Portmann said.
Virtual offices allow people to work from anywhere. Walkabout Workplace's team members, who live all over the world, are proof of concept with Portmann in Dallas.
For years, researchers have found that virtual distance between teams hinders "productivity, trust, and learning outcomes—culture can't be cultivated, and camaraderie and community don't exist," she said.
Enter Walkabout Workplace, which hopes to close the gap between virtual interactions and real world results. 
"We need to keep the human in the business, in the classroom, and in the marketplace," she said. "People aren't buying from avatars or robots, and while we can design alternate realities, Walkabout helps individuals connect with brands, experiences, and teachers through a 'real reality'."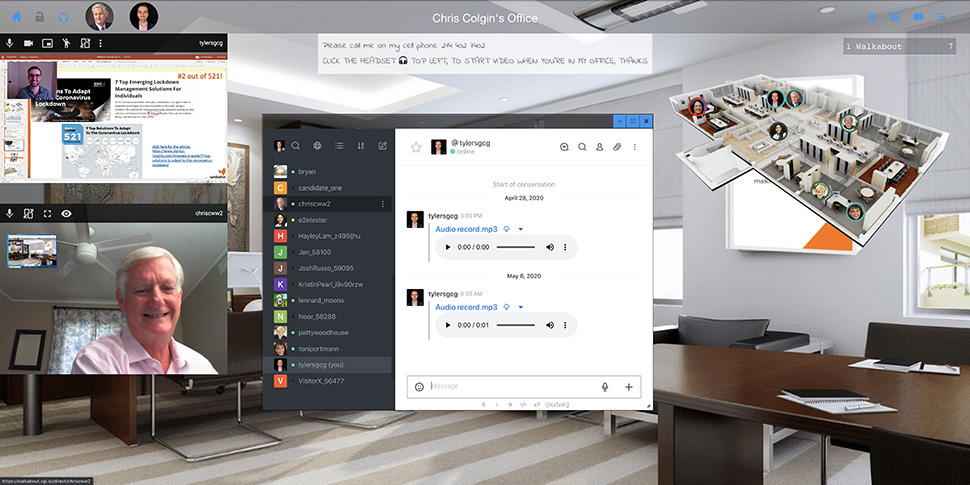 Portmann's goal is to make the virtual world more personal and friendly with Walkabout users able to put their own personal touches on their offices and classrooms. They can move from shared spaces for meetings and lectures to private offices for one-on-one video meetings or to communal areas like a virtual break room or gym for more casual interactions.
Users can connect through video, voice, chat, and screen-sharing. They also can see the avatars of others currently in the office or classroom and see if they are available to meet or send them a message.
Through the platform, work or school community members can remain "in the office" or "in the classroom" while on an airplane or sitting in a coffee shop.
Many employees and students who have been working and learning from home during the pandemic are struggling with isolation and accountability. The sophisticated virtual world in Walkabout Workplace can help with both by providing interaction and structure.
"The truth is, co-working scratches an itch for humans," Portmann said. "We simply are social creatures and want to 'be with' people and our community, because the more we're attached, the more we thrive and are likely to reach our full actualization. The only difference is that now we do it differently—this is the paradigm shift."
Portmann will be speaking during a fireside chat titled "Breaking Through the Clutter – Do You Have the Right Value Proposition?" on Wednesday, September 2, at Dallas Startup Week. More information can be found here.

Get on the list.
Dallas Innovates, every day.
Sign up to keep your eye on what's new and next in Dallas-Fort Worth, every day.