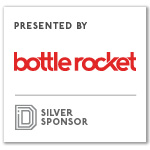 Bottle Rocket is at the forefront of the shifting world of connections between brands and people.
The future of our business depends on our ability to continuously innovate. In the midst of the ever-changing landscape of connected devices, we're looking back on how on-the-go connectivity has evolved and where we believe the industry could be headed.
Understanding all of this can get confusing and complex, but we've got your back.
The App is Dead
That's what some say. Recent changes in the mobile ecosystem have altered how we interact with apps, but they're still here, and they're evolving. Instant Apps on Android let mobile web surfers download a small portion of an app to access the same content in a format better suited for mobile devices. Some may see an Instant App as a kind of mobile-friendly website, but really, it's an app. Progressive web apps, however, are websites built to function like an app. You can even add a shortcut to the progressive web app on your home screen that gives you access to the site as if it were an app. You're still not installing an app, but app anatomy was necessary to provide the web experience. Push notifications now allow us to check off tasks, send messages, view content, and more without ever opening an app. Although you never opened it, the app is still the foundation of the experience. The app sends the notification and houses the information needed for task completion.
In today's world, we've come to view smartphones as a utility. They provide many tools to keep us organized and increase efficiency in our day-to-day lives. But those "tools" aren't hardwired in our phones—guess what? They're apps. Your calendar, email, even voice calling are all apps.
Calvin Carter, Bottle Rocket Founder and CEO explained, "apps aren't going anywhere soon because they're too adaptable. There will be radical changes and disruptions that will fundamentally continue to transform the definition of apps. And that's if we're still calling them apps in the future!"
App Annie found the average American has about 90 apps on their phone, and the average smartphone user across the world interacts with more than 30 apps on a monthly basis. So, why the concern over the death of apps? We believe it's because our perspective of apps has changed.
What's in a Name?
Let's look back at one of the devices that started the mobile lifestyle—the Walkman. In 1979, years before the first cellular device was created, Sony released the TPS-L2; a portable cassette player. For the first time ever, you could listen to music on the go in a highly personal way, unencumbered by bulky boom boxes and home stereo systems. It wasn't until three years later that Sony embossed the name Walkman onto the device—giving birth to a brand permanently etched in history. The name would later be given to generations of portable media devices that could read digital formats like CDs and MiniDiscs. Many of these devices had their own names, but you probably never heard anybody say, "hey! Can I see your D-E01 portable CD player?"
Then, in 2001, Apple released the iPod. There were multiple MP3 players on the market that are still produced today. But, like the Walkman, 'iPod' came to mean 'that thing that plays music,' no matter the device's brand.
If you're wondering what any of this has to do with mobile apps, consider what we call apps. Just as we adopted 'Walkman' and later 'iPod' to mean 'music player,' we've adopted 'app' to mean 'that software on your phone,' whether it be a game, calculator, or mail client. But apps exist on computers also. Installing Outlook on your iPhone is really no different than installing Outlook on your laptop. They're both applications called Outlook, and, though they had to be developed and designed to run on different operating systems, they serve the same purpose.
Carter expanded on the multi-purpose functions of apps, saying, "we don't live in an either/or world. We live in an 'and' world. My Apple TV can feed me directions. So can my watch, my phone, my Alexa, my car. I can make a phone call on my smartphone or watch or tablet. I have five different devices I can watch TV shows and movies on. That's an 'and' world."
So, are apps dead? It may seem that way if you're used to their form from nearly a decade ago. But as long as there are smartphones, there will be apps. Bottle Rocket has been in the app business for as long as there has been one, and we're challenging ourselves to imagine new possibilities for apps. The results so far: experiences that are more convenient, more personalized, and frictionless. But we're not stopping there.
What the Future Looks Like
Since apps are software, and phones are portable computers, the future of mobile is the future of computing. As mobile devices become more powerful, the line between mobile experiences and reality will begin to blur. Extremely realistic and immersive virtual reality experiences are available now, but require computational horsepower only desktops can deliver. But, if Moore's Law holds true as it has for more than 40 years, it's only a matter of time before smartphones are capable of the same.
Augmented reality (AR) and virtual reality (VR) are on the lips of everyone in tech lately. Some argue whether AR or VR is the future of mobile, but the truth is, both are. Their differences will have their specific use cases in the future. VR, which completely replaces your environment with a virtual one, can be used for training, simulation, and entertainment. The mobile factor of VR is its ability to let users move more freely with the technology (within a safe space). We anticipate AR being used as often as, if not more than, our smartphones today. AR, as the name suggests, augments our environment. Google, Microsoft, and a few other companies already have patents for contact lenses that seek to display information over what you see.
While we will still have mobile computers on our person, the form they will take in the future will be drastically different. They may not even have screens at all because the information we'll look for will be projected right in front of us. A device will still be needed to process the environment, but instead of looking at your phone to see where to turn while using Google Maps, you'll see a line superimposed on the ground, guiding you to your destination.
Creating those kinds of experiences may sound like science fiction, but it's actually just a matter of putting in the work.
Developing a future-focused AR or VR experience isn't much different from creating user-favored mobile app experiences.
Matt Johnson, AV/VR specialist
"Developing a future-focused AR or VR experience isn't much different from creating user-favored mobile app experiences," said Matt Johnson, Bottle Rocket's AR/VR Specialist. "VR should still be convenient and deliver personalized and contextual experiences. The fundamentals of an experience remain true—start with the user, and your brand will be relevant."
Whether AR devices take the form of glasses, contact lenses, or tiny projectors that inject images directly into our retinas, one thing is for sure—they will change how we interact with and visualize the world around us forever. Imagine solving complex problems with real-time visual instructions or measuring the width of your windows simply by looking from one corner to the other. It doesn't have to stop there though. Once you find the right windows, you could  tell your virtual assistant to order them for you.
But before we reach the point of daily AR interactions, voice control and virtual assistants will become part of our daily routine. According to eMarketer, almost half of all smartphone users interact with virtual assistants weekly, and nearly a quarter of those polled used them daily. It is too soon to say whether Siri, Alexa, or Google Assistant will take the lead in the voice revolution, but voice is here to stay.
Okay, but what about apps? Siri, Alexa, and Google Assistant all require their own apps to function. AR and VR experiences need to be developed along with the 90 apps you likely have on your phone at the moment. And that's where Bottle Rocket works, at the crux of present-state innovation and future tech. We're pushing what's possible now into what users will demand in the future. And that future is not that far away, by our estimates.
We're Not Going Anywhere
Software and applications have been here as long as the computer has, and as long as there are computers, phones, assistants, and more, there will be apps. And, just as mobile technology, AR and VR experiences, and really any other technologies change, so do apps. Bottle Rocket will experience these changes and implement plenty of our own as we help brands break new ground in connecting with their customers.

Get on the list.
Sign up to keep your eye on what's new and next in Dallas-Fort Worth, every day. 
And, you'll be the first to get the digital edition of our new Dallas Innovates magazine: 
The annual edition publishes in January.