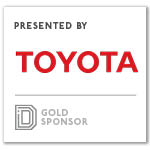 "Fantastic choice! You've selected the C-HR! Now let's help you finance that."
Not what you'd expect to hear from a 6th-grade student, but taking on real-world jobs, even if for just a day, is part of the latest program being offered at Junior Achievement's new BizTown in Garland. JA BizTown is a 10,000-square-foot kid-sized city within the Gilbreath-Reed Career and Technical Center, the first in the Dallas metroplex.
On Monday, April 23, a group of Toyota team members volunteered to lead nearly 90 students from Dallas Independent School District (DISD) through a daylong, fully interactive simulated free market. Prior to attending BizTown, the students applied for various roles such as CEO, CFO, marketing manager, and even the town mayor. Toyota, American Airlines, Southern Methodist University, and Atmos Energy are just a few among the 14 different store fronts at which students worked.
Get on the list.


Dallas Innovates, every day. 

Sign up here to get what's new and next in Dallas-Fort Worth.