TECHNOLOGY JOBS ARE UP, AND DFW FARES WELL AMONG LARGE MARKETS
---
Are you a tech worker in search of a job, or a tech company wanting to expand or move your business? According to a new study, Dallas-Fort Worth could be the place to find jobs or build a business.
The recently released 2016 Scoring Tech Talent report from CBRE, the massive real estate information research firm, has most of the information you'll need, regardless of which side of the tech  employment fence you're on.
Dallas-Fort Worth scored well among large markets finishing sixth among the 50 top-rated cities in the U.S. San Francisco, Washington, D.C., and Seattle were the top three in the category. New York and Austin were fourth and fifth, respectively.
San Francisco's leading score in the study was 84.62, while Dallas-Fort Worth received a score of 59.95.
THE TECH JOBS STUDY USED 13 METRICS
CBRE used 13 different metrics to rate cities in large and small tech markets, including such factors as wages, education levels attained, business and housing costs, population trends, and the number of tech employees in the area.
According to CBRE, technology employment is growing.
There are 27 percent more tech workers in the United States and Canada in 2016 that there were in 2015, according to CBRE. That equates to 4.8 million technology workers in four general occupations: software developers, tech engineers, technology management, and computer systems and support.
According to CBRE's study, there are 162,060 tech jobs in Dallas-Fort Worth, with a growth rate of 38 percent.
The infographic below from the CBRE report breaks down Dallas-Fort Worth's score.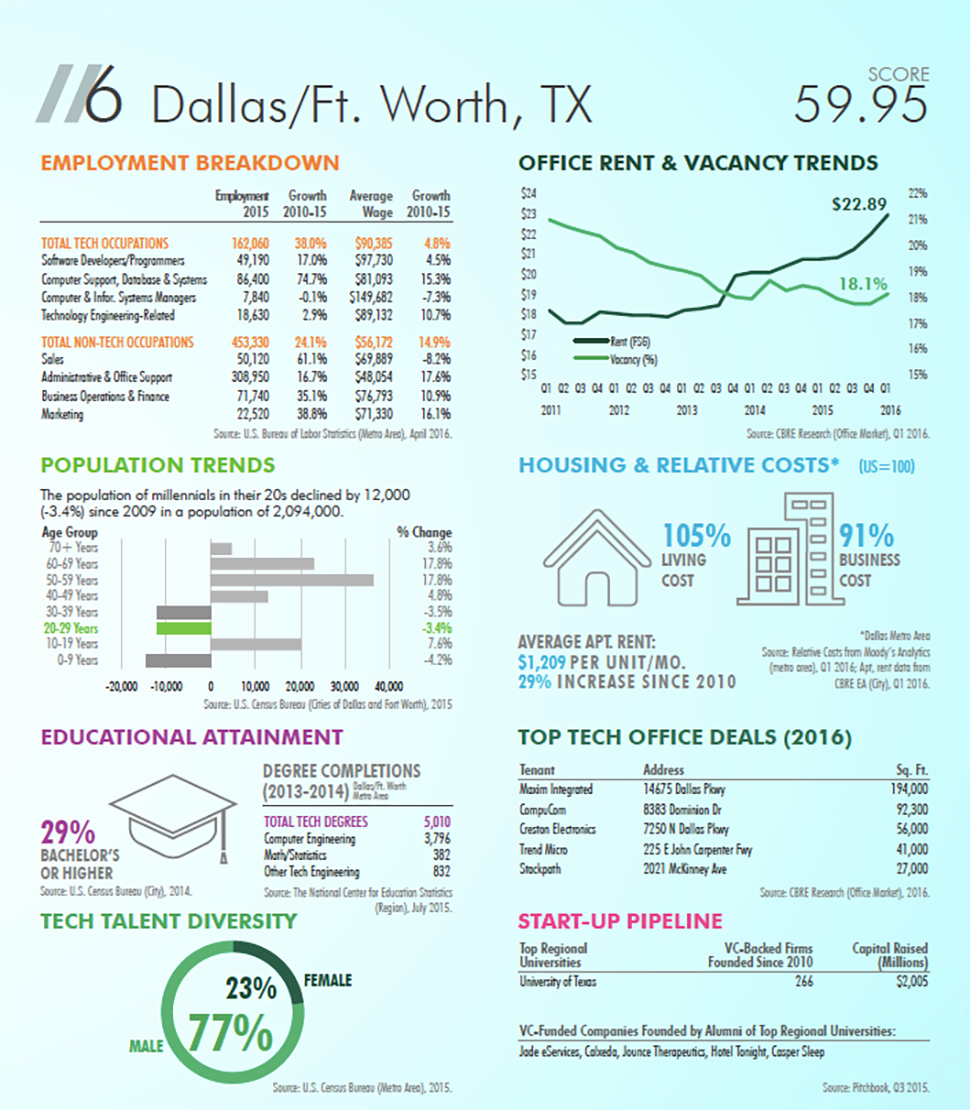 To read the full report, please go here.
---
For a daily dose of what's new and next in Dallas-Fort Worth innovation, subscribe to our Dallas Innovates e-newsletter.