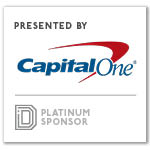 When University of North Texas sophomore and elementary education major Abbie Sutton first heard about the opportunity to learn coding, she was intimidated but intrigued. She recalled someone telling her it's like learning a foreign language—difficult at first, but worth it.
Education is Sutton's passion and the field in which she is pursuing a career. Even so, terms like 'algorithms,' 'Python,' and 'machine learning,' were about as unfamiliar to her as new words she may hear in any foreign language classes on campus.
"Through my studies, I have learned how important it is for younger kids to learn about technology in the classroom," Sutton says. "Technology is constantly evolving and it's more important than ever for students to keep up, which is why I wanted to expand my own knowledge about coding and other aspects of machine learning."
Demystifying that seemingly intimidating introduction to Artificial Intelligence is one reason why Capital One started Basic Training: Bot Camp, a ready-to-teach AI curriculum that offers everything a teacher needs to know about helping his or her students learn about what AI can do and how it can help them grow their potential as they prepare to enter the workforce.
Sutton was glad she took her professor's advice to enroll in Capital One's online Bot Camp training courses. Not only can she now keep up in conversations with her younger brother when he talks about coding, but she is ready to teach AI to her students when she someday becomes a teacher herself.
"I know this is something that my future students may be interested in using in their careers. It (the course) was much easier than I thought it would be and was presented in a way that was simple to understand. I feel like I walked away knowing the basics and am interested in learning even more."
In April 2019, Capital One set a goal to reach 10,000 students with an Artificial Intelligence programming curriculum over the course of three years. 
Capital One smashed that target with Bot Camp—more than doubling its goal by reaching more than 20,000 students during the program's first year.
The initial group even set a Guinness World Records title for the largest AI programming lesson when 846 participants from Plano Independent School District (ISD), Uplift Academies and various NAF academies in the Dallas ISD joined Capital One volunteers to attend Bot Camp.
Today, the program has reached nearly 80,000 students.
Capital One also rolled out this program to 100 education students, including Sutton, at the University of North Texas, in an effort to help aspiring teachers learn AI so they'll be able to immediately teach others once they reach the classroom.
Bot Camp is a series of online videos divided into three modules and designed to be a "workshop in a box"—a great option for teachers who have wanted to deliver machine learning classwork to their students but haven't had access to or training for this type of curriculum.
In preliminary research with local education partners and nonprofits, Capital One learned about the desire teachers had to incorporate bot engineering into their classes, but there wasn't a curriculum to do so. That is why Capital One partnered with Major League Hacking to build something that is useful for teachers and energizing for students.
By the time a participant is finished with Bot Camp, they will understand the basics of coding and AI by creating their own chat box that takes on the persona of a popular celebrity. The students will learn how that celebrity may answer questions based on predictability from how they "speak" on social media. They'll have the experience of chatting with their favorite celebrity based on something they have built.
Today, Bot Camp is expanding into classrooms and reaching even more students with newly launched videos on YouTube. The videos consist of a series of seven short episodes that take participants through all three modules of Bot Camp.
The program could help a teacher who isn't very familiar with coding feel more prepared to teach the curriculum virtually or in person. It also provides a whole new way to reach students who just want to learn coding in their free time without a facilitator.
"Bot Camp is unleashing opportunities for students to not only learn basic technical skills, but also problem-solving, creative thinking and human-centered design skills, which will equip them well for future leadership roles and careers where bold ideas and innovations will ultimately succeed," said Sanjiv Yajnik, President, Financial Services, Capital One. "I'm excited for this first-of-its-kind curriculum to reach even more students in DFW and around the world!"
As the demand for online learning at home grows, Capital One has been perfecting the art of delivering the workshop virtually using virtual platforms, so that teachers can follow along and edit in the workbook as their students take the course. A survey of initial participants show that 91 percent understood Python when they completed the program and 91 percent are interested in learning more about AI.
To learn more about Bot Camp, visit https://www.basictrainingai.com/. When you're there, you can select the modules you are interested in and either follow along with the playlist or start learning at your own pace. Once you have completed the course, you'll receive a facilitator's guide, an invitation for a one-on-one consultation about the program and other perks.

Get on the list.
Dallas Innovates, every day. 
Sign up to keep your eye on what's new and next in Dallas-Fort Worth, every day.