The city of Arlington is getting nearly $1.7 million from the Federal Transit Administration to integrate autonomous vehicles into its existing on-demand system that it operates with the Via car-sharing service.
According to the FTA, the service will include a wheelchair accessible vehicle, and it could permit UT Arlington students to ride for free.
From mass transit to micro-transit
In 2017, we told you how the city voted to end its single bus route and replace it with the Via ridesharing service. It was the first city in the nation to convert its entire mass transit operation into what is called micro-transit.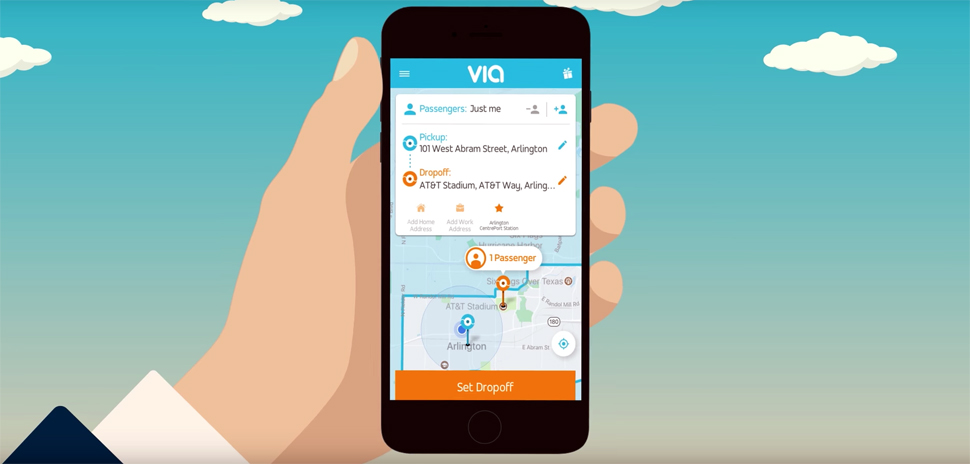 With a population of roughly 400,000, Arlington for years was the largest city without a public transit system. The Metro Arlington Express single bus route never drew many riders before being replaced with Via.
The city ran a one-year pilot project in 2017, in which Via operated up to 10 vans with room for six passengers each, running from 7 a.m. to 9 p.m., six days a week.
In a 2018 pilot project, the startup Drive.ai operated a fleet of three self-driving vans in Arlington's entertainment district, becoming the first Texas city to offer an on-street driverless option to the general option.
That pilot project, which the city called a success, was concluded in May 2019, the city said.
The city's thriving entertainment has grown to include AT&T Stadium, Globe Life Field, Globe Life Park, and the Texas Live! development that includes hotels, restaurants, and bars.
The city said that Drive.ai conducted 760 trips serving 1,419 passengers. Between Aug. 22, 2018, and May 6, 2019, it logged more than 440 miles in autonomous mode without incident.
Safe and smooth
Riders told the city in a survey that 98 percent of them felt safe, and 91 percent said they thought their ride was smooth.
At the time the Drive.ai program ended, the city said in a statement that it was proud to serve as a testing ground for autonomous technology and that it would continue to explore cost-effective, safe, and innovated transportation solutions.

Get on the list.
Dallas Innovates, every day.
Sign up to keep your eye on what's new and next in Dallas-Fort Worth, every day.