Last year, Americans across the country relocated for lots of reasons—from resizing to retiring. But one thing's for sure, according to digital homebuying platform Opendoor: The places we want to call home continue to evolve.
Taking a look at relocation data from 2021, Opendoor published a list of the ten hottest neighborhoods across the US. Making the list at No. 7 was Forney's 75126 zip code. Forney was joined by three other Texas neighborhoods in Leander (No. 2), Katy (No. 3), New Braunfels (No. 4).  
One common denominator between all 10 hot neighborhoods—including No. 1 ranked Clarksville, TN—was they were all in the southern half of the US.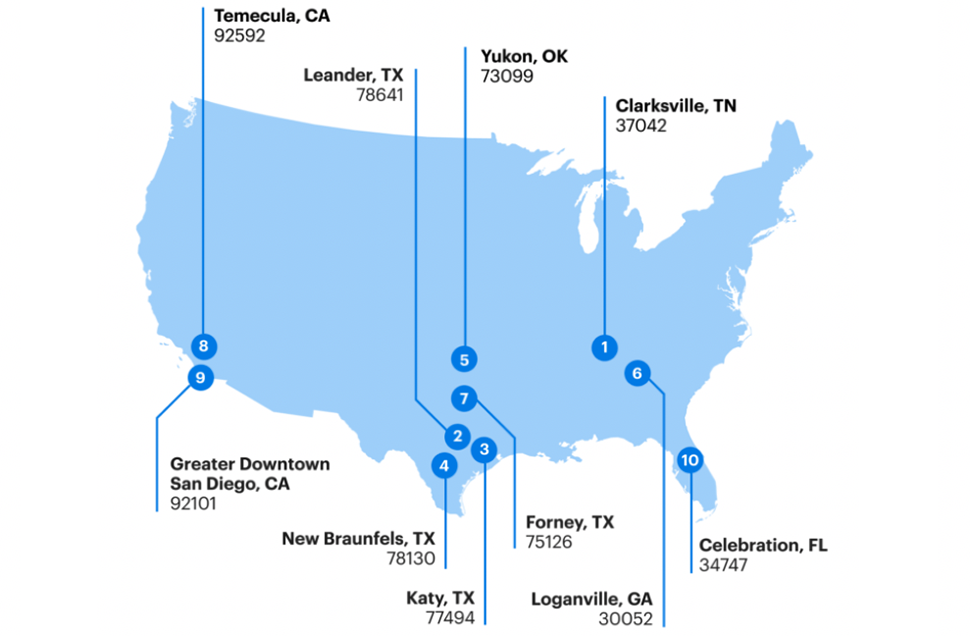 "One of the commonalities in this top 10 list? A warm climate," wrote Rob Reiling in an Opendoor post. "From Tennessee to Texas to Georgia to San Diego, Americans are relocating for a number of reasons—and enjoying comfortable weather is one of the perks."
Opendoor's Sharon Brown told us the Dallas-Fort Worth market is a particular draw. " DFW will remain one of the most thriving markets in the country into 2022 for a number of reasons —one biggest economic reason being the overall cost of living combined with an incredibly broad and diverse job market and business climate."
More hot ZIP codes
Along with finding Forney a hot real estate market, Opendoor's data also uncovered the top ten North Texas ZIP codes for relocation in 2021. The most popular spots were scattered among the Dallas-Fort Worth suburbs including Burleson, Frisco, Keller, and McKinney along with Forney.
Dallas-Fort Worth has something for everyone, whether that's a bustling urban setting or a laid-back vibe, says Brown, who is Opendoor's general manager in DFW. "We're continuing to see an influx of out-of-state buyers relocating to Texas which is great for our economy and culture," she said. 
Most popular North Texas ZIP codes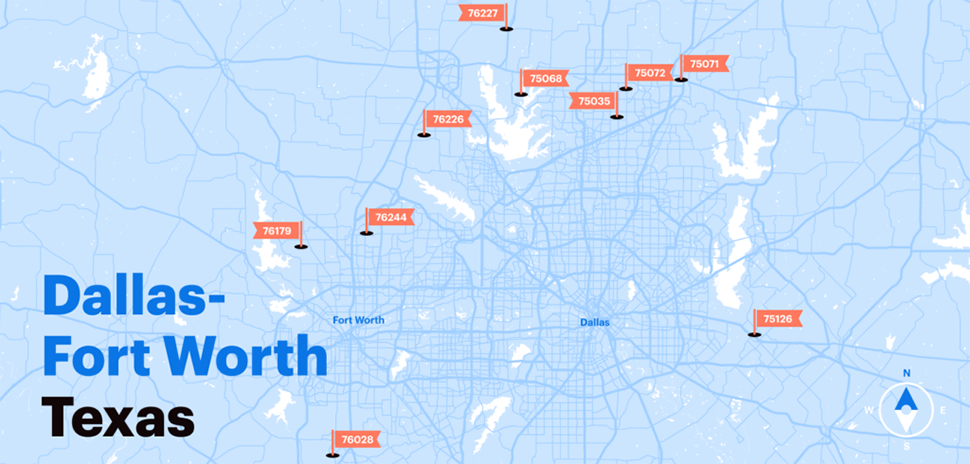 The top ZIP codes (in no particular order) are:
75126
The area, primarily in Kaufman County, includes Forney, Dallas, Heartland, Mesquite, Talty, and Seagoville.
76244
Fort Worth

76179
The Tarrant County area includes Fort Worth, Saginaw, Eagle Mountain, Pecan Acres, and Avondale.
76227 
The Denton County area includes Aubrey, Cross Roads, Little Elm, Denton, Krugerville, Prosper, Celina, and Lincoln Park.
75068
Also in Denton County, the area includes Little Elm, Oak Point, Frisco, Lakewood Village, and Paloma Creek South.
76227 
A third Denton County area includes parts of Argyle, Lantana, Denton, Northlake, Bartonville, Flower Mound, Copper Canyon, Highland Village, and Corral City. 
76028
Primarily in Johnson County, the area includes Burleson, Fort Worth, Rendon, Briaroaks, Cross Timber, Wooded Hills, Lillian, and Marystown.
75035
Frisco
75072
The Collin County area includes McKinney and Frisco.
75071
Also in Collin County, the area includes McKinney, Celina, New Hope, Weston, Altoga, and Roland.
DFW residential real estate outlook
Brown told us home prices and competition were on the rise in 2021—especially compared to years past. But, the region remains "one of the more affordable and family-friendly real estate markets in the country as well as in the state of Texas."
Brown says areas around the region—especially our suburbs—"will continue to bring folks from all over the Lone Star State as well as from out of state."
The GM points to Dallas' northern suburbs like McKinney, Frisco, and Little Elm as places where people can find "newer homes and a lot of space" for the money, "which is great for young families or those looking to upgrade."
Investing in real estate in Fort Worth's northern suburbs like Argyle, Keller, and Saginaw will likely pay off given consistent demand, quality of school systems, and overall growth in these areas over the last several years.
Brown says Opendoor expects to see continued, sustainable price growth this year, based on current supply and demand conditions in DFW.  "While we saw inventory levels hit record lows in 2021, we're expecting those inventory levels as well as days on market to rebound a bit in 2022—especially as we see more construction ramp up and new homes hit the market," she said. "These are all indicators that it's a great time to continue to monitor the market if you're looking to buy over the next twelve months."
Opendoor has seen the market consistently strengthen over the past few years. "Assuming no changes in interest rates, there's little reason to believe the market will decline this year," Brown said.
How Opendoor determined the top locations 
Opendoor analyzed data from local Multiple Listing Services (MLS) where its brokerages operate and then ranked ZIP codes by total homes going into contract within 90 days of listing in 2021.
Quincy Preston contributed to this report.

Get on the list.
Dallas Innovates, every day.
Sign up to keep your eye on what's new and next in Dallas-Fort Worth, every day.