Psychedelic Robot is so much more than just a pop-up museum. It's interactive. It's cutting-edge. It's immersive. It's compelling. And, it's sweeping the art world.
"We like to call it a 'Woodstock for Millennials,'" Michael Bivins, co-owner of the Bivins Gallery, says. "It's going to be such a happening event, with positive energy and fun. And, it's a way to make art that's accessible to everybody."
The hands-on experience coming to the Bivins Gallery at the Crescent next week will feature custom contemporary exhibitions from international celebrity creators, including Punk Me Tender, Mr. Brainwash, LeCash, Laura Moore, not.travis, and the Color Condition. Designed to engage audiences of all ages, Michael—who co-owns the gallery with his wife, Karen—says Psychedelic Robot is going to break down the barriers of the traditional art scene.
"This is what art was all about when it first came out—it was for everybody," he says. "We just think it's what should be happening in the art world today."
For the past 30 years, the Bivins have curated shows and galleries globally in artistic hubs like London, Switzerland, Madrid, and Italy. With a diverse track record, the couple has garnered a keen sense of the creative landscape, which Michael thinks is currently leaning towards an interactive experience.
He points to a traditional art gallery, and says that words like "pretentious" and "stuffy" tend to come to mind. From his perspective, younger generations seem to be living in a more isolated world, with their computers at the center. So with Psychedelic Robot, the goal was to allow people to become completely immersed in an experiential event.
"This is what art was all about when it first came out—it was for everybody."
Michael Bivins
And Michael thinks Dallas is the perfect place to do it.
"It doesn't always have to be Berlin, London, New York," Michael says, "Dallas-Fort Worth—let me tell you—Karen and I actually think this is the best place in the country to be right now for the art scene. Dallas is ready."
The name "Psychedelic Robot" comes from the Bivins's affinity for '70s-esque psychedelia. They wanted something that was colorful and vibrant but still appealed to everyone from ages 16-65.
"We just wanted to come up with something that was really different," Michael says. "We think this style has come full circle now."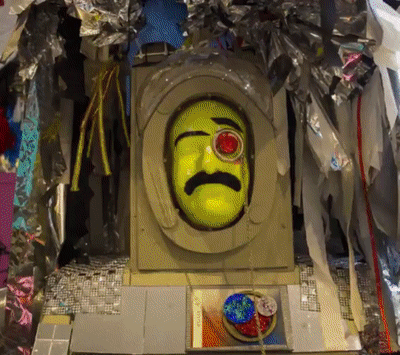 If all goes well, Michael wants to do a national tour, and take Psychedelic Robot on the road. He thinks the next Warhol or Basquiat could be discovered from the current crop of artists and says things have the potential to grow. In fact, he's even considering making the inaugural event here in DFW run for longer.
"I'm just excited about Dallas getting turned on to something like this," Michael says. "I'm excited about what the potential art scene can be—and will be—in the Dallas-Fort Worth area."
In addition to interactive displays, guests have the opportunity to mingle with artists, purchase pieces and merchandise, and become more educated about the industry. The event also will benefit Klyde Warren Park. For ticket prices and additional information, check out the official website.
Psychedelic Robot, located at The Crescent complex in Uptown, was originally scheduled to run Sept. 20-29—but ended up staying until Nov. 15. And, art lovers rejoiced on Nov. 19 when the exhibit announced that it would return for a limited time during the holidays: Dec. 14-16 and Dec. 21-23.
TAKE THE TOUR
Take a photo tour of Psychedelic Robot with Dallas Innovates. Because our sneak peek was before completion of the installation and the official event opening, this is just a taste of what to expect. Not all artists and pieces are included.
Photos: Dana McCurdy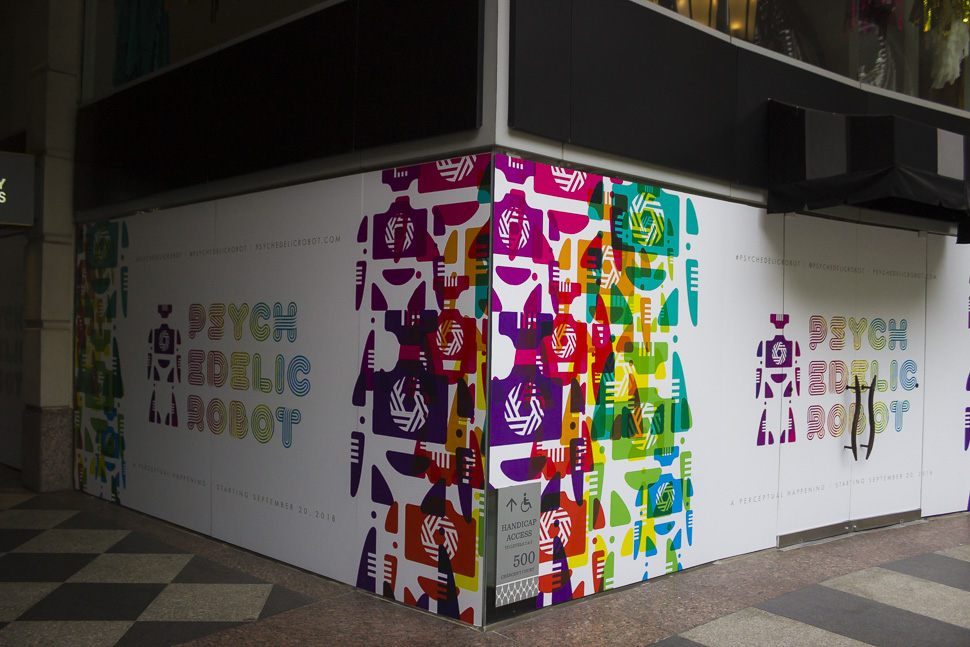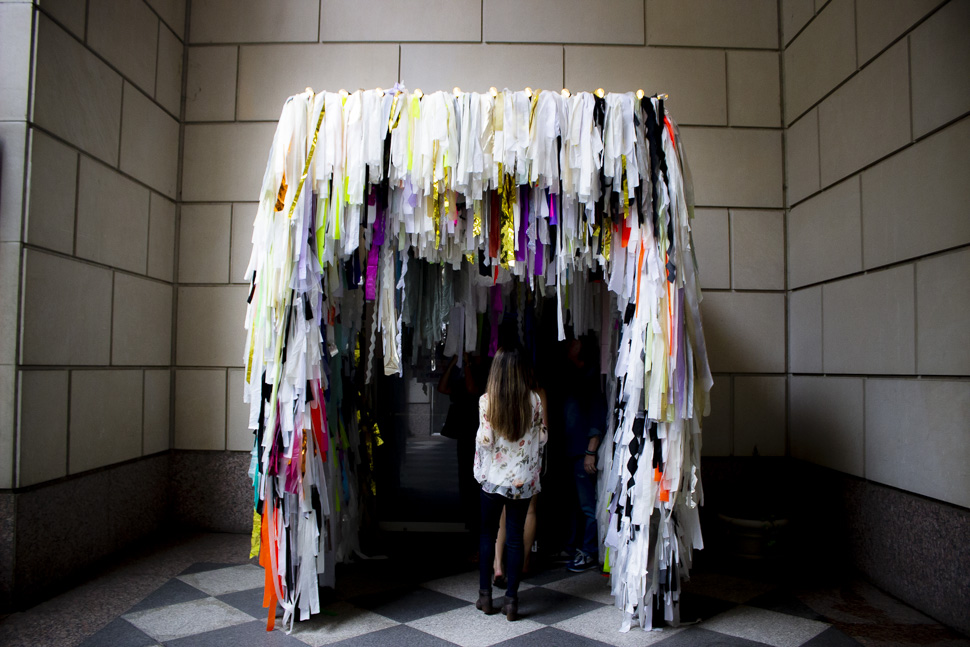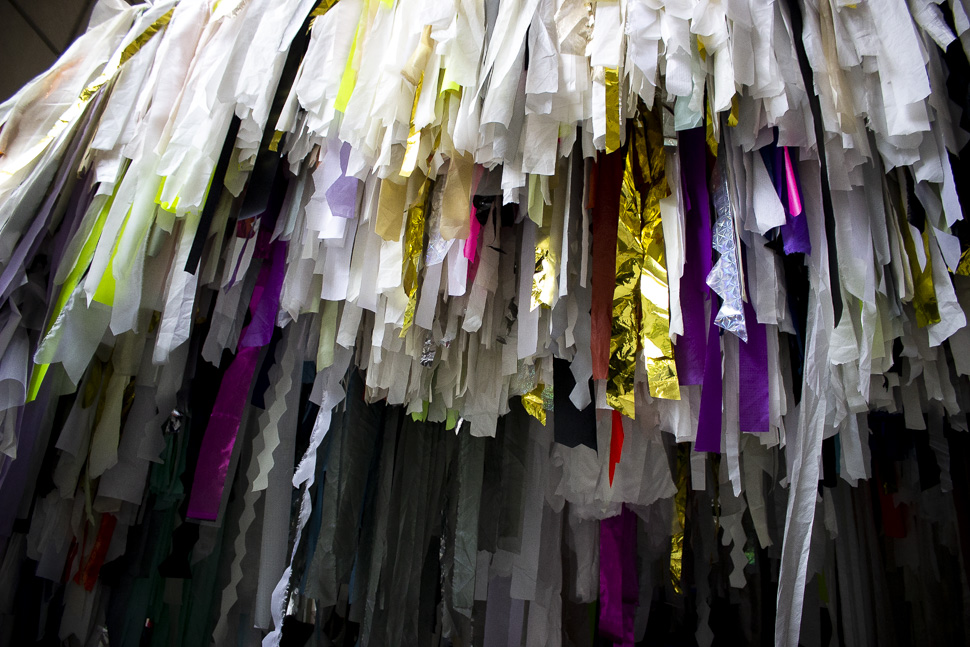 "Streams" — consisting of tablecloths, shower curtains, painters drop cloths and more — by The Color Condition set the tone at the entrance. The Color Condition is a "collaboration and experiment" based on color, pattern, and movement between local artists Sunny Sliger and Marianne Newsom.
HIT THE LIGHTS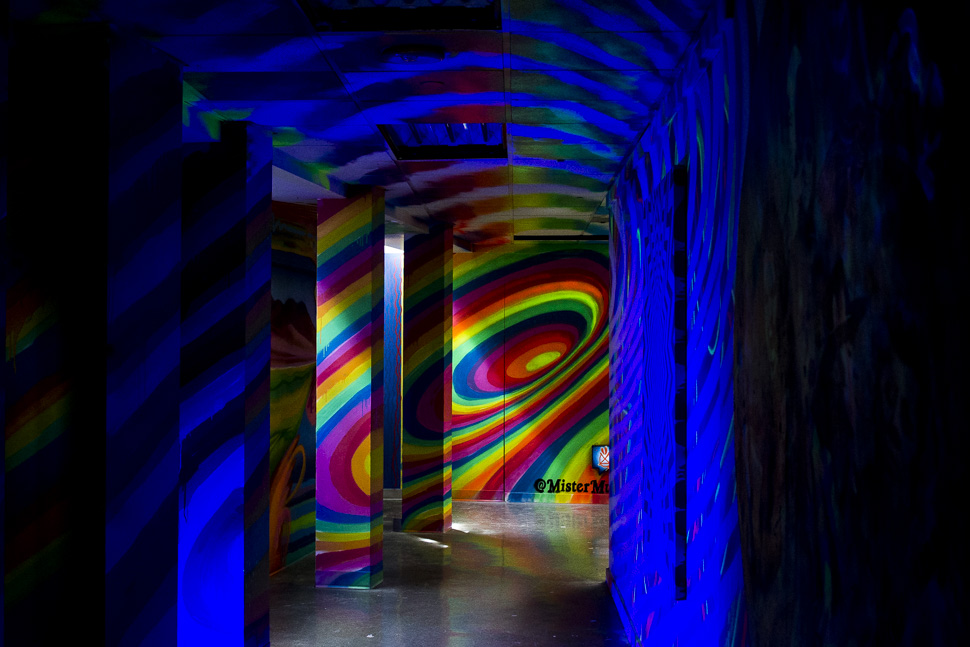 When Dallas Innovates was given the tour, the exhibition was only about 85 percent done. Michael says during the event, black lights and different effects will be used.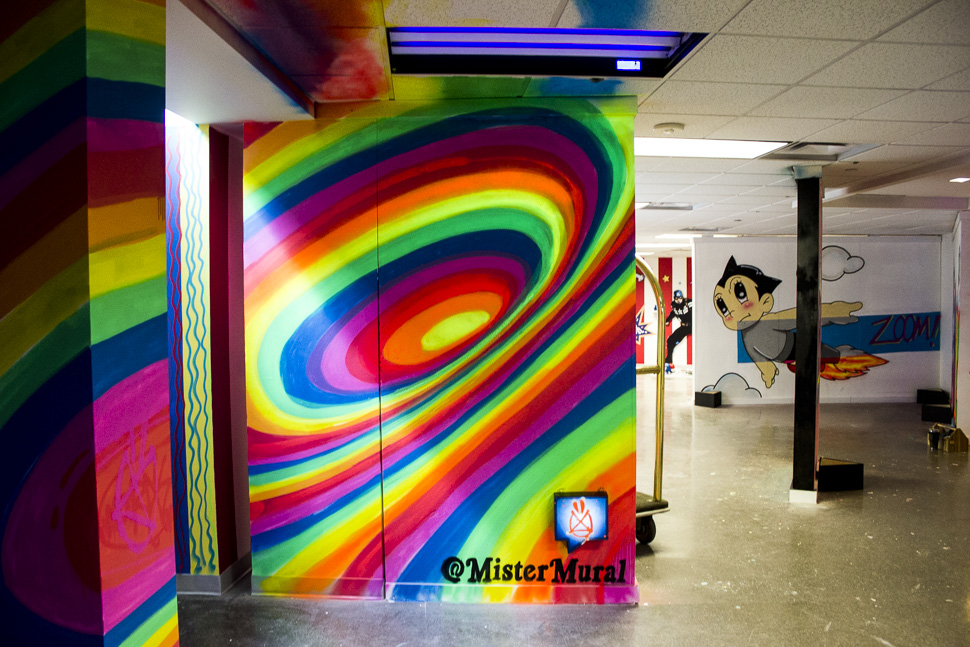 Street artist Mister Mural is known for creating large-scale works that completely transform an area. He currently works here in Dallas.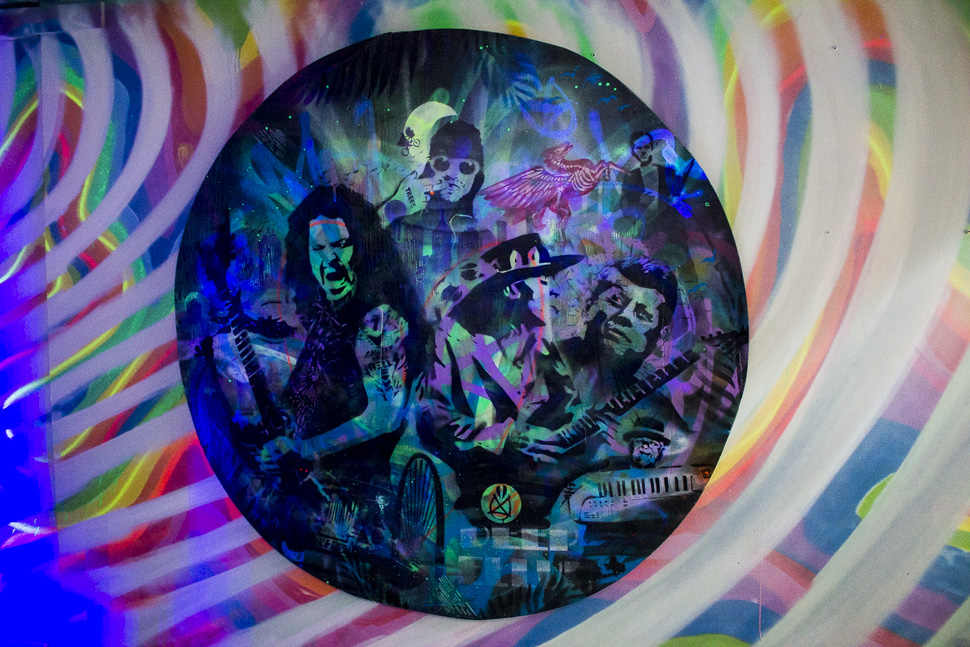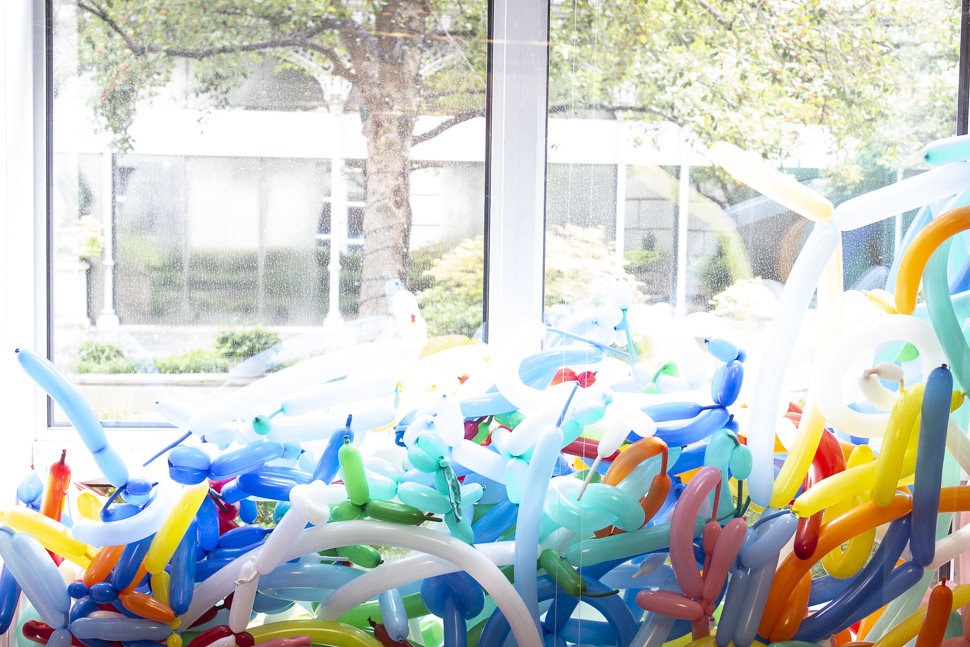 ROOM BY ROOM
The exhibition is huge, and as you walk through, you tend to be wowed by each space that's completely different from the last. Each artist could collaborate with each other, but they ultimately had free reign over what they wanted to do.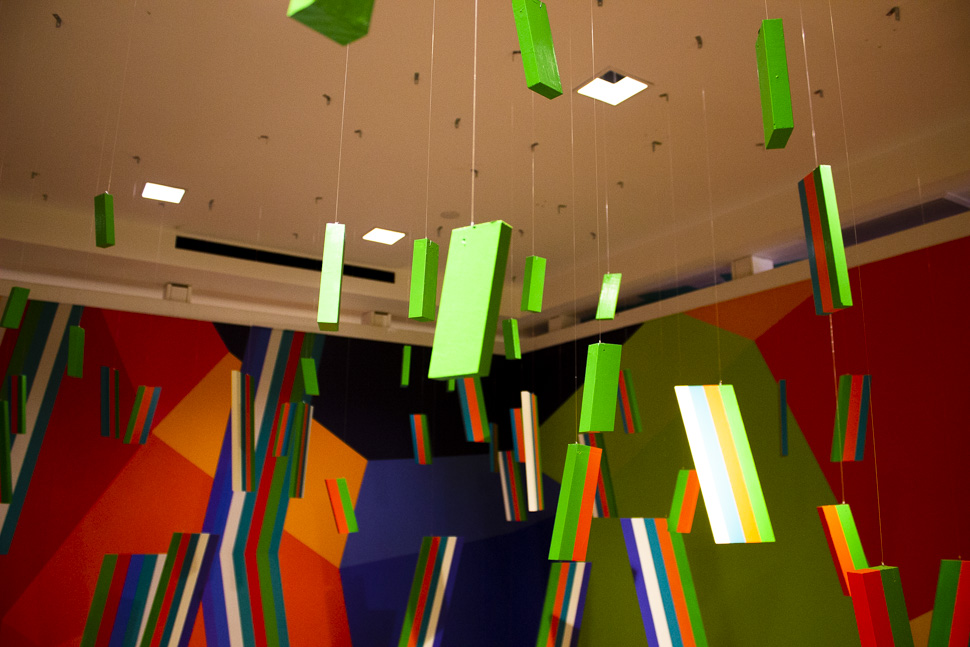 Laura Moore, who operates out of McKinney, has had work in numerous private and corporate collections—the latest being this room of cubes.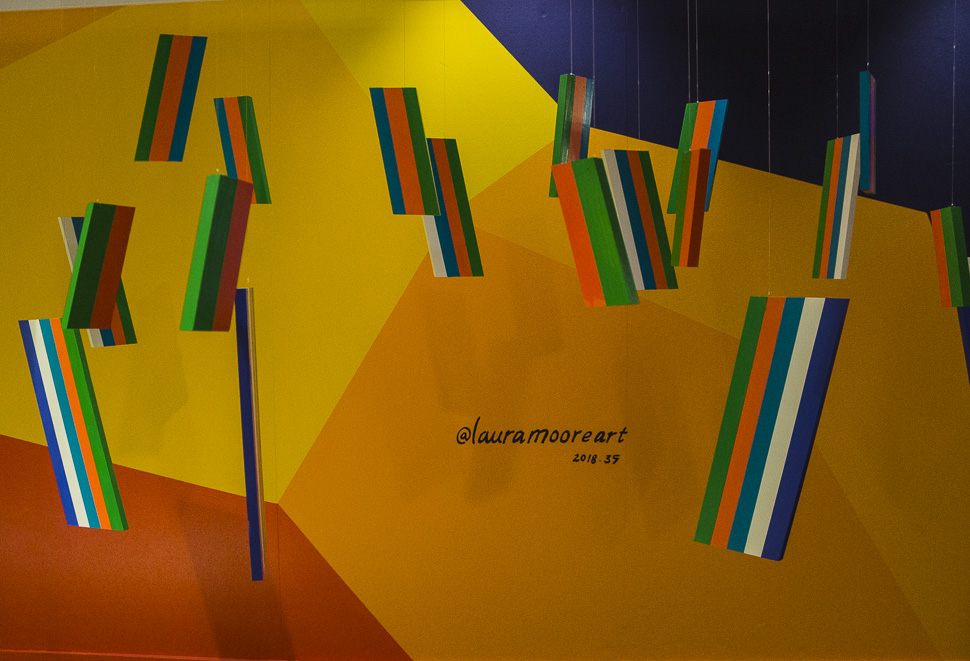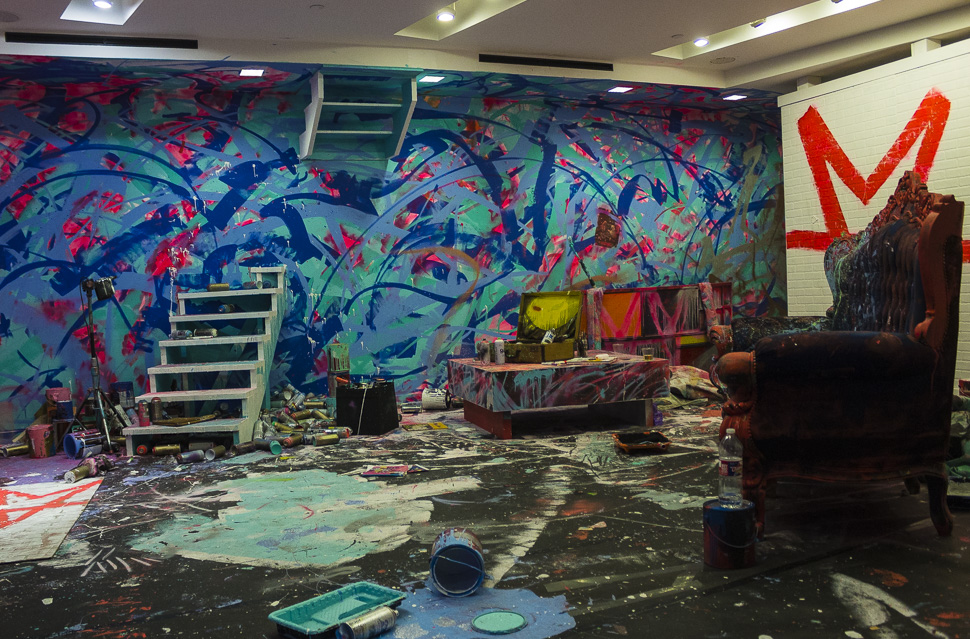 Dallas-based not.travis has murals scattered throughout Deep Ellum, but for Psychedelic Robot, something different was created. For the exhibition, his entire studio was replicated, and guests can watch him paint in real-time.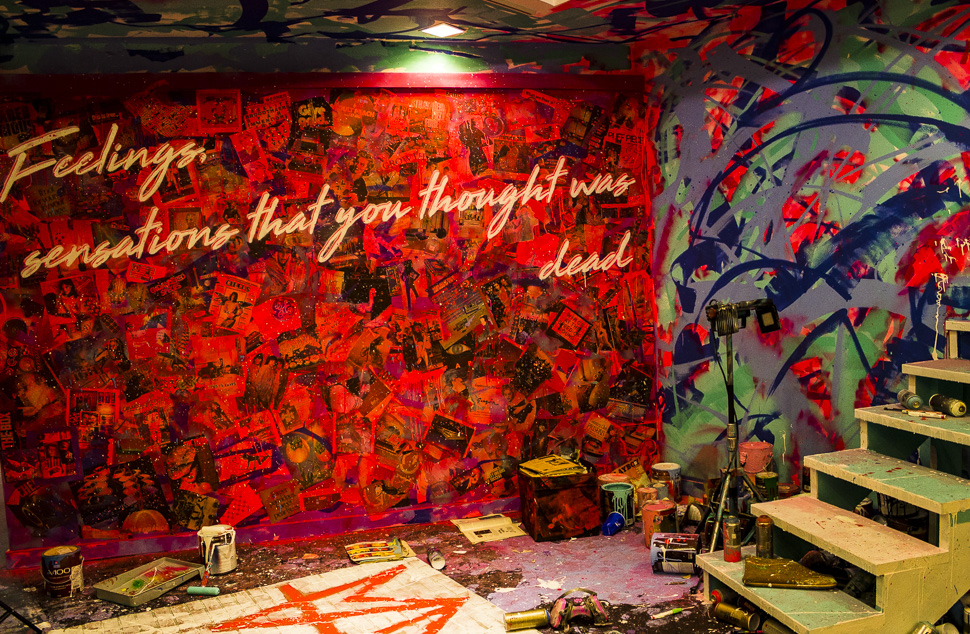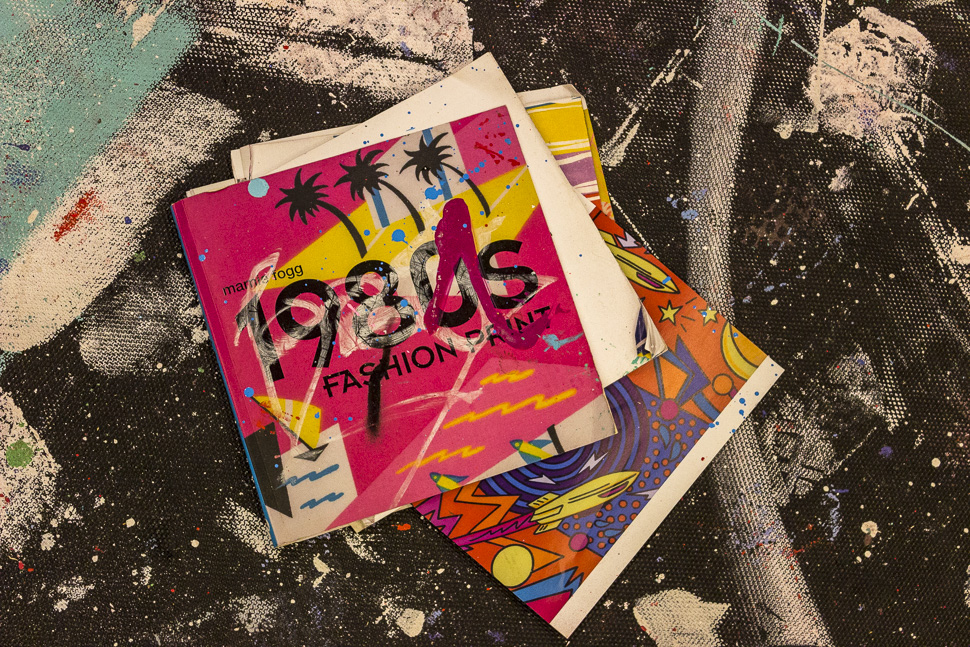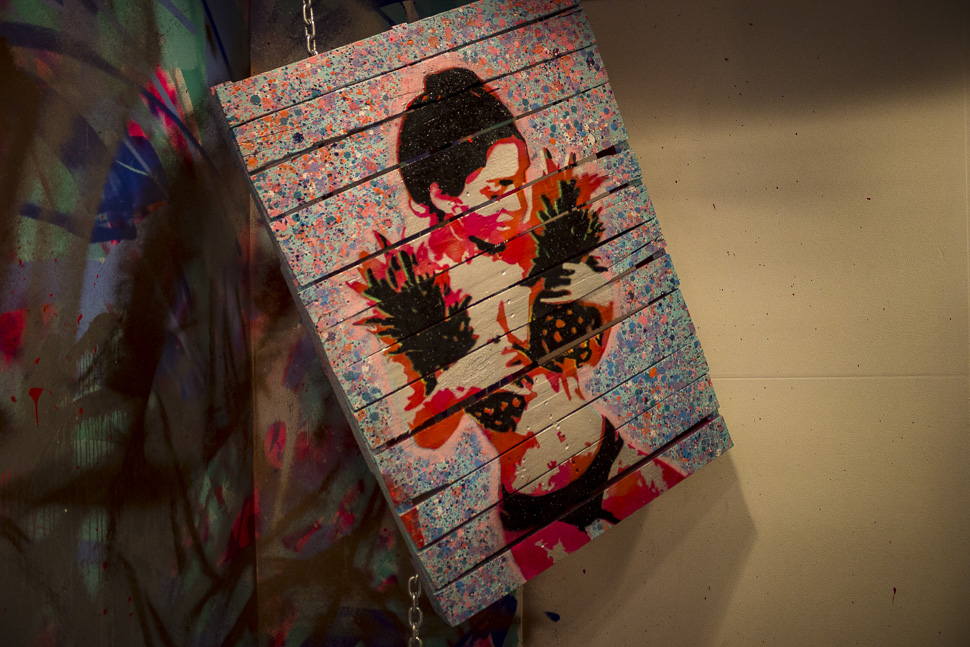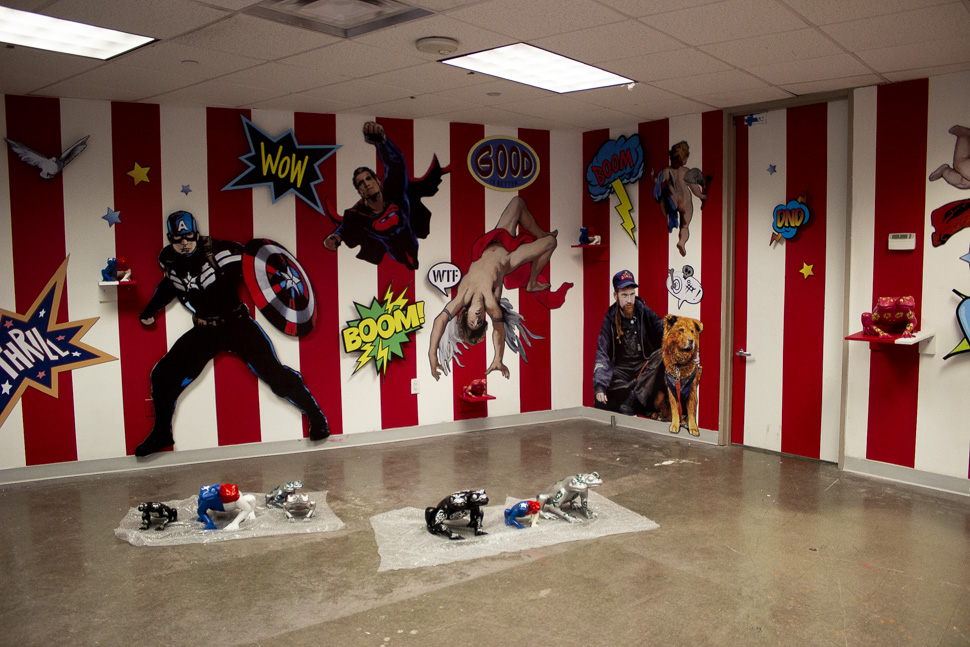 Artists from Moscow inspired by Russian fables created the room with the frogs, which will be displayed on pedestals during the exhibition.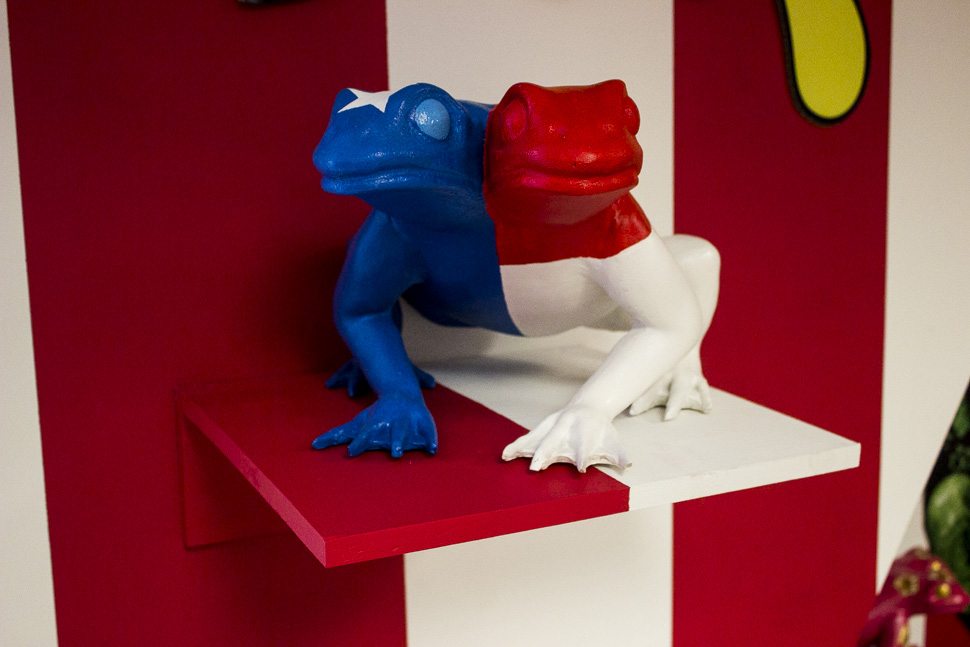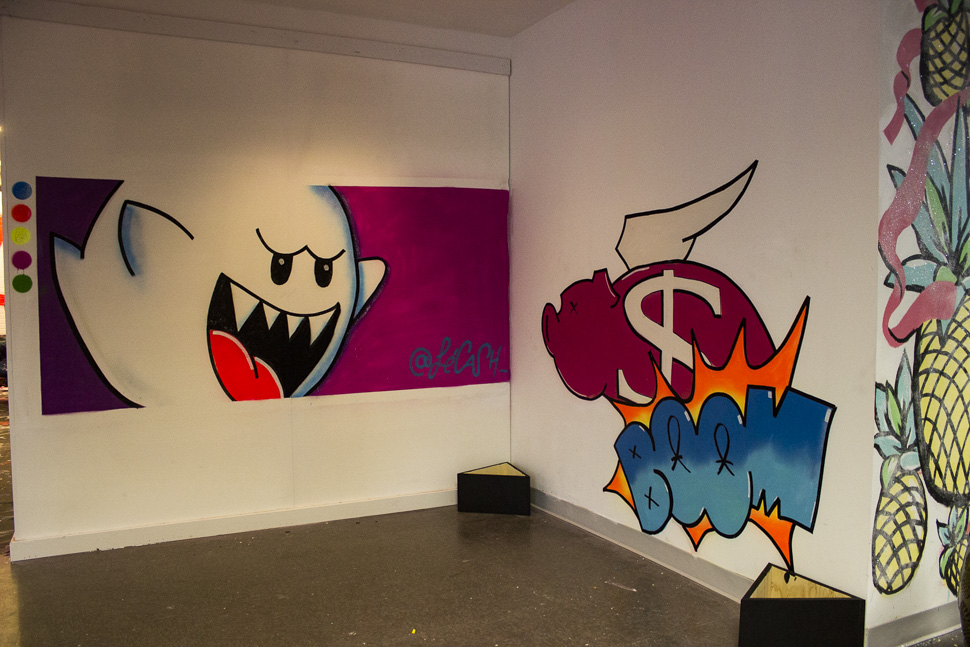 Lecash is one of the artists in the exhibition that's not anonymous. He's based in LA, and creates work that manipulates pop culture.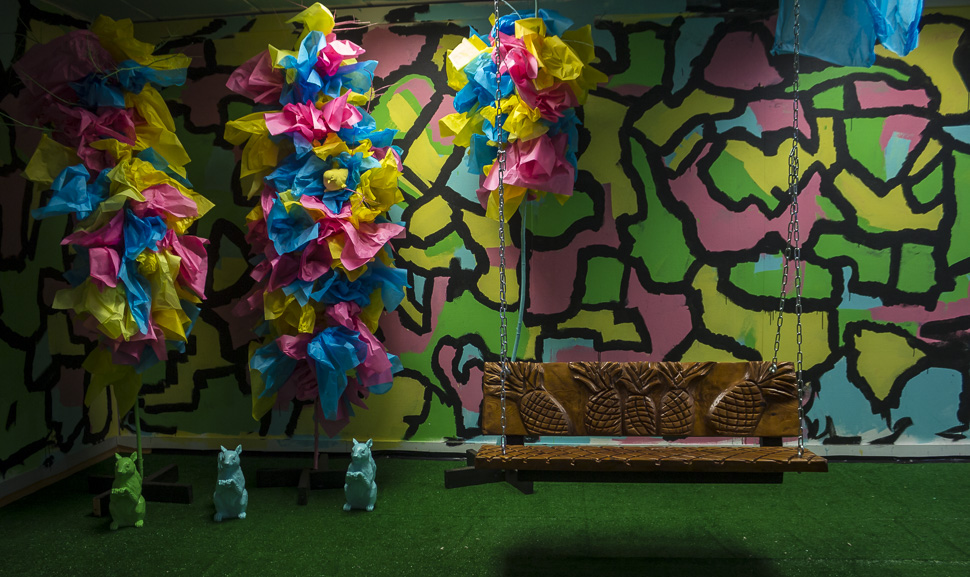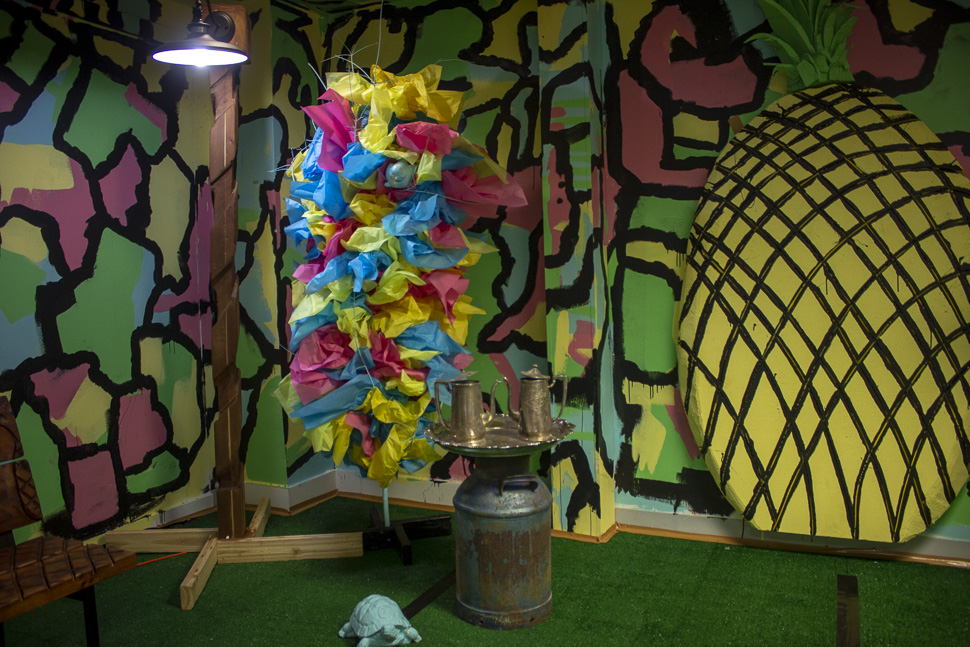 While the exhibition is running, Michael says Pineapple Park (above) will have features like working fountains, calling it an "Instagrammable world meets art world."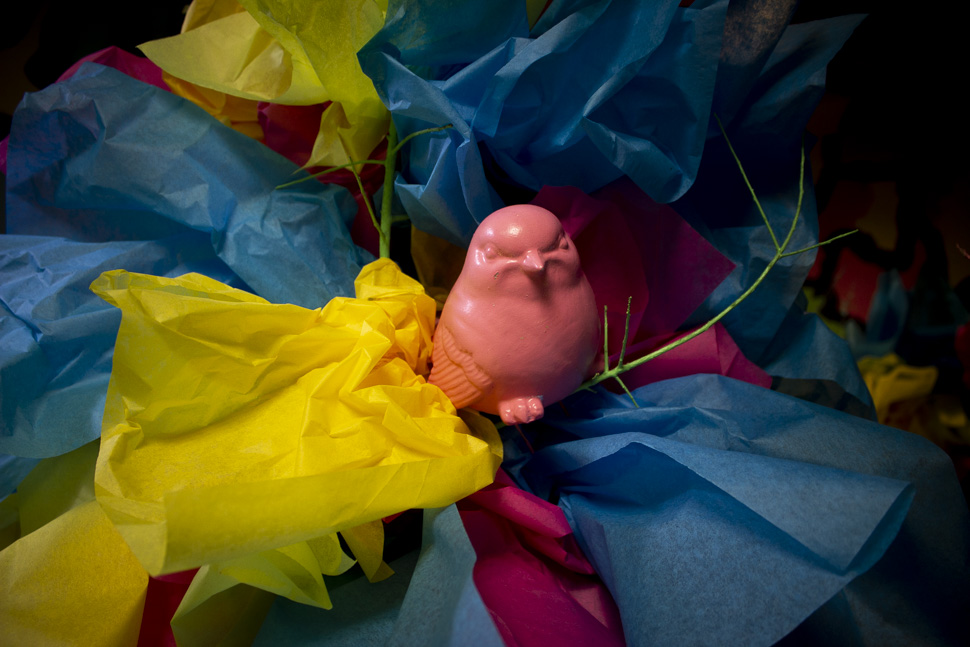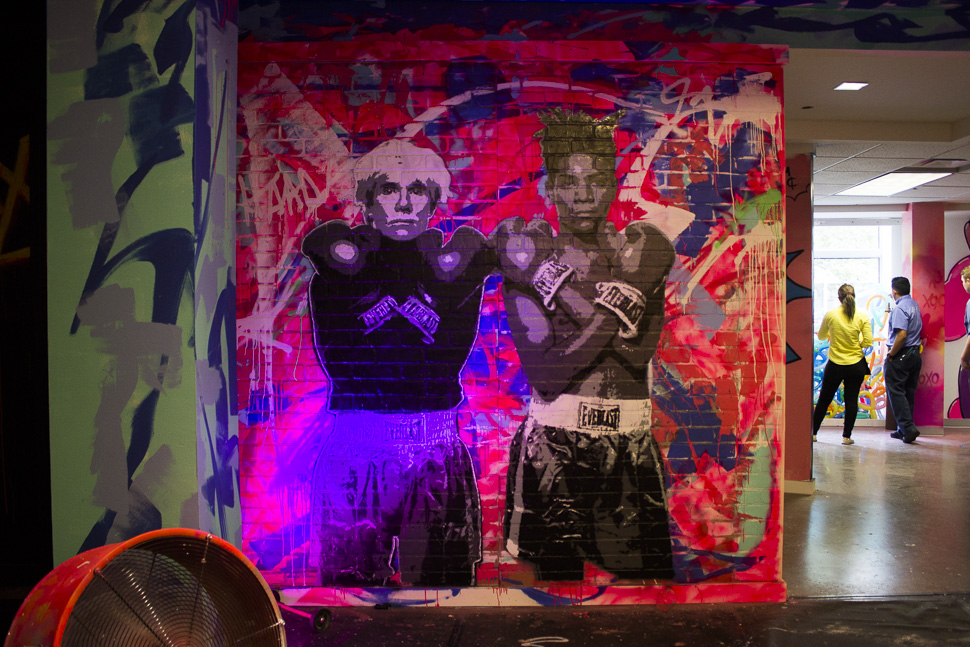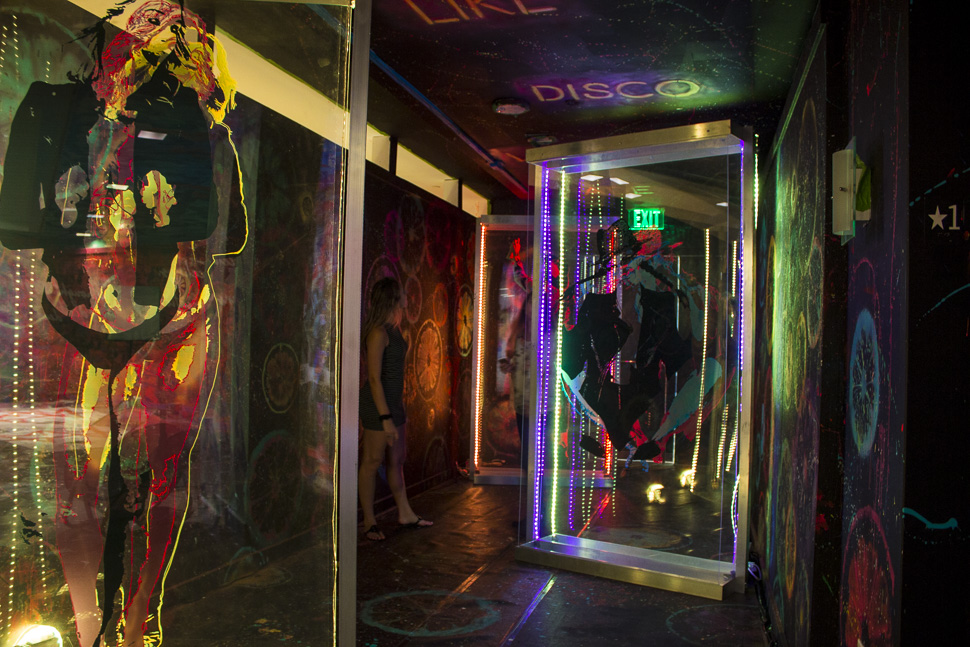 The work shown above is scattered throughout the exhibition. The 3-dimensional pieces are created by ThanxZoe, who layers sheets of LED-lit plexiglass. ThanxZoey, whose real name is Shannon McAnally, is based here in Dallas.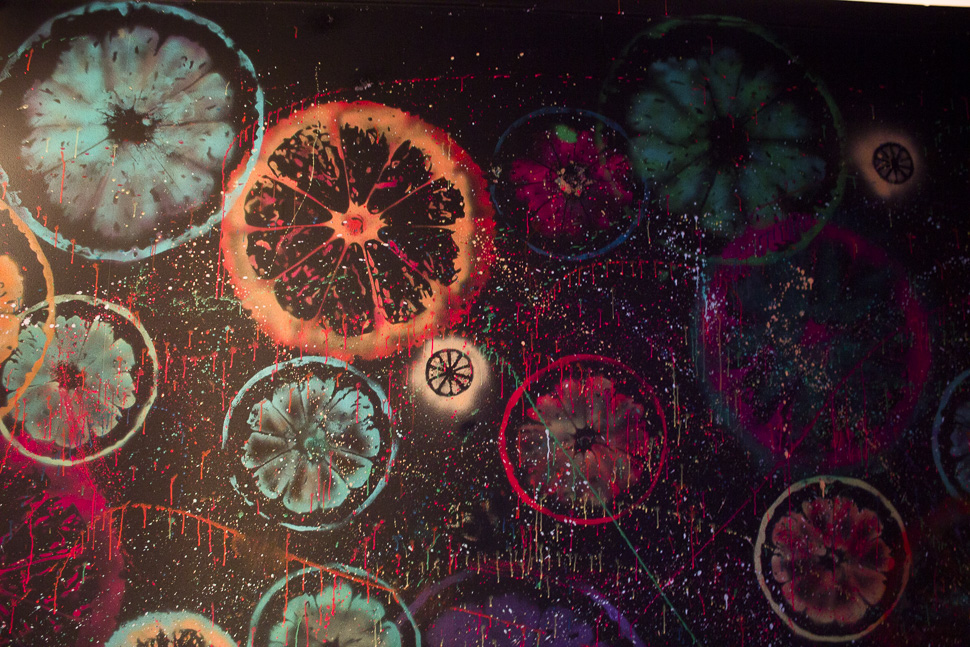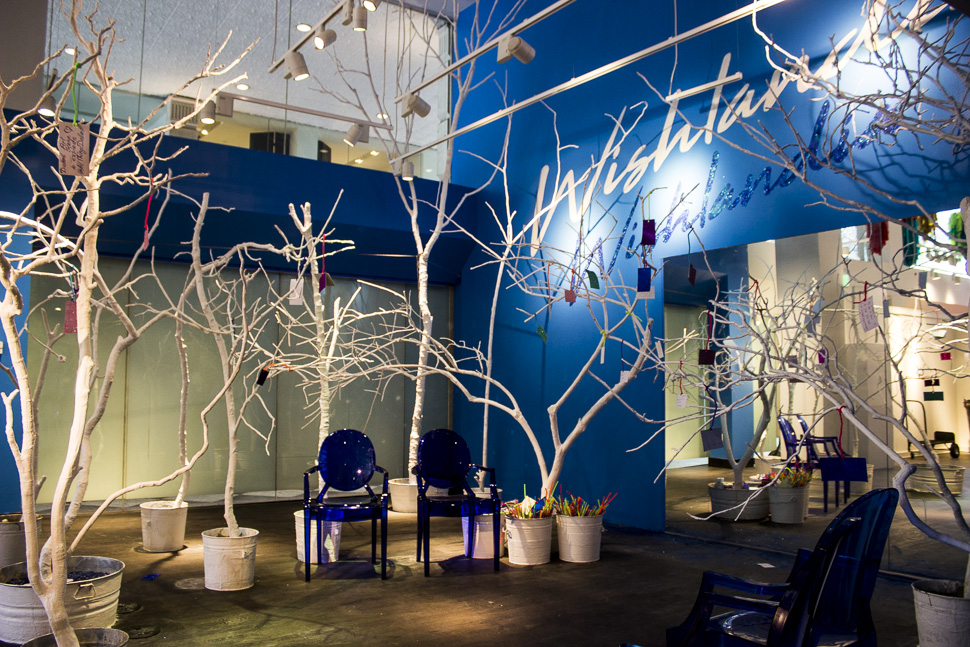 Wishlandia is an interactive space created by a collective of artists. During the exhibit, guests can write wishes on cards and hang them on the trees.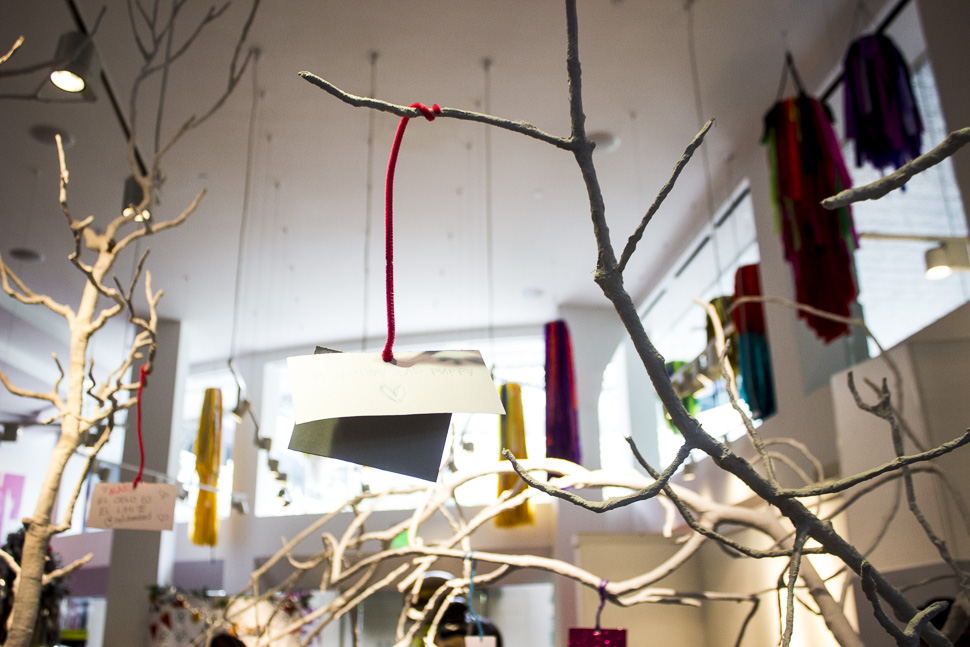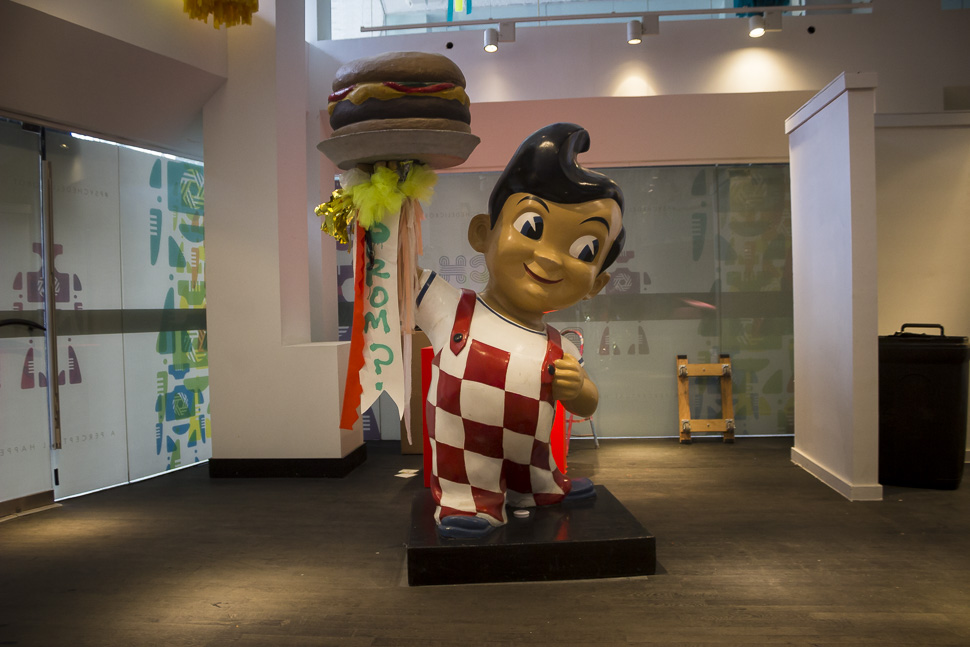 THE PSYCHEDELIC ROBOT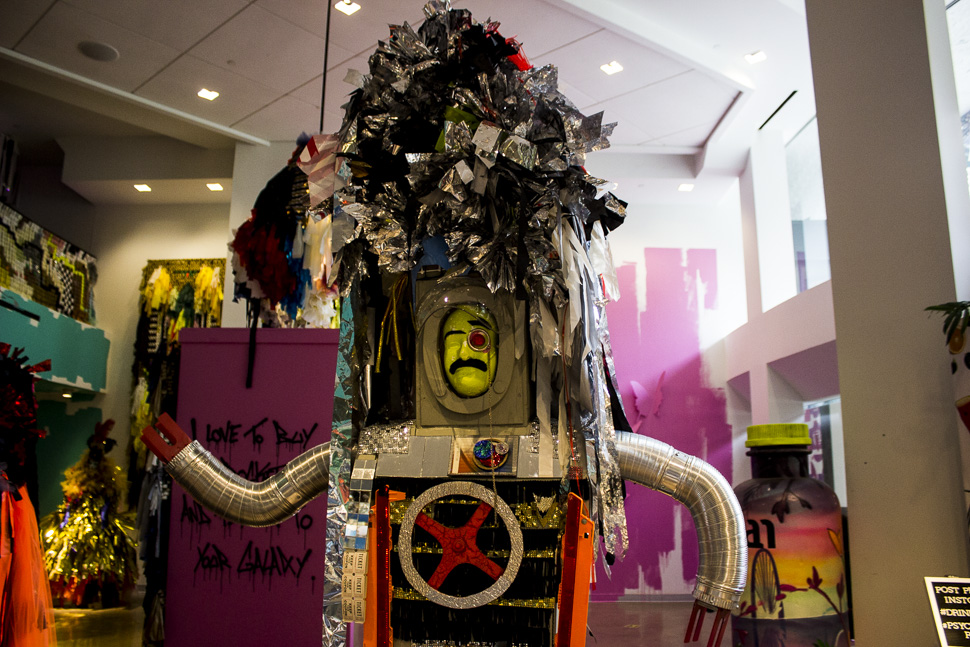 Michael says this is a smaller version of what the psychedelic robot would be. During the exhibit, it will light up and be on display for plenty of pictures.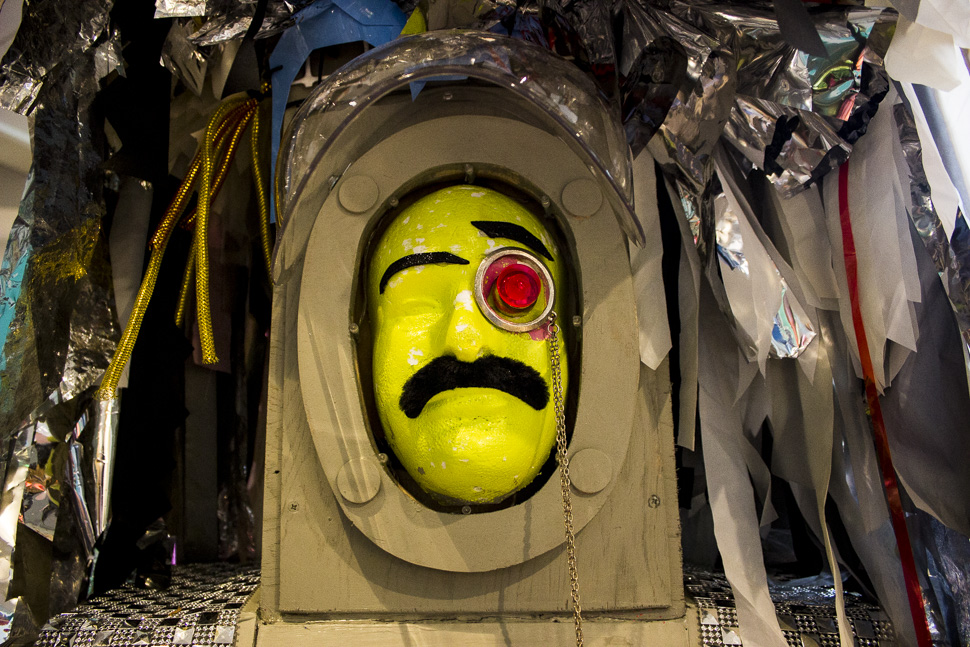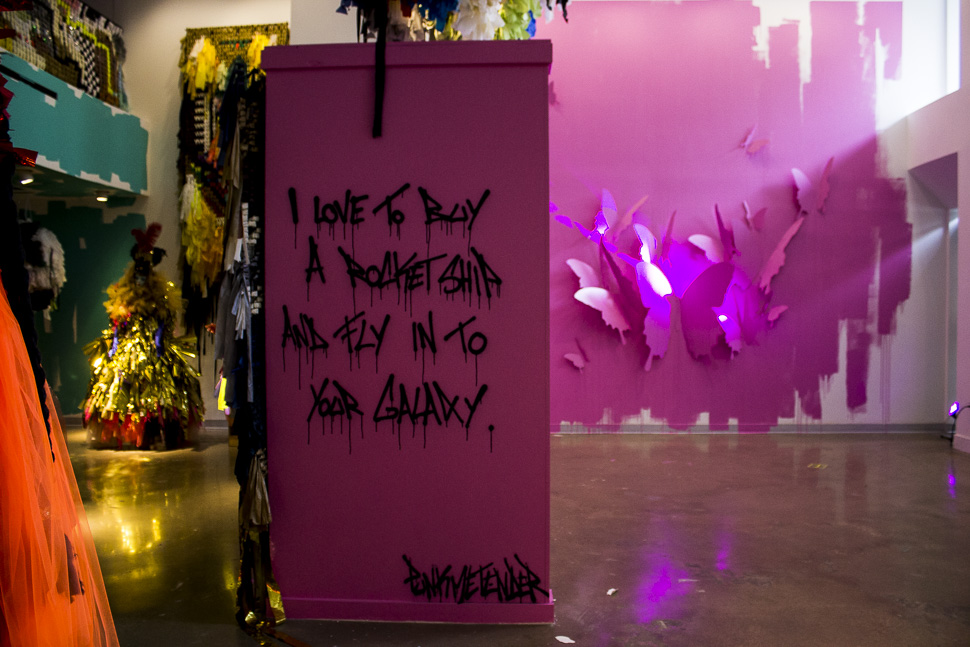 Anonymous street artist PunkMeTender created a new piece specifically for Psychedelic Robot. Based in LA, he is said to have no strategy for his art, and acts on instinct.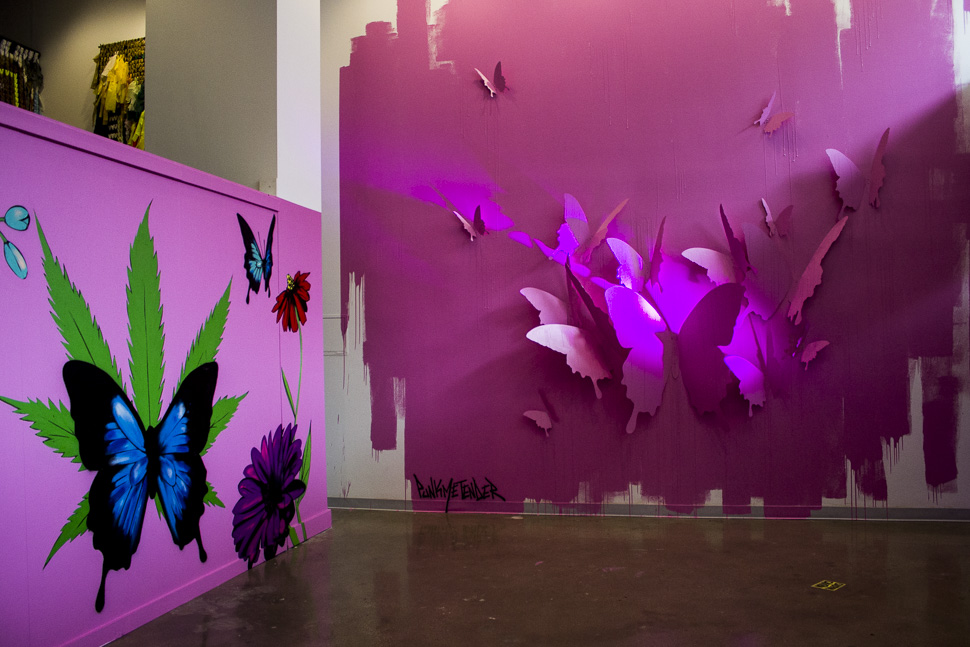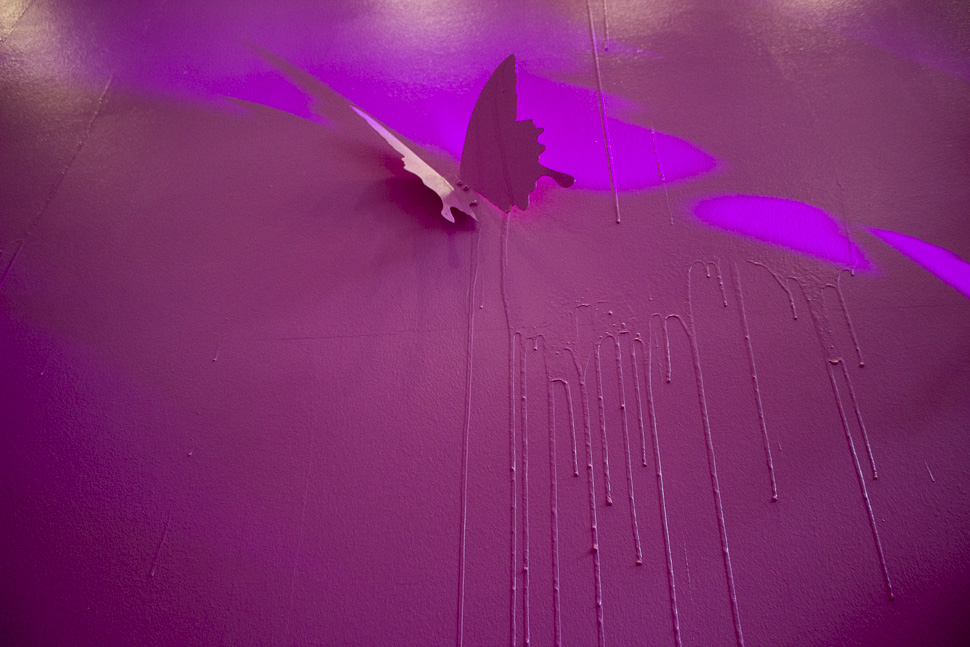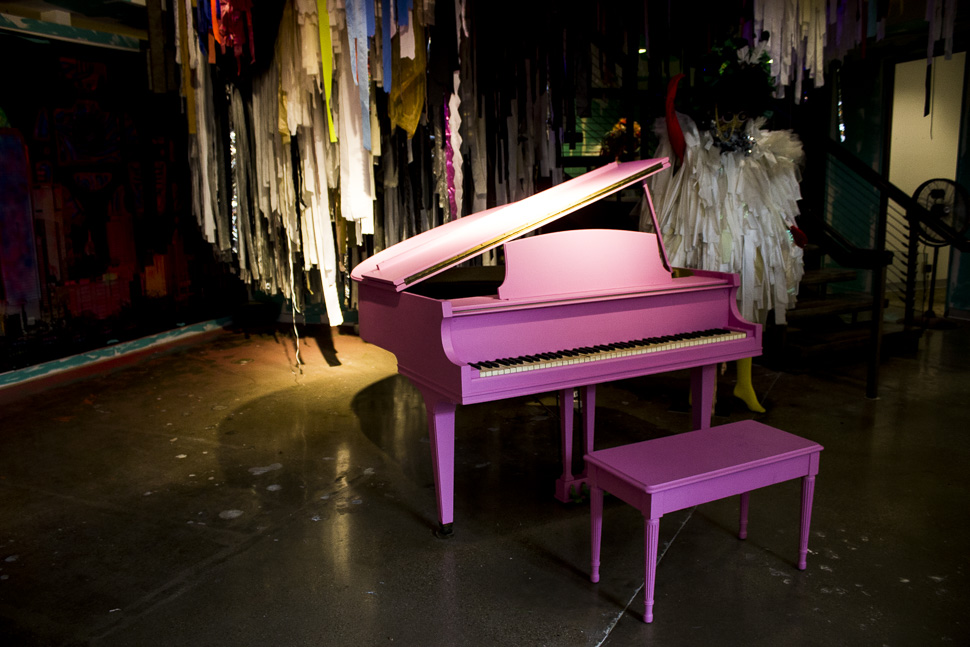 The Color Condition is based here in Dallas, and is comprised of two women named Sunny and Marianne. They're known for creating works with these streamers of tablecloths, shower curtains, and painters drop cloths that change based on color, pattern, and movement.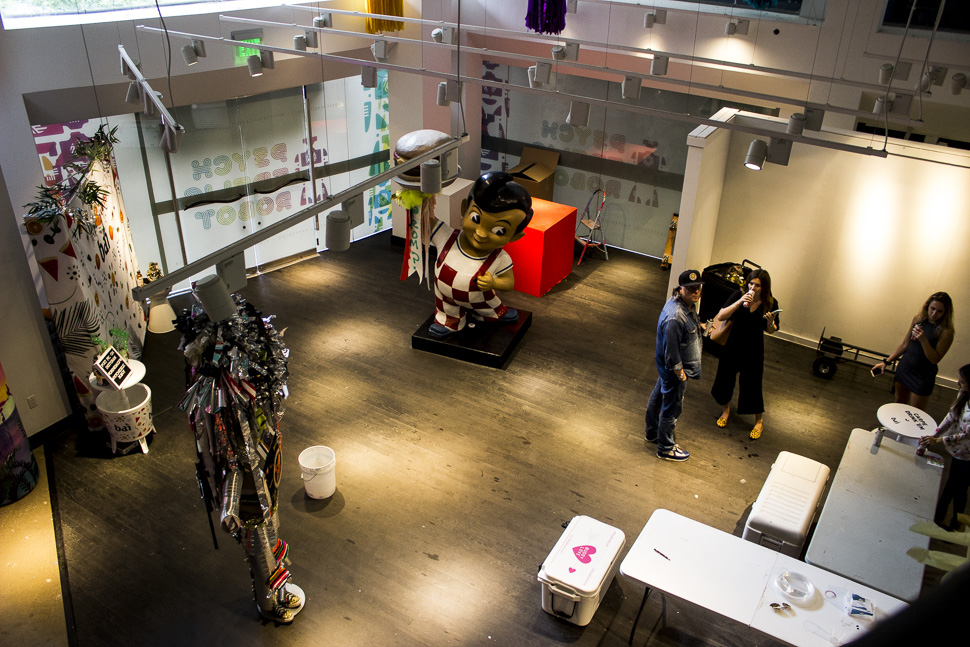 Michael Bivins (shown here with some of the Dallas Innovates team) explained that the exhibition was originally supposed to run for 10 days, but he now thinks it can go longer.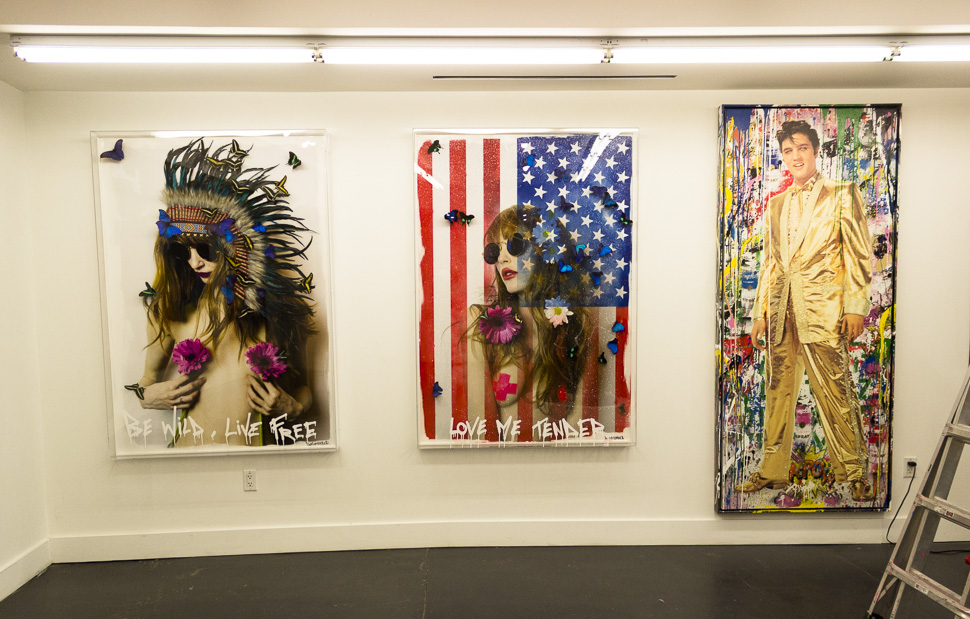 Original art is on display that guests actually have the opportunity to buy. Michael says there are pieces for any level of art collector, with prices ranging from about $350-7,000.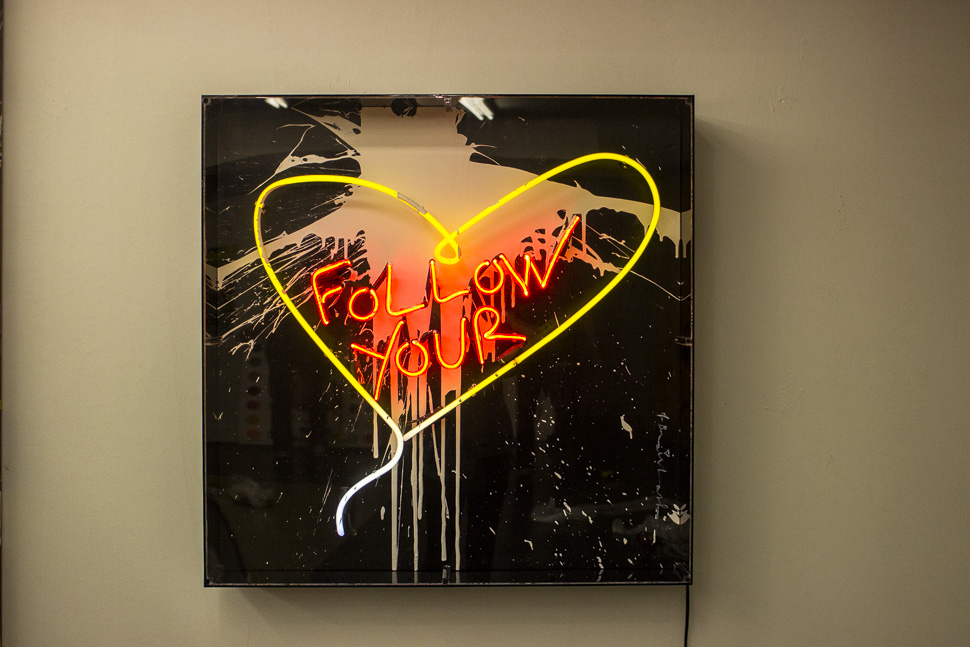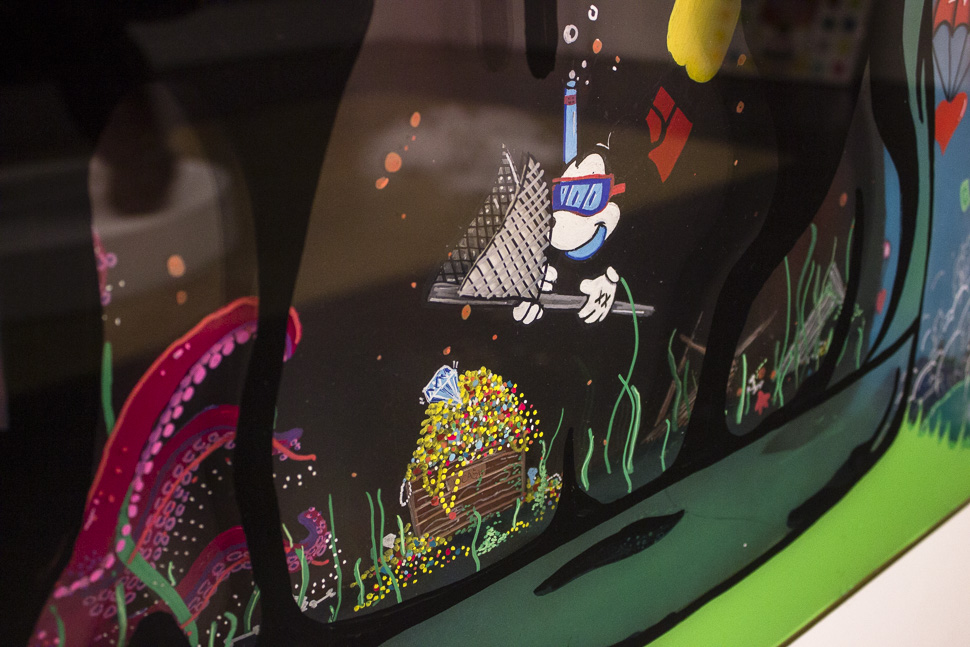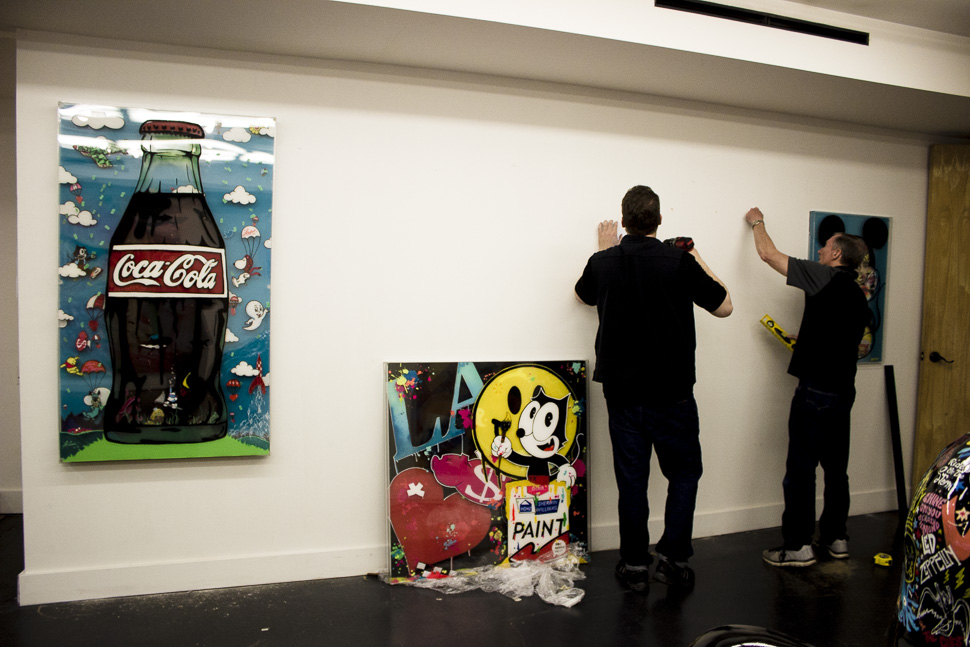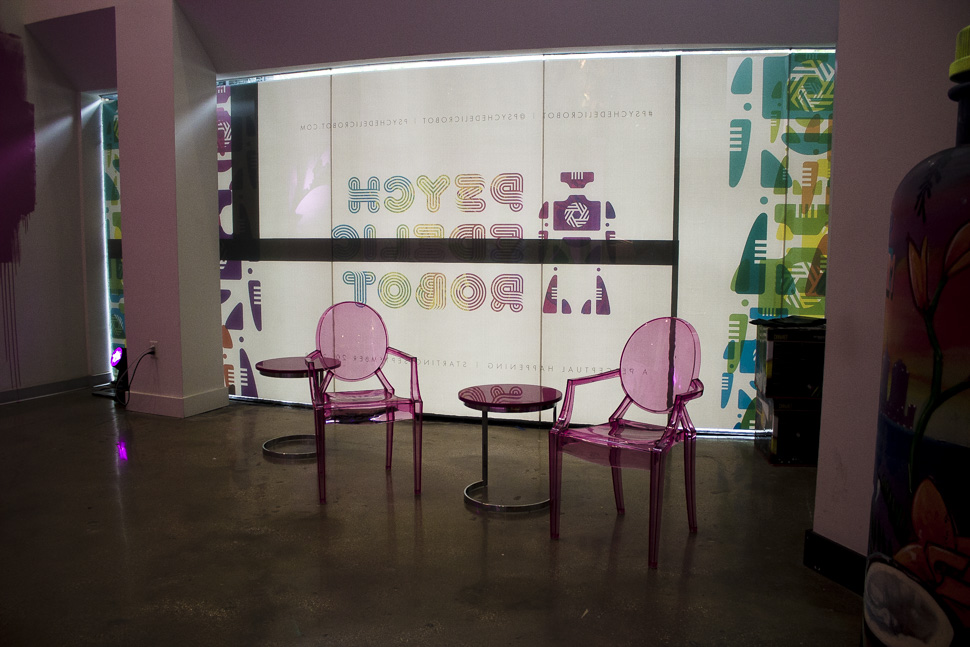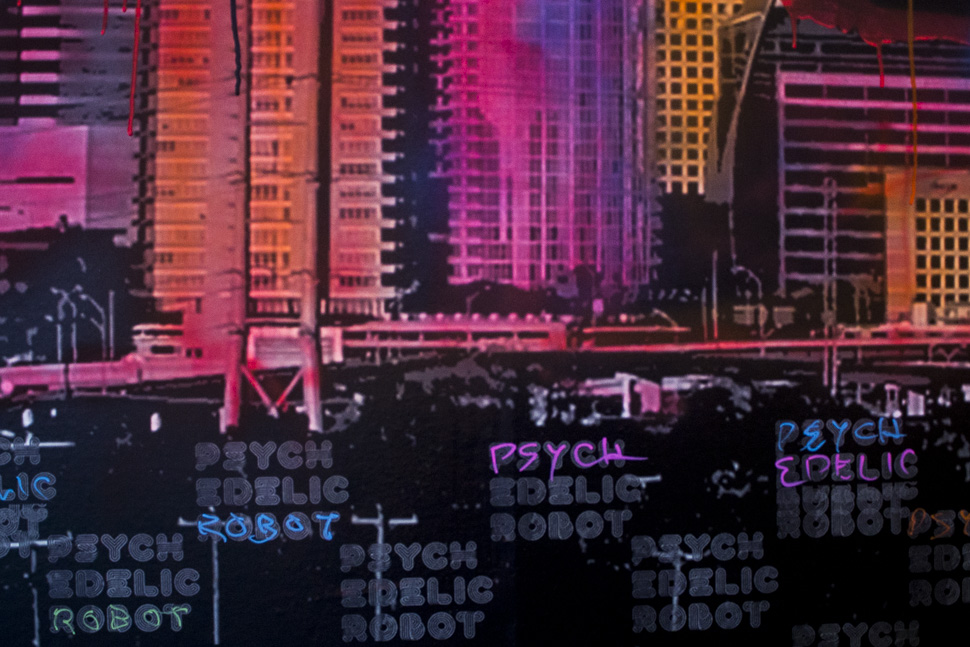 This article was updated on Nov. 27 to include the dates of Psychedelic Robot's extended run.