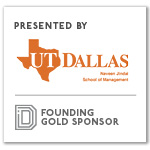 Three students from The University of Texas at Dallas  have each won a $15,000 scholarship from the Texas Business Hall of Fame Foundation. Recipients were selected based on their entrepreneurial aspirations, leadership qualities and academic credentials.
MEET THE RECIPIENTS
Omeed Shams, an innovation and entrepreneurship graduate student, Rachel L. Hugo, a senior in healthcare management, and Vijay Bhagvath, a senior in finance, were selected this year. All three are Naveen Jindal School of Management students, and said they plan to use the funding to pay for school, invest in their respective startups, or both.
OMEED SHAMS + KWEST
Shams is co-founder and CEO of Kwest, a mobile app that offers interactive guided tours. His business partner, Andrew Brown MS'16, conceived the app, which helps visitors navigate unfamiliar locations through a combination of augmented reality, geolocation, and riddles and puzzles.
"We're pivoting and building a new platform, so it was very timely, not to mention the recognition — the access to the (Texas Business Hall of Fame) network I would say is invaluable," Shams said.
Kwest, which launched in 2015, takes up much of Shams' time. He said he has "taken the slow track" in finishing his master's degree and plans to graduate next fall. In conjunction with his studies, Shams has taken advantage of the robust business startup programs available to UT Dallas students, alumni, faculty and staff, and has worked closely with Bryan Chambers, director of Blackstone LaunchPad, along with others at UT Dallas.
RACHEL L. HUGO + REAL ESTATE INVESTMENT AND THE LOST TOYS
Hugo, whose entrepreneurial background includes starting two companies—a real estate investment business and The Lost Toys, a vintage toy shop—will use the award to pay for graduate school. She plans to finish her bachelor's degree in May and has begun the fast-track MS in Healthcare Leadership and Management program.
"The funds from the scholarship will make a huge difference for me," Hugo said. "Now I will be able to start grad school immediately."
Having lost her husband to illness, Hugo was inspired and comforted by the professionalism of the medical personnel who cared for him and offered her "a buoy of support." The challenges she faced helped her find her calling, which "is to help others receive the care which so greatly helped me," she said.
Her long-term goal is to open a concierge medical service to deliver health care to patients via telemedicine and home visits, which will require building a network of professional contacts.
VIJAY BHAGVATH + SNAPP'N SAVE (AMONG OTHER ENTREPRENEURIAL PURSUITS)
For Bhagvath, business and academic experiences played key roles in securing his award.
Last summer, he worked as a private equity intern for Texas Business Hall of Fame inductee and former Texas Rangers owner Tom Hicks at Hicks Equity Partners. He also worked as a founding venture capital analyst for UT Dallas Seed Fund, an Institute for Innovation and Entrepreneurship program that invests in technology startups.
Bhagvath's entrepreneurial pursuits have involved working with a business partner to develop a longboard that converts into a skateboard. He also co-founded and co-created Snapp'n Save, an app that helps college students find deals from nearby restaurants and stores. The app had a successful beta launch on the Apple Store but was scrapped so that Bhagvath could pursue his passion for investment banking.
TEXAS TIED
Like Shams and Hugo, Bhagvath plans to remain in Texas to pursue a career—another requirement to win the scholarship.
"I really like the fact that this scholarship program is for entrepreneurship and helping improve the Texas economy," Bhagvath said. "It's an honor to be a part of the Texas Business Hall of Fame with all of the greats who have done so much for our state."
The Texas Business Hall of Fame was formed in 1982 to honor outstanding business leaders in Texas and to inspire the leaders of the future by funding scholarships that help recipients pursue their business educations in Texas schools.

Get on the list.
Sign up to keep your eye on what's new and next in Dallas-Fort Worth, every day. 
And, you'll be the first to get the digital edition of our new Dallas Innovates magazine: 
The annual edition publishes in January.