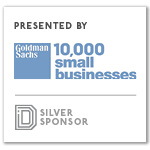 Davis, Davis & Harmon LLC (DDH) knows sales tax law, how to interpret it, and how to advocate for its clients.
Formed in 2001, the woman and minority-owned sales tax firm is comprised of former Big 4 tax consultants, business process consultants, and former state sales tax auditors.
New Orleans native Chanel Christoff Davis has worked in public accounting since leaving college and moving to Dallas. So, at a young age, she left the corporate world to found her firm with her husband, Terrell Davis.
Here's what Christoff Davis has to say today about DDH, her journey into entrepreneurship, and what the future holds for DDH.
Christoff Davis is a graduate of Goldman Sachs 10,000 Small Businesses. Click to learn more about Goldman Sachs 10,000 Small Businesses and apply today. "Goldman Sachs 10,000 Small Businesses helped me to become laser focused on our growth and business strategy."
Describe Davis Davis & Harmon LLC – Sales Tax Experts. What services do you offer, and what makes you different?
Davis Davis & Harmon LLC – Sales Tax Experts (DDH) is an awarding winning sales/use tax advisory practice. DDH is the largest woman and minority-owned sales tax advisory practice in the country. Our specialty is refund recovery, audit defense, and legal research. We recover millions of dollars per year in sales tax overpayments on behalf of our clients. Our commitment to innovation and thought leadership are what makes us different and are the most critical keys to our success. Innovation for us means the introduction and delivery of new solutions to address an old or existing problem. Thought leadership means establishing ourselves as subject matter experts in our field of expertise. In addition, we focus on delivering continued excellence to our clients and as trusted advisors, we challenge ourselves to bring innovative solutions to the table.
What problems is DDH solving?
Our mission is to provide innovative solutions to relieve our clients from the burden of over-taxation by tax administrators. DDH consultants are former sales tax auditors from Big 4 accounting firms and we use our knowledge and expertise to defend our clients' interests in all 50 states and Canada.
What was your first breakthrough moment?
Our breakthrough was discovering a niche area in taxation. Our industry is heavily regulated by states with numerous laws and regulations, however sales tax law is not commonly taught in college. As former state auditors, we realized that many corporations are completely unknowledgeable about sales tax laws in the various states in which they conduct business. We work with corporate tax groups around the country to provide specialized subject-matter expertise. We are an outsourced solution to provide the necessary technical knowledge to help them manage sales tax audits and make sound tax decisions.
What was your latest breakthrough moment?
The latest breakthrough came last year with US Supreme Court decision in the case Wayfair vs. South Dakota. The Supreme Court's decision removes the previous physical presence rules and established Economic Nexus as the law of the land. That ruling made all internet-based sales taxable in all states. This law change will require service providers to innovate and create technology to help companies comply with Economic Nexus.
How are you innovating in your industry?
We use technology as a differentiator to help our firm stand-out above our competitors and have established a reputation in the marketplace as an industry disruptor. DDH is currently developing a software that will help manage some of the new Economic Nexus law requirements. We now employ an up-to-date software solution that increases the internal controls around managing all sales tax exemption certificates for the client. By having a more advanced audit defense process, the client can easily find supporting documentation for specific sales transactions. The new database creates a more systematic approach to sales tax compliance that can be used and easily managed for years to come. We won a $10,000 technology grant from the Women's Business Council Southwest to help us bring our software solution to market and we are seeking funding from investors to further develop and advance the technology.
What else should we know about your firm?
Our firm understands the impact of giving forward and embracing our community. DDH will host our 9th annual Suit Drive May 7 – June 7  that will benefit Paul Quinn College's We over Me student suit closet. Paul Quinn College students are required to wear business attire every day on campus. Our support will enable those students lacking funds to have to proper attire to attend school with dignity and pride.
Paul Quinn is the oldest historically black college west of the Mississippi River and the nation's first urban work college. Today, the College is recognized as one of the most innovative colleges in the country and proudly educates students of all races and socio-economic backgrounds under the banner of "WE over Me" – the needs of a community supersede the wants of an individual.
We'd like to challenge readers to Marie Kondo their closets. Kondo is an organizing guru who teaches others to declutter their homes by only keeping items that spark joy. So here is an opportunity to declutter your closets and bring joy to others. Invite your friends and family to participate with you and multiply the joy.
From now until June 7, 2019, we will be accepting donations at our location 2100 Valley View Lane Suite 330 Dallas TX 75234. 972-488-5000
You can also drop off at other community partner participating locations.
GSWealth Mgt 13101 Preston Rd Suite 400, Dallas TX 75240 214-272-0808 *288

Duffee+Eitzen 4311 Oak Lawn Ave, Suite 600 Dallas, TX 75219 214-416-9010

Stephens Little 5001 Spring Valley, Suite 260 W Dallas TX 75244 972-404-1200

Get on the list.
Dallas Innovates, every day. 
Sign up to keep your eye on what's new and next in Dallas-Fort Worth, every day.