Thursday night, Boston-based MassChallenge hosted its first-ever North Texas pitch competition at Pegasus Park where five early-stage startups competed for a spot in MassChallenge's 2022 early-stage program and a chance to take home $10,000 in equity-free cash. The event was a part of the group's expansion into the North Texas region.  
To kick off its expansion into the North Texas region, MassChallenge hosted its first in-person pitch competition at Dallas' Pegasus Park where the Head of Community and Ecosystem at MassChallenge, Jon Nordby, gave his opening remarks concerning the importance of the entrepreneurial ecosystem in Texas. 
"I've learned over the past six months that we have to refer to North Texas as North Texas," said Nordby,
That distinction is important for MassChallenge, "because the work that we do starts here in Pegasus Park, and we believe that it is going to spread to the entire region of North Texas," said Nordby. 
Completing the "Texas Triangle"
The latest location doesn't just serve as a hub for MassChallenge—it completes what they call the "Texas Triangle," linking the nonprofit's Austin, Houston, and Dallas offices together.
"This expansion, for us, realizes our vision of connecting the Texas Triangle and opening doors for startups from around the world who are focused on driving solutions across in these industries, and beyond," said Nordby in a statement. "The North Texas ecosystem is at a unique moment in time to capitalize on an incredible opportunity that's been building for the past few years."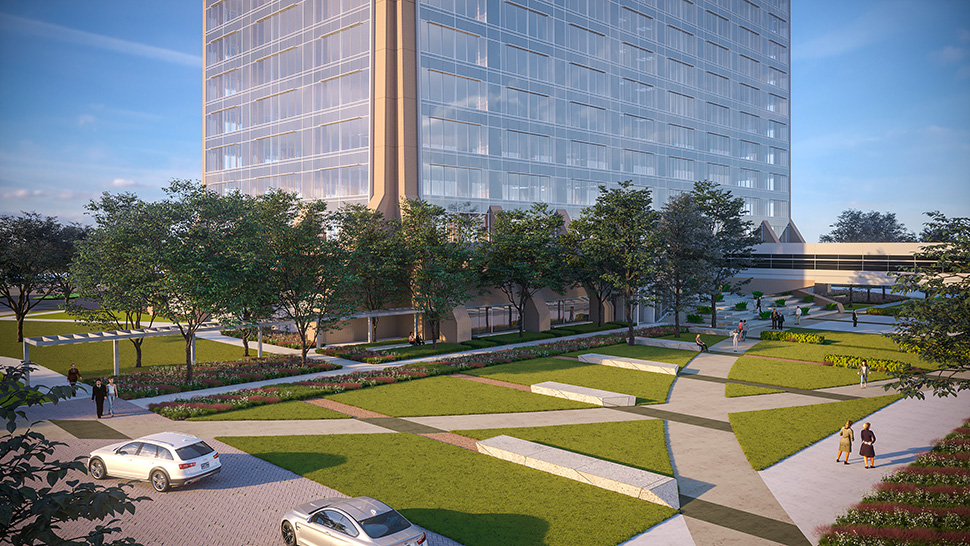 The group's expansion into Pegasus Park is the result of a partnership between Lyda Hill Philanthropies and MassChallenge. The development is a 23-acre, mixed-use social purpose project designed to boost local biotech, nonprofit, and corporate innovation. It's one of the largest shared nonprofit spaces in the U.S. 
"We partnered with MassChallenge because we believed that we already had an incredible infrastructure to offer here," said Nicole Small, CEO and President at Lyda Hill Capital and Lyda Hill Philanthropies at the event. "And we knew if we could bring in some partners that had a global view we could continue to attract global startups, global ideas, and global companies to North Texas and continue building out the ecosystem we know we have here."
As a part of the organization's efforts to make Texas a global destination for innovators, Pegasus Park has become home to a MassChallenge early-stage accelerator program, composed primarily of biotech and life science start-ups. Along with the established accelerator program, MassChallenge will also offer programming for market access events, alumni meetups, industry-specific tracks, and pathways to other programs such as the HealthTech challenge. 
MassChallenge pitch competition at Pegasus Park
On Thursday, the first pitch competition took place where five entrepreneurs pitched their ideas to the panel of judges for a chance to earn some cash for their venture and win a spot in MassChallenge's 2022 early-stage program.
The startups that participated represented the healthcare and life sciences industries and boasted innovative biotechnology ideas ranging from patented therapies for feeding infants to apps created to manage health and wellbeing. 
The judges included Gabby Everett, Site Director at BioLabs Pegasus Park; Travis McCready, Executive Managing Director at Life Science Markets, JLL; David Daniel, President Emeritus at UT Dallas; Bill Chinn, CEO at The DEC Network; and Matt Steffe, Partner at Blue Star Innovation Partners. 
The winning pitch was made by Co-Founder and President Zhenpeng Qin for Avsana Labs a biotech startup that develops leading-edge technologies for pathogen diagnosis and monitoring. The biotechnology and UTD spin-out company seeks to improve viral diagnostic testing using a cutting-edge digital nanobubble methodology—and now has a $10,000 prize to help fuel that mission. 
The other competitors included:
Fran Harris, founder and CEO pitched for Electra Beverages, which is a "supernatural" sports drink that has zero artificial flavors, preservatives, or colors, and gives "healthy hydration to everyday doers, hustlers and athletes."Harris was featured on last year's season of Shark Tank for her pitch for the hydrating beverage.
---
Co-founder of FirstThen Inc., Amanda Schnetzer, pitched for her startup working to develop evidence-based, family-centered digital solutions for managing a child's ADHD. FirstThen uses science and technology to target the gap in quality ADHD care with innovative self-guided psychosocial training and interactive tools.

---

Dara Chike-Obi pitched her co-founded startup, Grio Baby, which is a patent-pending feeding system that aims to boost emotional and mental development in infants through the use of it dynamic baby bottle. Grio Baby's solution goes beyond nutritional delivery and delivers nurturing cognitive and emotional development, too.

---

One Stop Wellness is an app that makes wellness fun through customized on-demand classes, innovative technology, and actionable analytics. Pitched by Romy Antoine, CEO and Chief Wellness Officer at One Stop Wellness, he demonstrated how companies can utilize this tech to empower employees to improve their lifestyles, productivity, and overall well-being. 

Get on the list.
Dallas Innovates, every day.

Sign up to keep your eye on what's new and next in Dallas-Fort Worth, every day.