With the rise in technology and advancements in healthcare, a new startup on the scene is working to streamline a complicated system by providing physicians with the necessary tools to manage their businesses and patients the means to easily navigate their health journey.  
It all started when Dr. Rahman Mohammed and Meraj A. Khan noticed a significant loss in sacred patient-physician relationships over the past few decades, leading to physician burnout and patient dissatisfaction.
To combat this issue, Mohammed began working toward identifying the causing factor. What he found was that there was an over-saturation of middlemen in healthcare, causing the system to be complicated and overwhelming.
So Mohammed developed a way to bring clarity to the system—and rectify the patient-physician relationship—by cutting out the middleman and connecting patients directly to physicians.  
What resulted is now called VivoDoc, a Dallas-based healthcare technology company that Mohammed, an emergency medicine physician, founded last year with Khan, a senior engineer.

"As you know, the healthcare system is not simple. It's complicated. Especially for outsiders—it seems even more complicated because it is. So, as the front liners, we see that," Mohammed, VivoDoc's CEO, told Dallas Innovates. "We came into this field with the passion to help people. I realized that it's not just the medicine we can use to help or reach out to people. We need technology. The combination of medicine and technology is vital to providing the best care."  
How it works
By marrying healthcare and technology, Mohammed and Khan were able to develop a "one-stop-shop" that made healthcare easy, accessible, and affordable.  
VivoDoc acts as a mobile and web marketplace with a variety of features for both providers and patients. To avoid physician burnout, the tech offers ways for physicians to focus on their patients, while offering tools and support to aid providers in their daily tasks.
On average, a physician will spend one and a half hours a day on a variety of tasks to ensure their business is running efficiently.  
Through VivoDoc, Mohammed has merged all solutions onto a singular platform that seamlessly integrates everything a physician might needed. Features include: 
Real-time appointments

;

Insurance and direct pay;




Telemedicine

;

Physician designed next generation EMR

;

Integrated RCM

; and

SEO and Marketing

.
Offering these features for providers gives patients the quality care and attention needed to satisfy their health needs, according to Mohammed.

VivoDoc ultimately wants to be "a helping hand" that can eliminate the issue of Google self-diagnoses. Patients are given free information and input on their health concerns, bypassing unnecessary steps.
The platform provides a chatbot to ask a series of questions that lead to an outcome. Once established, it offers solutions, recommendations, and specialists, allowing for the patient to schedule an appointment with a physician in their area with real-time availability.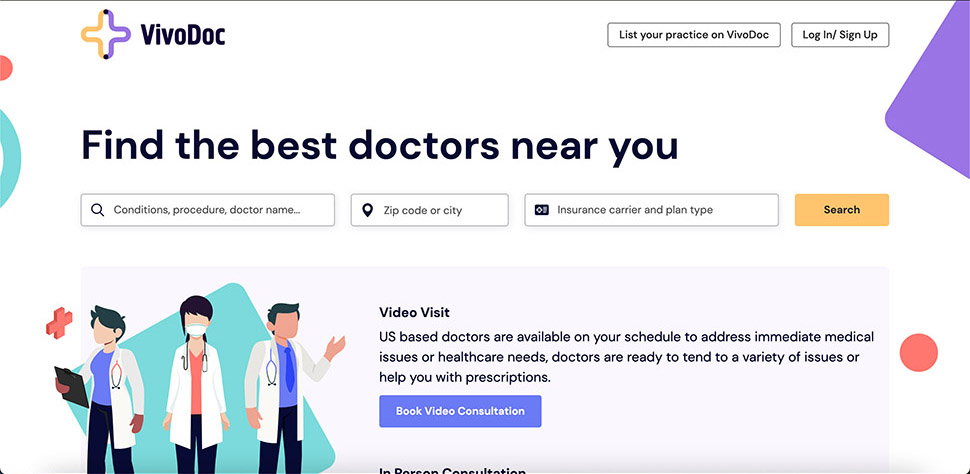 VivoDoc also maintains what it calls a more transparent and direct approach to healthcare. The startup has enabled direct pay so there are no surprises in hospital bills and uninsured individuals are given pricing upfront so both patient and provider are satisfied and aware of the cost.  
Made for physicians, by physicians
Mohammed and some colleagues initially independently funded VivoDoc, but the CEO has since raised $1 million from physician investors who plan to use the platform in their own independent practices.
"It's coming from physicians to physicians, and it's for the sake of physicians," he says. "Our message is to join your own community." 
The startup was developed without unnecessary expenditures, as Mohammed aimed to build off of hard work and connections. Although VivoDoc is pre-revenue, Mohammed is confident in its profitability—he currently has more than 350 providers already enrolled from the Dallas-Fort Worth area. And that comes before the platform's official launch.

From here, the team plans on moving into the other Texas metros.  
Mohammed predicts high success within the next two to three years, saying that VivoDoc's physician support offers an edge over market competitors like ZocDoc or Sesame. The serviceable available market data of 2020 was $74 billion, and based on the CEO's calculations, he anticipates the obtainable market to be upwards of $100 million in revenue.  
"If we are doing some good, if we are saving time, providing convenience, trying to help people in a time they need it most," he says, "I think that that would be a huge success."  
The final countdown
VivoDoc is set to launch its full platform this summer, according to Mohammed. "We have been actively working on this for the last, I would say more than a year," he says. "We have gone through multiple stages of learning, making it better, and finally, here we are."  
Mohammed looks forward to seeing the condition of healthcare moving forward through different technologies like artificial intelligence and machine learning, along with the benefits of medicine coupled with innovation. 
"I want the general population of patients to know that we are here to help you and serve you," he says. "Use this platform, get questions answered, and give us feedback so we can do better."  

Get on the list.
Dallas Innovates, every day.
Sign up to keep your eye on what's new and next in Dallas-Fort Worth, every day.