Across North Texas, companies are promoting and hiring people for leadership positions.
Dallas Innovates covers prominent personnel moves in Dallas-Fort Worth businesses and nonprofits—from the newest startups to well-established companies. Here are the people moves tied to innovation and technology in the region.
Don't miss a move: Get Dallas Innovates Every Day. Have a move? Let us know.
Catapult Health names chief medical officer
Dallas-based Catapult Health, which delivers digital preventive and primary care, has appointed Dan McCoy, MD, as its new chief medical officer.
In his new role as a member of Catapult's executive team, Dr. McCoy will offer his clinical and strategic leadership. As a physician, entrepreneur, and communicator, he is passionate about improving the way healthcare is delivered. Previously, he served as president of Blue Cross and Blue Shield of Texas, helping to create the C1 Innovation Lab in Dallas and leading BCBSTX to achieve its largest-ever growth in membership and revenue.
"I've known and worked with Dr. McCoy for the better part of a decade, and now is the perfect time for him to join our team," Catapult Health CEO David Michel said in a statement. "Over the past year, we created and launched the nation's first VirtualCheckup, leveraging our world-class clinical expertise, sophisticated technology, and ability to scale up quickly. Dr. McCoy's skills and experiences are very well matched with our go-forward strategy."
Pizza Hut U.S. gets a new president
Plano-based Pizza Hut has promoted David Graves, the current general manager of Pizza Hut U.S., to president of Pizza Hut U.S., effective Jan. 1, 2022. Graves succeeds Interim President Kevin Hochman, who will resume full-time leadership of KFC U.S.
In his new role, Graves will work to continue building Pizza Hut's momentum, assuming responsibility for same-store sales, franchise operations, and overall performance. He has been with the company since last year, serving as chief brand officer before moving on to general manager. Before that, he spent several years at KFC U.S. leading marketing strategy and food innovation.
"David has a well-deserved reputation for delivering results, repeatedly demonstrating his expertise in identifying solutions to business challenges that not only enhance the experience for customers, but also benefit restaurant economics, and I couldn't be more pleased by his promotion," Pizza Hut Division CEO Aaron Powell said in a statement. "The Pizza Hut U.S. strategy is strong, and the leadership and talent of this team is extraordinary."
Cyber Group appoints a VP
Dallas-based software company Cyber Group has promoted Pratik Malviya to vice president.
Pratik first joined the company's India office in 2008. In 2016, he moved to Dallas, where he worked for a diverse client base in financial services, retail, and energy. During his 13-year career at Cyber Group, Pratik has grown teams, built cutting-edge cross-functional solutions, and risen in the ranks. He will continue to lead technology teams to create value for customers. 
"Growing our colleagues to provide exceptional customer service has been our mantra to run Cyber Group," Saurajit Kanungo, president of Cyber Group, said in a statement. "Since we have a strong college recruiting program, we hire quite a few computer science graduates with intelligence and grit. Pratik exemplifies our endeavor to help these young talents to grow into entrepreneurs and executives."
COMSovereign gets a new CFO
Dallas' COMSovereign Holding Corp., a developer of 4G LTE advanced and 5G communication systems and solutions, has named Fran Jandjel as its new chief financial officer and executive vice president, replacing Martin R. Wade III, who has stepped down.

Jandjel most recently served as COMSovereign's financial controller. She has more than 25 years of experience as an accounting and financial leader, previously serving as CFO, controller, and in other executive roles at domestic and multi-national public and private companies. Her expertise includes: financial and operational strategies, M&A across North America and Europe, forecasting processes, cash flow, and more.
"Since joining our team earlier this year as our Corporate Controller, Fran has demonstrated her unwavering passion and commitment to COMSovereign's success," Dan Hodges, COMSovereign's chairman and CEO, said in a statement. "As Marty completed his initial mandate, ensuring that our business was supported by a robust financial management infrastructure, Fran's significant hands-on experience made her the ideal candidate to assume the role of CFO as we now move the business ahead."
Purpose Tea gets a chief growth officer
Dallas-based social purpose beverage company Purpose Tea has brought Todd Allison onto its executive team as the first-ever chief growth officer.
Allison is a military veteran, former Air Force Captain, and Air Force Academy graduate who also has more than 15 years of CPG sales and brand management leadership. Previously, he worked with big-name brands like Anheuser-Busch, General Mills, and McCormick & Company helping to scale distribution and grow revenue. At Purpose Tea, he will be tasked with growing distribution, sales, and revenue.
"With our recent enterprise-wide launch into Kroger, I knew we needed a rock star to grow the brand at this important retailer and beyond," Founder Chi Nguyen said in a statement. "Todd's leadership in brand management and sales has generated significant growth for other well-known brands in our category and I'm excited he will bring that leadership to Purpose Tea. More than that, I'm so proud that he's a military veteran and shares our values of service and is passionate about our mission-driven brand."
Opportune LLP names a Dallas office lead
Global energy business advisory firm Opportune LLP has brought Randy L. Hill onto its team as a partner to lead its Dallas office.
Hill has more than 37 years of experience advising Fortune 500 energy, chemical, transportation, and other commercial entities. At the firm, he will focus on growing the Dallas advisory practice across industries with an emphasis on serving client needs. Most recently, he was a partner in KPMG LLP's audit practice, where he worked with public companies on debt and equity filings with the SEC. For almost a decade, he led a team of around 400 audit professionals at KPMG's Dallas audit practice.
"Knowing Randy for over 30 years, I'm delighted to welcome him as our first direct admit Partner in our history," David Baggett, managing partner of Opportune, said in a statement. "Randy's background complements our existing competency areas as we look forward to expanding our presence and delivering added value to clients in various industries in the Dallas-Fort Worth market."
JUNO adds an account executive
Dallas-based JUNO, a tech company that connects people in virtual environments for events, has brought Megan Martin onto its growing team as an account executive.
Martin joined JUNO based on her experience in a client role. At the event production company, she plans to help planners realize the potential of a virtual strategy by building stronger engagement, learning, and community within JUNO's members and customers.
"Megan's passion for the future of events and community will help clients understand the opportunities ahead of them," VP of Strategic Partnerships Peter Hodgen said in a statement. "JUNO is shaking things up and solving real problems facing organizations with a mission to connect and educate people. Megan has deep experience in exactly that, along with an unparalleled understanding of how our software can impact organizations."
FreeSpace expands its Board of Advisors
Frisco-based social connectivity platform FreeSpace has formed a partnership with Dr. Ben Carson, a renowned neurosurgeon and the 17th Secretary of the Department of Housing and Urban Development, for his strategic advisement.
"FreeSpace is proud of our partnership with Dr. Carson and honored to have his expertise at the helm," FreeSpace CEO Jon Willis said in a statement. "Dr. Carson has had an incredible career but continues to fight for the freedom of future generations through innovation. We are immensely excited for the opportunities this partnership will bring."
On FreeSpace's Board of Advisors, Dr. Carson says he will fight for free speech, liberty, and the values this country was founded on. The platform aims to promote unity through independent thought and access to information by combating the negative effects of unhealthy social media use. FreeSpace offers alternatives to the 'Big Tech' business model.
"We've reached a place in our country where we have real problems arising with things that were once basic to our liberty like freedom of speech," said Dr. Ben Carson. "We have Big Tech trying to control people's speech, thoughts, and behaviors; in direct opposition to the principles of innovation and entrepreneurship that America was founded on."
First Screen appoints a CEO of the Americas
Dallas- and Dubai-based First Screen, a provider of mobile content and commerce solutions, has named Mark D. Fruehan as chief executive officer of the Americas, effective immediately. 
In his new role, Fruehan will lead the sales strategy and growth of First Screen's product suite across the U.S., Canada, and Latin America. As an experienced mobile industry innovator, he has an extensive background in strategic and commercial leadership in the media, advertising, and technology industries. Most recently, he served as chief revenue officer at Tradeswell, and before that was in the same position at Verve.
"Mark's proven track record of innovating and scaling new technologies and business models at the intersection of media and technology will help First Screen accelerate growth," Joost Goeree, chief commercial officer, said in a statement. "Leveraging deep domain expertise in mobile marketing, mobile commerce, digital media, social networks, fintech and adtech in the mobile ecosystem, the positive impact Mark will have on our business and for our customers and shareholders is indisputable."
Mortgage Contracting Services names a new CEO
Lewisville-based Mortgage Contracting Services, a provider of residential and commercial property services, has appointed Craig Torrance as its chief executive officer.
Torrance will now oversee all strategic initiatives, including growing and expanding services within the core default field services offering. He will also lead residential and commercial facilities maintenance solutions. Most recently, Torrance was senior vice president at Brightview, where he led enterprise solutions.
"We are thrilled to have Craig joining the team," MCS Board of Directors Chairwoman Caroline Reaves said in a statement. "We are confident in his vision and leadership and believe he brings the right skill set and experience to build upon the success MCS has achieved thus far."
United Way Dallas welcomes new board members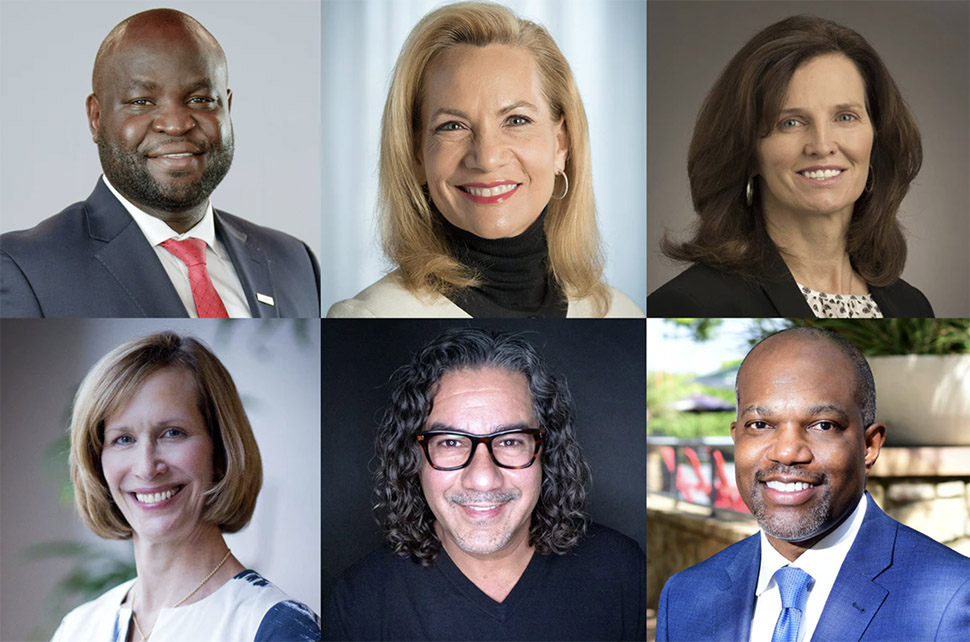 United Way of Metropolitan Dallas has added six community leaders and business executives to serve on its 2021-2022 Board of Directors and United Way Foundation of Metropolitan Dallas Board.
The members will each serve three-year terms, providing strategic direction to achieve United Way's mission in "ensuring every North Texan has the opportunity and access to thrive." The Board leadership will serve as trusted advisers to the organization, which works to improve education, income, and health.
The Board of Directors members include: John Olajide, Founder and CEO of Axxess; Lori Ryerkerk, chairman, CEO, and president of Celanese Corporation; and Jean Savage, CEO and president of Trinity Industries.
The new United Way Foundation members include: Anne Motsenbocker, formerly of JPMorgan Chase; Pedro Lerma, CEO of LERMA; and W. Kevin Walker, CEO of the Dallas Citizens Council.
"We are fortunate these accomplished individuals share our vision to create opportunity and access that empowers all North Texans to thrive," Charlene Lake, United Way board chair and AT&T's corporate social responsibility and chief sustainability officer, said. "They will be joining a board of respected and influential community leaders committed to driving impact in our communities."
Caris Life Sciences appoints a new CFO
Irving-based Caris Life Sciences, a molecular science company that develops tech to revolutionize healthcare, has named veteran medical technology executive Mike Weinstein as its new executive vice president and chief financial officer.
Weinstein has more than 25 years of experience in finance and life sciences. Most recently, he served as the SVP of Strategy at Medtronic, in which he oversaw global strategy that included providing input on business development, capital deployment, and the overall direction of each of arm of business. Before that, he was a managing director for JPMorgan Chase & Co.'s healthcare group.
He is also a 14-time No. 1 ranked analyst of both Institutional Investor and Greenwich Associates.
"We are thrilled to welcome Mike to the Caris team," David D. Halbert, chairman and CEO of Caris Life Sciences, said in a statement. "His passion for our mission, industry experience and strategic thinking will provide strong leadership as we position Caris for the next phase; expanding our offering to include both tissue and blood (measuring all coding genes) across hereditary and acquired variants, resulting in the most comprehensive offering ever."
NuVinAir brings on a franchise development officer
Dallas-based NuVinAir Global, a developer of patented products that safely and effectively clean vehicle interiors, has added Marty Schoenthaler to its team in the newly created corporate leadership position of franchise development officer.
Schoenthaler will be tasked with identifying growth strategies to increase national franchise coverage and enhancing NuVinAir's existing franchise network. He has more than 30 years of leadership experience, bringing with him a track record of optimizing organizational capability, strategy development, and business transformation. Most recently, Schoenthaler was the CEO of Tate Boys Tire & Service.
"As we rapidly expand our brand, adding passionate, seasoned industry veterans to our leadership team will help take our company to the next level," CEO and Founder Kyle Bailey said. "We have been looking to fill this critical role for some time, but we had to be patient until we found the right individual. The caliber of our franchisee team demanded an executive who deeply understands how to forge the right partnerships for driving success, and we know that Marty will be a tremendous asset to all of us."
Bottle Rocket adds to its healthcare practice
Dallas-based digital and experiential design and development consultancy Bottle Rocket has hired Terri Casterton to head up its expanding healthcare practice. 
Casterton has more than two decades of experience in the health IT and transformation space, having spent her entire career in healthcare. Previously, she held leadership roles at Cerner Healthcare and and SCL Health, mainly focusing on creating and scaling telehealth, making a "digital front door," and facilitating human-centered design workshops. At Bottle Rocket, Casterton will work to advance and scale the healthcare business and Experience division of parent company Ogilvy.
"Terri has joined Bottle Rocket at an imperative time for health and digital connections," Rajesh Midha, Bottle Rocket's president, said in a statement. "Her expertise and commitment to transforming patient access to health through virtual care delivery will serve our current healthcare clients and those to come well into the future."

Get on the list.
Dallas Innovates, every day.
Sign up to keep your eye on what's new and next in Dallas-Fort Worth, every day.