REMOVING MEAT FROM THE TABLE DOESN'T STIFLE FOOD CREATIVITY
---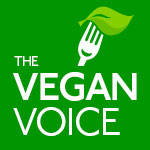 Officially moving to Dallas last year after graduating from the University of North Texas in Denton was exciting, because I wanted to live in the city and explore the vegan scene. I was finally able to dive into a career that promised opportunity and connection — everything I could ever wish for. Once my new "community" took me in, I found myself plugged into many passion projects that fulfilled my purpose here.
Yet, there was still a missing link that I was actively seeking every day. Last summer I made my way to a local meetup group, hosted every second Thursday of the month. There, I met a group of locals who not only ate like I did, but were engaged in what I was seeking: an outlet to speak for those without a voice.
DALLAS HAS A STRONG FOOD SCENE
In the spirit of Dallas Innovates, a publication with a mission to cross-pollinate creativity, business, philanthropy, and the culture of the region, I believe it's time to incorporate one of my favorite things: food.
It was at the age of 13 that I made the connection, to cows especially, that eating animals was kind of messed up.
As many other Texans, I was raised on southern comfort food with lots of butter, cheese, and meat. It was at the age of 13 that I made the connection, to cows especially, that eating animals was kind of messed up. Over a span of years, a ton of research, and many talks with my confused family members, I made the transition to being fully plant-based. The best part about making the transition — besides saving animals and the planet, of course — was exploring how creative the food could be.  
That's right, I do eat more than grass.
If you've been in Dallas for any length of time, you're familiar with the inventive food scene here. There's a heavy influence from higher-end restaurants with creative chefs, as well as a wide array of ethnic foods represented. From food trucks to five-star restaurants, it's no secret that creativity is the common denominator.
In Dallas, the culture of chefs being innovative while leaving animals off the plate is not an exception.
What you might not know is that in Dallas, the culture of chefs being innovative while leaving animals off the plate is not an exception. The ever-evolving culture of these chefs bringing new concepts to Dallas foodies is all of the things that define innovation: creativity, business, philanthropy, and culture — all interwoven into the act of taking meat off the table.
Vegan has been a taboo word, often associated with a skinny, pale, sign-waving, protesting, hemp-clad, long-haired hippie who doesn't shave or take showers. I'm here to tell you that stereotype is no longer valid. I'm here to tell you to throw that image out the window and to usher in the image of the new vegan: strong, professional, business-minded, and, by very definition, Dallas.
A VEGAN DIET POWERS MY DAY-TO-DAY LIFE
I'm able to execute my everyday life — which could easily include a business coffee meeting, followed by a hotel conference luncheon, then a cocktail networking hour and ending with a large corporate event — without feeling that my passion for innovation has to exclude the food that I eat.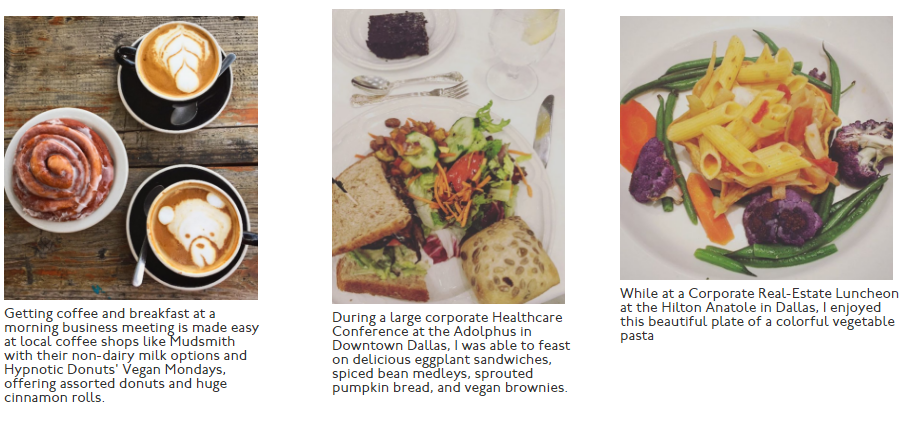 It's empowering to be able to contribute to telling the story of Dallas innovation by way of telling the story of saving animals. 
Here's an article from one of my favorite resources, detailing the shift of food culture I mentioned earlier. The creative chef phenomenon is taking over Dallas, and I'm excited to have the opportunity to report on its growth. The Dallas vegan community is thriving, and I couldn't be more proud to be a part of it. Luckily, there are many ways to dive right into it, as I did last year. With new vegan restaurants opening, plenty of menu options, and talented chefs jumping onboard, everyone can make it work with their lifestyle.
START HERE
A great representation of the innovative DFW vegan scene happened last Saturday in Cowtown, Fort Worth. V Market: A DFW Metroplex Vegan Popup Market is a rotating local venue market is the first of its kind in North Texas and highlights local vendors who make and sell everything from vegan creme eggs (Cadbury-style) to cruelty-free makeup. Their next event is coming up in September in Mckinney at Tupps Brewery.
As my passion is innovation, so is food. Therefore, innovation doesn't end at my dinner plate, and it doesn't have to for yours either.
---
Follow Courtney Garza on social media to see her daily food adventures.
Opinions expressed by Dallas Innovates Voices and guest contributors are their own.
---
What's new and next in Dallas-Fort Worth innovation: Subscribe to our Dallas Innovates e-newsletter.