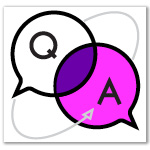 From printmaking and sculpture to photography and installation art, Shamsy Roomiani is an artist of many talents. 
But, it's her glowing Shamstones that have garnered the most attention and made Shamsy feel that she's come into her own. 
The one-of-a-kind art pieces inspired by nature have gained Shamsy some publicity this year, including a feature in 1530 Main's spread to a recent installation in the Safe Room Gallery at the Texas Theatre. 
The visual artist — who's been called "Dallas' floral goddess" on Guide Live — created the Shamstones to challenge herself with a more complicated and in-depth artistic process. Her glow-in-the-dark pieces are hand cast from resin and combined with botanical specimens (bits of moss and seed pods), flecks of shiny minerals, and color pigments. The result is different every time, but it always creates psychedelic "pops" of colors. Once completed, they can be charged by sunlight to glow in the dark or under fluorescent lighting.
Dallas Innovates talked with Shamsy recently to hear more about her creations and what she has to say about the Dallas art scene.
When did you first realize you wanted to become an artist?
I have done art all my life. I was always oozing with creativity, and the juices were always flowing all my life. I went to college for a marketing degree to appease my father, but for myself, I got a degree in printmaking. I am trying to do both things now: Be a business owner and an artist. I have been doing this full time for four years now.
Who do you sell your goods to?
I sell my handmade goods to Jade and Clover, Westelm the Nasher Sculpture center store, Circut Twelve, and EarthBound.
How has Dallas supported you and pushed you creatively?
[Having] the opportunity to show [has pushed] me to produce like a madwoman in order to make that deadline. That opportunity has pushed me to be creative. The local businesses that do carry my work —my goodness, I wouldn't be able to do business without them because they support the local artists. For example, Giselle is the owner [of Jade and Clover in Deep Ellum], and she's really supported my work. I do popups and workshops there, and they sell my work. Just the willingness to support local has given me an edge and the ability to do what I do. 
Walk me through the process of making your Shamstones.
It's like a little sculpture — but it's also this magic crystal that gives all this life in your home.
They're made with resin, and I embed them with botanical material that I find on my walks or from my garden. They also have pigments, powders, sparkle flakes — and a little bit of magic. They glow in the dark by charging with sunlight on your windowsill. Under a blacklight they are full of fluorescent — they emit all this color, and it's really wild. It's like a little sculpture — but it's also this magic crystal that gives all this life in your home.
How did you start making Shamstones?
It's a pretty hefty process: mold making, resin, and casting. It was the end of 2016, and I was doing my second solo show, Botanica Spectrum, at Eastfield College. I just am a crazy person, and I wanted to challenge myself. I want to be able to do things even if it's new. I researched the process and went all in, [just] bought all the supplies and held my breath. I was very stressed when I was doing it. But the end result was this really amazing, cool, and unique piece. So I kept with it and created [a] whole wall for that show of all these little vials and specimens. 
What has been the hardest part of the artistic journey?
It's really exhausting trying to sell and promote your work. Not only are you tired after making it and creating it by yourself, [but] you have to get people interested. Getting people to look at it, talk about it, and hold it. It's hard doing both. I don't have representation, so I'm a one-woman show. I answer the emails, the art, the marketing … the amount of work it takes is just unreal.
What are you most proud of this year?
I feel as though it was a step in the direction of my calling, whatever that may be.
The creation and showing of my Shamstones: I feel as though it was a step in the direction of my calling, whatever that may be.
But my biggest moment of pride was when I partnered with the Nasher Sculpture Center. I got to create the logo for their Great Create event and be a featured artist. It was a dream — such a great experience.
What about 2018: What's next?
I had three shows this year, which is unfathomable, but even more shows. And hopefully, I can expand outside of Dallas! I would love to partner with Adam Palmer out of Fort Worth. His sculptures are colorful and wacky, and with mine, I think they would make a wild and fun show. I even bought one of his pieces at Circut Twelve when I had one of my shows there. The combination would definitely feel like an Alice in Wonderland show.
Q+A has been edited for brevity and clarity.
PHOTO GALLERY
Photos courtesy of Exploredinary
Updated Dec. 14, 2017 at 1:32 p.m.

Get on the list.
Sign up to keep your eye on what's new and next in Dallas-Fort Worth, every day. 
And, you'll be the first to get the digital edition of our new Dallas Innovates magazine: 
The annual edition publishes in January