BYOB: Bring your own beamer, that is.
The Cedars Union, in association with the McKinney Avenue Contemporary  (The MAC), is bringing artists and projectors of all kinds together on Oct. 14 for the Bring Your Own Beamer Cedars event, an exploration of the medium of projection.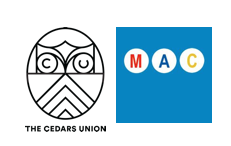 BYOB is "a celebration of the new world we live in, and a glimpse of what computing could look like in the future," according to the BYOB website. The idea was born in 2010 in Berlin, Germany, and has spread to cities across the globe in the ensuing years.
Just blocks from downtown Dallas, the event will cast projections on to the walls and surfaces of one of the city's oldest neighborhoods, The Cedars.
If you would like to join in on this unique experience, you will need to supply your own media player and projection system (LED, LCD, mini, overhead, slide carousel, homemade, etc.) and an original piece of work.
"Tomorrow, information will surround us, composing our surfaces, defining our spaces, enmeshing itself with the ether," according to the BYOB website.
MAC and Cedars Union will collect donations to benefit the Harvey Arts Recovery Fund in support of the artists affected by Hurricane Harvey.
IF YOU GO
Bring Your Own Beamer Cedars
When: 7-11 p.m. Oct. 14
Where: The Cedars is a couple of blocks from downtown Dallas south of I-30. 
More Info: Street parking available throughout the neighborhood.
---
Dallas Innovates, every day
One quick signup, and you'll be on the list.