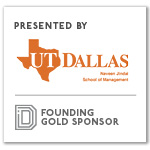 For a true startup experience, nothing beats sitting in the venture capitalist's seat — and seeing what entrepreneurs want funded.
At UT Dallas, students are not only able to learn in the seat of those seeking venture funding, either as entrepreneurial students or as alumni, but they can also take on the role of analysts and judge the viability of the startups seeking funding.
Professor Bryan Chambers at the Naveen Jindal School of Management teaches this class, known as ENTP 4v000, where five students are considered venture associates and are tasked with researching and discerning between six applicants to recommend a finalist for funding.
The Winner
The five venture associate students selected EverThread. CEO and Founder Nicole Mossman earned her master's degree in Innovation in Entrepreneurship in 2015 from UT Dallas, and will receive $50,000 from the UT Dallas Seed Fund.
Initially, EverThread was aimed to connect designers who want customized fabric with suppliers who will print high-end fabrics in small quantities. As they say in the startup world, Mossman's initial idea pivoted.
Mossman, still at the helm of EverThread, has instead positioned her company as a cloud-based product visualization platform. To explain — think of a company selling bedspreads online. Rather than taking photos of the bedroom vignette with each different bedspread for sale, EverThread can easily load new patterns onto the bedspread area, eliminating the need to re-photograph each product.
EverThread is the third alumni-founded company to be awarded seed funding.
The Experience
"This program exemplifies the real life experience we want our students to have," says Hasan Pirkul, PhD, Jindal School dean and Caruth Chair of Management.
"This experiential learning allows our students to create links to the thriving entrepreneurial community in North Texas, and to the region's strong finance community. Then, both those communities see that our students are ready to take on the world when they graduate."
Dr. Pirkul and Jindal School development officers solicited unencumbered funds from corporate partners to make awards to startups whose principals are either UT Dallas students or alumni.
For the student venture associates, they get real world experience as they undertake the rigorous research demanded to award real money to real companies.
"When these students graduate, they've produced VC reports that match anything taking place in investment firms," Professor Chambers says, who teaches the class and approves each student who enrolls. "I want to make sure their analytics skills will be up to the challenge. This isn't the class to learn those skillsets."
"This seed fund process is a tiny but hugely important subset of our whole startup culture here on campus," Steve Guengerich said. Guengerich is the executive director of the UT Dallas' Institute for Innovation and Entrepreneurship, which houses the UT Dallas Seed Fund.
"Thriving economies have lots of opportunities for new businesses. Universities give their students the tools to deliberately create strong companies, cities and economies. Now, with the second VC class this semester, Jindal School — and by extension UT Dallas, are going to do a better job than ever supporting a vibrant North Texas economy."

Get on the list.
Sign up to keep your eye on what's new and next in Dallas-Fort Worth, every day.