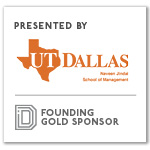 For years, college students who live on the cusp of coolness have pushed brands for profit and perks. Called brand ambassadors or brand influencers, college students work across social media, blogs, and vlogs to encourage clicks on products or services.
A startup by two University of Texas at Dallas alumni, UNIBEES, is using this student power to get the word out about its college-focused app and to help other brands reach university populations.
UNIBEES, the brainchild of two Naveen Jindal School of Management graduates, originally was designed to show UT Dallas students, via a phone app, where to score free food and enjoy free entertainment.
The UNIBEES app has morphed into a lifestyle brand, automatically culling calendars in a university's community to populate the app's events list and free food locator, offering coupons and discounts to companies wanting to reach local college students, and helping students find gig work from companies eager to tap into the higher ed marketplace.
And this app, which was conceived during a "what if" conversation between two students on a campus bus a little more than two years ago, has turned into a startup that recently received $250,000 in venture capital funding, has 15 full- and part-time employees and is poised to become a ubiquitous app on college students' phones.
The creators are Chandra Achanta, who completed his master's degree in business analytics, and UNIBEES partner Abinav Kalidindi, who earned his master's in finance. Their most recent investors are Robert M. Edsel, who grew up in Dallas and has had a successful career in oil and gas and as an author, and John Egeland, former president of Advance America Cash Advance Centers and now CEO of E-Newco, an online financial services company based in Dallas. Since the venture funding was awarded earlier this year, Kalidindi has been appointed president and CEO; Achanta was named COO.
Kalidindi and Achanta credit the Venture Development Center at UT Dallas and the support it provides in office space, mentoring and logistics with playing a crucial role in getting their app off the ground and in front of investors.
"We are meeting with lots of national brands here," says Achanta, noting that UNIBEES student workers also play a pivotal role in their company's success. "They come to work excited every day … the student (workers) give us direct feedback." 
Part of the pair's business success can be traced back to academic rigor, says Steve Guengerich, executive director of the UT Dallas Institute for Innovation and Entrepreneurship. Kalidindi and Achanta took four Startup Launch classes, which help aspiring entrepreneurs through the tumult of moving a scalable business concept to a marketable idea with credit-bearing classes. The graduate curriculum steps from core curriculum to classes in specific concentrations to a range of electives. 
The Institute for Innovation and Entrepreneurship provided seed money and mentoring, and also helped Achanta and Kalidindi tap into a network of conferences and competitions. "Networking was the key part of our journey — meeting the right people," Kalidindi said.
UNIBEES also received $5,000 by placing second out of 109 other startups at the 2017 UT Dallas Big Idea Competition.
"This company is the posterchild of utilizing all the entrepreneurial support that exists at UT Dallas,"  Guengerich said. "And it's a prime example of how a simple, good idea – finding free food – with the right kind of support, can transform into a company with an employee roster and venture capital support."
Much of the company's startup work has involved building artificial intelligence programs that allow UNIBEES to go onto any campus with "a flip of the switch" – basically asking the UNIBEES program to populate a new campus location with free food and events, discounts and possible gigs. Thus far, UNIBEES is functional for 11 campuses in Texas and about another 100 across the nation.
Marketing isn't a big issue. Word of mouth moves UNIBEES across the student population. "The free food is the hook," Kalidindi says.

Get on the list.
Dallas Innovates, every day. 
Sign up to keep your eye on what's new and next in Dallas-Fort Worth, every day.