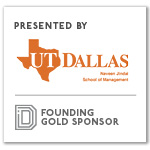 For UTD senior James Griffin, the route to startup success is littered with nonstop workweeks, balancing his class schedule — and programming, programming, programming.
Griffin is working on a launch of RamifAI, an automated degree-planning software application, after experiencing firsthand the inefficiencies and inadequacies of college course advising. The RamifAI software uses artificial intelligence to generate degree plans tailored to an individual's specific needs. Students or advisers may modify these electronic plans. UT Dallas is cooperating with Griffin as he mines data to build the platform.
If navigating artificial intelligence and data platforms were not enough, there is also a certain amount of tediousness associated with the the bureaucracy of accessing student records.
"We're running machine learning on anonymized student transcripts, so there's a lot of paperwork involved," Griffin says. "The UTD administrators have all been amazing to work with and have helped me tremendously, but due to Family Educational Rights and Privacy Act regulations, I've had to perform lots of documentation."
Despite these challenges, RamifAI is in heavy development and relies on similarly minded students to write code before the beta version is rolled out in March. The software has already earned him a win with the UTDesign Startup Challenge. Griffin's win, even though there's no funding attached to it, gives the product in-kind support from UT Dallas computer science students enrolled in a capstone class.
"This is freaking awesome," Griffin says, "because I'm also currently taking that class, which means I get academic credit for coding on my own product!"
Griffin's Background
Though Griffin has had three startups before RamifAI, "this is definitely the most serious one," Griffin said. "I'm much more prepared for this and am devoting a lot more time to it. This one feels real."
Part of that readiness he accredits to Blackstone Launchpad at UT Dallas —a campus-based global entrepreneurship program designed to support and mentor students, staff, and alumni – regardless of major, experience or discipline. Though the program is not formally a part of his coursework, Griffin claims that the lessons he has learned have allowed RamifAI to grow, in part, because of the prioritization skills he's acquired.
What Blackstone LaunchPad offers, he says, is a networking space. He spoke of his lack of connectedness within the DFW-area startup community, and remembers wanting to be involved — but also admits to being an "introverted programmer," who finds it difficult to put himself out there. Through Blackstone LaunchPad though, Griffin felt that he was provided a risk-free environment to fine-tune his networking abilities.
Bryan Chambers, director of Blackstone LaunchPad, says Griffin is but one example of an entrepreneur Blackstone staff can assist, whether it's refining business plans, perfecting a pitch or connecting first-time entrepreneurs to like-minded student or industry experts for guidance.    
"Having a dual role as a member of both the entrepreneurship faculty and the Blackstone LaunchPad staff, as its director, has given me a greater appreciation for the unique opportunity that UT Dallas offers for student entrepreneurs, both undergrad and graduate," Chambers said.
Startup Launch is the course Griffin is currently enrolled in, and is co-taught by Chambers and Professor Bob Wright. Chambers went on to explain the course was a great way to not only receive course credit — but also academic feedback and guidance and potentially $25,000 in funding.

Get on the list.
Sign up to keep your eye on what's new and next in Dallas-Fort Worth, every day.