Current predictions estimate that by 2050, the world's urban population will double. To put this into perspective, imagine adding seven New York Cities to the planet. Every. Single. Day. As our world continues its explosive urban path, it becomes almost a necessity that our cities step up their game and get smarter in order to handle the large-scale urbanization.
"From jump, our message in Dallas has been centered around "experience being our lens." Our customer-centric and research-based focus to ensuring success is rooted in the fundamental belief that any endeavor needs to stand up to the best interests of the user. Our thoughts around the successful outcome of a large, complex Smart City initiative is certainly no different," says Andrew Sevin, VP Client Services, Universal Mind.
There have been several recent announcements in Dallas (and other places) focused on partnering with platform providers to deliver the tools and technologies necessary to make Dallas 'smart' — but the true question becomes, can Dallas, or any city, deliver a true 'smart city experience'?
Enter 'Smart Communities.'
Smart Communities are all the rage; everyone is talking about them, everyone wants to live in one, and the number of companies tackling the topic is legion. Everything is smart these days (locks on houses and offices, beverage dispensers, advertising, parking spots, the grid, the platform to support all the technology, and so on, and so on, and so on), and nearly every industry is now chomping at the bit to get in on the action — infrastructure, transportation, parking, security, housing, social development, entertainment, consumerism, and well beyond.
Large players like IBM, new players like Panasonic and AT&T, and even startups like Fybr have all made, to some degree, steps into the space. There is little doubt the push toward making our cities smarter provides significant opportunities for companies, municipalities, and of course, the community at large. The level of opportunity attracts companies eager for profit and growth just as readily as it draws urbanites with the potential promise of a friction-free existence.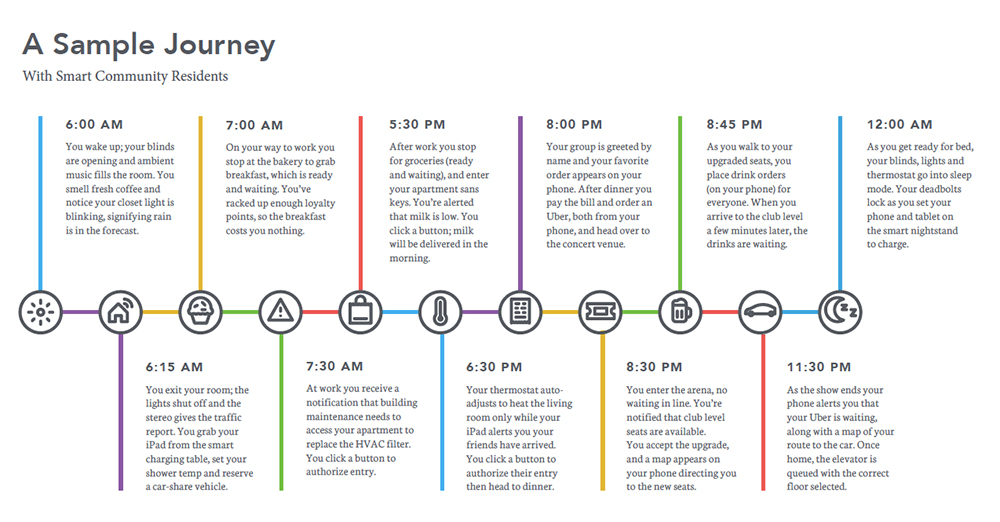 Run a search on 'smart cities' and the results are staggering — and unfortunately, fractured. More people in condensed areas can create challenges for cities and their managers, while at the same time creating unrivaled opportunities for businesses. Layer in state, federal, and local regulations around environmental concerns, and the result is a chaotic mess of opportunity and risk.
"We know players will jockey for position — and many will bring valuable, even critical, pieces to the table. We believe the absence of a binding agent will leave these initiatives with disparate pieces — all functioning in silos. This will limit their ability to succeed, be maintained and flourish amongst other complimentary services. Universal Mind is championing what we call the "Experience Hub." — think of this as "experience integration." Without the E-Hub, the Smart City services may be underpowered, inefficient, and even marginalized," says Andrew Sevin, VP Client Services, Universal Mind.
Pundits argue on where to start — with about the infrastructure? Housing? Transportation? Big-data analytics? Government agencies? The current landscape of 'Smart Community' thinking and approaches create a result similar to taking a 5,000 piece puzzle and dumping it on the table. The pile of pieces is overwhelming and in a nearly incalculable state of disarray. Magnify that to the size of a city and the confusion of pieces and endless combinations of connections quickly becomes overwhelming.
Without a starting point, without a unified understanding and vision (or in the case of our puzzle analogy, a large, high-fidelity picture), assembling those pieces into a coherent, elegant, beautiful picture or experience becomes improbable, if not impossible. And if the end experience for the inhabitants of the city is not integrated, consistent, and friction-free, the IQ of the city will be irrelevant.
Don't worry, all is not lost. There is a solution. A solution that is as simple as it is elegant. (Keep in mind, we said simple and elegant — not easy, not cheap, and not fast.)  A solution that can work for entire cities or for companies focused on integrating with Smart Cities and experiencing the benefit. A solution that is scalable and can reduce risk as well as ensure the people in the cities drive the adoption and usage of associated technology. At Universal Mind, we call this an 'Experience Hub,' and we're already talking with Dallas-based companies and organizations. Have no fear Dallas, there is hope!
Want to learn more about Universal Mind's 'Experience Hub' concept? Click here.
---
For a daily dose of what's new and next in Dallas-Fort Worth innovation, subscribe to our Dallas Innovates e-newsletter.