I believe I have one of the more enviable positions for a corporate leader: As the Chief Strategy Officer for Thomson Reuters Tax & Accounting business segment based here in Dallas, it's my job to help promote and nurture a culture of innovation and risk taking among our employees.
Now you may be thinking that tax professionals aren't necessarily known as risk takers.
In fact, when I say "accountant" you may be conjuring an image of a stodgy, number-crunching, risk-adverse tax professional hunched over reams of balance sheets, calculator in hand.
I'd like to challenge that assumption. In the accounting industry, we are witnessing unprecedented disruption, as computer technology is assuming many of the tasks — such as bookkeeping and tax preparation — traditionally reserved for accountants.
When the customers in your chosen industry are undergoing massive transformations, it means you too must change to keep pace.
There is great urgency in our profession for tax experts and accountants to evolve the profession, through collaboration with new technology and identifying new ways of delivering service to remain relevant.
When the customers in your chosen industry are undergoing massive transformations, it means you too must change to keep pace. Technology is just one area where disruption is occurring; when you factor in the global transition to cloud software, the implementation of stricter compliance and reporting requirements by governments, and the increased demand for data analytics, we are contending with a very fluid landscape.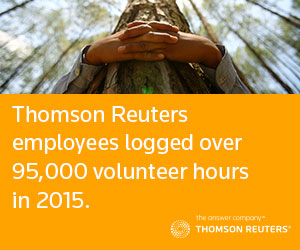 To meet these challenges head on, Thomson Reuters has taken a very proactive position on embracing innovation as a core component of our culture.
We see innovation as our competitive advantage, and we have invested time, money and energy into cascading the innovative spirit throughout our employee base. Why? To encourage great ideas and to give avenues to our employees to express them.
For instance, in 2015 we rolled out a program called Ignite, an online training program for our employees to teach them about the components of successful innovation. We've provided a robust set of resources, toolkits and pathways to help employees flesh out their ideas and collaborate with their peers on development opportunities, and by the end of the fourth quarter, our Tax & Accounting business had conducted 50 innovation workshops (Lean Experimentation & Lean Six Sigma) for our employees.
These are just a few of the ways we're encouraging innovation at Thomson Reuters, but first and foremost is we understand that we must start with our employees and go from there. When they not only know, but feel that they are allowed to innovate and try new things, they are best prepared to creatively solve for the challenges that our customers are faced with, thus allowing us to provide even greater value to the clients who depend on us.
Here are a few questions (and answers) I consider when thinking about innovation.
What are the keys to successful innovation?
Successful innovation comes with an equal dose of persistence, the desire to make a difference and constantly challenging the status quo.
What can leaders do to encourage greater innovation in their teams?
Encourage risk taking in the organization and acknowledge that all risks will not pay out. Also, we must move the culture from "playing not to lose" to "playing to win." It doesn't mean you will score every time but it is certainly better than the alternative.
To bring about innovation in a large organization takes acknowledgement for the need, a persistent and proactive program to help change the culture, and lots of patience. We have to change the mindset in the organization that when an innovation attempt doesn't work it's not a "failure" – there is no such thing as failure when you learn to accept that the path to success has lots of detours. If there weren't any detours then others would have probably already found the path.
What are two to three major proof points that an innovation is working?
I think when you start to see people coming up with ideas from a cross section of the organization, that's a good sign. Another proof point is when a team is solving a problem and they ask themselves, "Is this the most innovative solution we can come up with?" Innovation is not just about new products or solutions; it can come in many flavors. As an example it can be a commercially different way of disrupting an existing market.
What are some universal traits among innovative teams?
It's simple: They believe in it and are passionate about it.
What kinds of innovations do customers seem to prize the most?
Customers are focused on innovation that brings value to their businesses, and often they are willing to even pay more provided the innovation adds value to them.
Never stop innovating. Always be curious. And encourage your employees to do the same.
---
Careers at Thomson Reuters: 

Discover opportunity on a global scale
Bring your passion: Build a career without boundaries. Do work that matters, with the flexibility to pursue your passion wherever it leads. Bring your ambition to make a difference. Thomson Reuters b