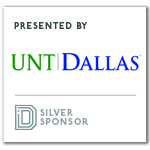 During an interview with UNTD College of Law Communications, James shared many poignant memories while at the helm of Admissions.
It was more than a notion for Attorney James to leave her successful career in Arkansas with huge hopes of persuading Texas law students to choose a new law school without a campus to speak of. When asked how she decided to take such a big chance, James smiled. "It was the absolute opportunity of a lifetime to be a part of something bigger than myself. After meeting Dean Emeritus Furgeson and Ellen Pryor, I believed in the mission and knew that I had to be a part of this crazy thing in Dallas," she said. "I knew this law school was on the right track and it was doing something that was not going to be easy but very rewarding."
From the outset, UNT Dallas College of Law focused on the things that would resonate with so many aspiring law students like making it affordable, creating a diverse and inclusive law school community and providing practice-ready skills.
Once James and her family established inroads in the Lone Star State, there was no doubt she was in the right place. "I knew I made the right decision to uproot my family from the very beginning," she asserted fondly. "My family absolutely loves Dallas and, from the very first days, we knew it was the place we were supposed to be. We established friendships and relationships that remain with us today and always. My family will forever consider Dallas, and the state of Texas, home."
James will miss performing a number of responsibilities that made her job an extraordinary experience, but there was one thing in particular. "The best part was always working with students. One of my favorite duties as Dean of Admissions was leading students out at graduation with Dr. Karen Jarrell. It was such an emotional and a memorable moment—leading them through the law school and then into the graduation hall. It was an absolute honor to do so. Moving forward, I will miss that."
Leaving the legacy of three graduating classes and a thriving student body of future lawyers nearing 400, James wants to keep her win streak going in another facet of education. "I am continuing my legacy of serving my community by focusing on educational equity in the lives of our young learners in the delta area of Arkansas, where the needs are great but the talent is limitless," she said. "It is my hope to be a force by joining the outstanding work of the KIPP Delta Public Schools."
The parting words of Valerie James will be deeply felt by those whose lives she affected. "To my beloved law students—you are the reason why I chose this career. Keep pushing forward, remain committed to your goals, and remember why you came to law school. So many are counting on YOU to make a difference in your communities. God speed!"

Get on the list.
Dallas Innovates, every day. 
Sign up to keep your eye on what's new and next in Dallas-Fort Worth, every day.