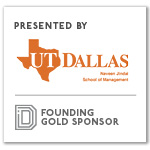 Dave Copps' influence on artificial intelligence is immeasurable. The founder and former CEO of Brainspace, as well as two companies before that, will talk about machine learning, intelligent analytics and digital investigations at The EmTech Summit.
The title of his keynote address, "The Incredible Promise and Radical Change of a World Augmented and Automated by Artificial Intelligence," aims to bring attendees at the summit a fresh view of the power of technology in transforming global activities.   
Dave Copps, Dallas Native & AI Influencer
Copps is a hometown boy, graduating from Hillcrest High School in Dallas. He's received numerous awards and, in 2016, Brainspace received Tech Titan's Emerging Company Innovation Award for its work in augmented intelligence. The Brainspace platform has become the industry standard in intelligent analytics and is used by organizations around the world, including all major international consulting firms, many agencies in the federal government like the U.S. Department of Defense, and other international intelligence agencies.
"Dave is a visionary in this space and understands the potential of AI probably better than almost anyone," says Bryan Chambers, director of Blackstone LaunchPad at UT Dallas. "He's an active mentor, helping startups while building a culture of innovation."
Chambers says one of Copps' tenets is that there is no failure — "failure," or that which is socially referred to as a failure, is really another step in the creative process.
About the EmTech Summit
The summit will be held at the UT Dallas campus, and kicking off the summit is Don Tapscott, the global leader in spotting digital innovation's impact on huge segments of the worldwide economy — including finance and cryptocurrency.
Tapscott, who is among almost two dozen speakers on the summit program, has tracked digital influence and impact for decades, going back to the 1980s. His most recent book, written with Alex Tapscott, is The Blockchain Revolution: How the Technology Behind Bitcoin is Changing Money, Business, and the World (Penguin Books, 2016). His TEDTalk, "How the blockchain is changing money and business," has more than 2.9 million views on YouTube.
A showcase of startups and entrepreneurial companies will highlight the summit's second day, says Bryan Chambers, director of Blackstone LaunchPad at UT Dallas. Entrepreneurs will demonstrate how they are leveraging machine learning, artificial intelligence, blockchain, distributed ledger technologies and IOT/mobility to build the next generation of technology companies.
A sample of innovative startups at the showcase include Swirlds (inventor of Hashgraph), Nano Global, AmplifAI, Smarter Sorting, Parkhub and RoboKind.
Goldman Sachs and Roger Wilco are lead sponsors of the event along with UT Dallas Naveen Jindal School of Management, Erik Jonsson School of Engineering and Computer Science, and the university's Institute for Innovation and Entrepreneurship.
Tickets are available for purchase and required to attend all events on April 18 and April 19.
For information about the event, contact Sarah Crowe, Blackstone LaunchPad program manager, [email protected] For a complete list of events, locations and ticket prices, go to the Emerging Technologies Summit website. 
Get on the list.


Dallas Innovates, every day. 

Sign up here to get what's new and next in Dallas-Fort Worth.