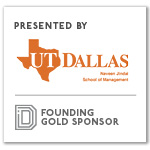 The new Human Resources degree at The University of Texas at Dallas will include innovation as a core concept, in recognition of what's driving today's North Texas economy.
"We did make one change that administrators feel is important  — and in line with educating graduates to be innovative and proactive," said Jeff Weekley, PhD, the clinical professor at Naveen Jindal School of Management who is heading up the new bachelor's degree. He said the curriculum is largely based guidelines set forth by the Society for Human Resource Management (SHRM).
"The SHRM recommends 'labor relations' as a core and 'change management' as an elective. We flipped those," he said. "The pace of change in business is occurring at a rate never before seen. Companies that can manage those changes effectively have a key advantage over their competitors."
Research is beginning to show the impact of human resources practices on company performance and stock valuations.
According to Weekley, research is beginning to show the impact of human resources practices on company performance and stock valuations. "If you get it right, you can generate a lot of excess value," he said.
Classes will be taught by faculty with industry experience.
"The folks who are teaching the core are all pros, so it's not just words from a textbook," Weekley said. "They will be able to teach the students how it's actually done."
The BS/Human Resource Management will prepare students for careers as compensation analysts, recruiters, training coordinators or employee relations specialists, all roles that offer advancement.
"Nothing gets done in an organization without the right people in the right place and right time with the right skills who are focused on the right things," Weekley said. "They think through the people implications of the business strategy and make sure the right human resource systems are in place to produce the talent needed to execute it.
"If you project the demand for entry level HR jobs here in DFW, the shortfall is about 600 employees."
JEFF WEEKLY
"A company could have the best strategy and the best products in the world, but it will not go anywhere without the right people," Weekley said.
An advisory board of chief human resources officers from various companies, including Texas Instruments, Lennox, State Farm and Cinemark, has reviewed the curriculum. Students will be able to visit those companies and hear from industry leaders. 
"The program's advisory board members have all generously volunteered their time because they believe in the mission," Weekley said. "They've all confirmed the gap between demand and supply. In Texas, there are about a dozen or so HR management programs, but they're almost all south of the Metroplex. If you project the demand for entry level HR jobs here in DFW, the shortfall is about 600 employees."