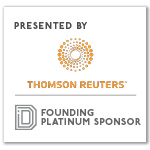 There's a lot to be gained by letting go.
That's one message, at least, from Thomson Reuters' tax and accounting technology Unconference and Hackfest. The event's flexible structures made for a freewheeling three days of development and exploration.
"[The] three days are about investing in ourselves to continue to develop new skills and grow as individuals, engineers, and one global team," Tim Vanderham, chief technology officer for Tax & Accounting and sponsor of the events, said at the outset. "I set a challenge to my team to come together in our local and global communities and accelerate our learning in areas like artificial intelligence, blockchain, and cloud computing — and then take those learnings and rapidly build solutions."
What is the point of an Unconference?
First, on July 26, 1,500 technology employees from Thomson Reuters' Tax & Accounting took part in a global "Unconference" — 200 employee-led learning sessions that spanned 13 hours from southern India to the west coast of the U.S.
Kumar Unnikrishnan, a development director based in Carrollton had been interested in the Unconference model for a long time. Unlike a traditional conference where everything is pre-planned, an Unconference doesn't have a central decision maker. Participants can host and attend learning sessions on topics that reflect their interests.
Unnikrishnan said letting participants decide what gets presented, shared and covered is a democratic way of engaging employees.
"We have a lot of talented employees here," he said. "In a controlled environment, a lot of people don't get to explore their passion. To me, an Unconference is about giving everyone a platform they might not otherwise have."        
Kumar Unnikrishnan
The Unconference encouraged employees to network and learn about skills and interests their colleagues might not otherwise get to display.
"It was a great opportunity to get to know our coworkers better, in terms of interests and background, and be in touch with new technologies," said Jaime Nakamura, a project manager in Sao Paolo, Brazil.
Cariad Eccleston, a software development engineer in Exeter, U.K. said she appreciated getting the chance to see her colleagues lead sessions.
"There's so much reward in letting people get up, talk about their passion, and build their confidence. It's not just rewarding to the individuals, but to the business, too — even when the session leans towards a personal technology interest rather than a purely tax and accounting interest. These events cultivate confidence as much as knowledge-sharing, and it's so important to give our people that boost."
Tax and accounting technology Hackfest
The day after the Unconference over 600 participants formed 91 teams to take part in a 36-hour Hackfest. Teams had to solve a technology-related problem or reach a goal of their own design focused on innovating for customers.
"Working with different APIs [application programming interfaces] and technologies helps you understand what makes good technology — what makes good documentation, what are good tools, and what is a good way of organizing teams," said Sangeetha Anand, an Agile transformation coach and project manager, also based in Carrollton. "In short: all the ingredients that help you get results quickly."
"For me, Hackfest proved to be a very exciting and refreshing experience," said Shane Brayton, a lead business analyst in Ann Arbor, Michigan, whose team took home first place. "Teams were able to sit together in a single room while removing ourselves from our everyday distractions, allowing us to focus 100 percent of our energy on brainstorming and building something that could be of real benefit. I left Hackfest feeling motivated and energized by the creative and collaborative environment it created"
The three winning teams took home $5,000; $3,000 and $2,000, respectively.
---
#WorkingAtTR
To search our technology jobs in Carrollton (and beyond), go here.
Thomson Reuters is the world's leading source of news and information for professional markets. Our customers rely on us to deliver the intelligence, technology and expertise they need to find trusted answers. The business has operated in more than 100 countries for more than 100 years. Thomson Reuters shares are listed on the Toronto and New York Stock Exchanges. 
This post was originally published on the Thomson Reuters Innovation blog. To view the original, go here. 
---
Dallas Innovates, every day