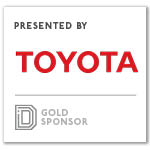 Toyota was recently awarded the Boys & Girls Clubs of America's prestigious Chairman's Award, presented annually to recognize a corporation or foundation that has placed service above self and made a positive difference in the lives of children.
Mike Groff, Toyota Financial Services' President and CEO and BGCA National Trustee, accepted the award for Toyota on June 11 at the annual Southwest Youth of the Year Celebration. Past Chairman's Award winners in the Southwest Region include Texas Instruments, the Dallas Cowboys, and AT&T.
"Together, we've aligned our organizations to make a powerful impact on the lives of young people," Groff said of the 10-year partnership Toyota has had with BGCA. "We work to close the opportunity gap for our nation's youth—ensuring that potential isn't defined by a zip code. And, together, it is our top priority to build tomorrow's leaders, through programs like Youth of the Year."
"We work to close the opportunity gap for our nation's youth—ensuring that potential isn't defined by a zip code."

Since 2014, Toyota has invested $17 million as the Signature sponsor of the BGCA Youth of the Year program, the BGCA's premier recognition for teen Club members who have made outstanding contributions to their family, school, community, and local Club while overcoming personal obstacles.
And for the past seven years, Toyota has donated brand new Corollas to National Youth of the Year winners, along with financial support to offset the costs of vehicle ownership. This year will be no exception.
"At Toyota, we encourage people to 'Start Your Impossible.' We want to inspire everyone to dream big and to believe that with humility, hard work, and a never-give-up, can-do attitude, you can achieve more than you thought possible," said TFS' Karen Ideno, Vice President of Product, Marketing, Corporate Social Responsibility, and Communications, and also a BGCA National Trustee. "We're so excited to see these young people 'starting their impossible' and we're honored to play a role in getting them there."
In addition to the Youth of the Year program, Toyota has given $3.2 million in scholarships to BGCA, and 400 Toyota team members serve as mentors to BGCA youth, donating over 30,000 hours of their time since 2010.
Last year, in the wake of Hurricanes Harvey and Irma, TFS and its partners at Gulf States Toyota and Gulf States Financial Services donated 32 vehicles to impacted Clubs.

Get on the list.
Dallas Innovates, every day. 
Sign up to keep your eye on what's new and next in Dallas-Fort Worth, every day.