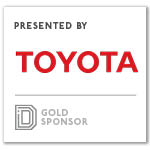 With technology advancing and the automotive industry experiencing immense changes, now more than ever, companies are seeking ways to adapt and innovate, and Toyota is edging toward the inside track.
Toyota understands diversity and inclusion are key business drivers, and is investing in opportunities that help build a broad scope of strong, innovative talent pools across the company, reflecting the diverse markets they serve.
This includes robust scholarship and internship programs like the Rainbow PUSH Excel program. Offered through a partnership with Rainbow PUSH, a multi-racial, multi-issue, progressive, international membership organization formed by Reverend Jesse L. Jackson Sr., this scholarship sponsored by Toyota offers 10 STEM (science, technology, engineering, math) or business field students each $75,000 over three years to follow their dreams. To round out their experience, the program includes an internship at a Toyota facility in North America and mentorship opportunities with Toyota's management team.
Tina Watson, Dreamer & Doer 
Rainbow PUSH Scholar Tina Watson (pictured above) experienced this opportunity first hand.
Born and raised in Chicago, Tina grew up among a culturally and economically diverse environment. As a non-traditional student, her passion for education and dream to work at a major corporation focused on higher education, led her to pursue a degree in business management at Fisk University in Nashville, Tennessee.
While at Fisk, Tina was determined to explore every avenue that would help make her dream a reality. After a rigorous application and interview process, Tina earned her Rainbow PUSH scholarship and the opportunity to intern at one of the Toyota facilities in North America, offering a real-world experience. Her insight and level of participation in the program did not go unseen.
Having completed her internship and graduated from Fisk University, Tina now proudly serves as an analyst college recruiter for Toyota Motor North America College Programs, mentoring scholars who are currently pursuing their very own dreams.  
Tina's success and Toyota's partnership with Rainbow PUSH is evidence that when you challenge what's possible, you drive success. Transformational and innovative programs like Rainbow PUSH create pathways to jobs, strengthen businesses and strengthen the communities they serve, helping Toyota reach their ultimate goal of financial and socioeconomic mobility for all.
Toyota is proud to celebrate Women's History month and our inspiring team members who are building your vehicles across the U.S.