Five days.
One customer.
Eleven "hackers."
Thirty working sessions.
The Dallas office of Thomson Reuters unveiled its newest concept designed to support customer-driven innovation: the Hack-a-shop. Companies win the battleground of innovation by uncovering meaningful insights about their customers and turning those insights into amazing experiences quickly, which is why we're designing our innovation activities for rapid experimentation and maximum customer input. With the help of Peter Pircher, head of the Catalyst Lab, an innovation team within Thomson Reuters, we introduced this new format.
What Is a Hack-a-Shop?
So what's different about a Hack-a-shop, especially compared to a hackathon (recently discussed in our previous article here)? Part hackathon, part workshop, this hybridization unites the best of both events: idea generation and rapid prototyping along with customer insights and market validation.
While hackathons are energizing and action-packed, you'll rarely find product managers, sales, customer support, marketing professionals, or customers present to help you solve customer challenges. A Hack-a-shop invites these players into dialogues and brainstorming about specific topics while offering the collaboration and technical problem solving found in hackathons.
Companies win the battleground of innovation by uncovering meaningful insights about their customers and turning those insights into amazing experiences quickly.
The beauty of the Hack-a-shop is that we were able to explore user personas, use cases and value propositions, as well utilize concepts from lean experimentation during the week. Developers heard firsthand about customer problems. Product managers and an actual customer saw concepts evolve from flip-chart drawings to live prototypes with the customer's own data running through the engine.
The agile nature of this team engagement allowed for accelerated learning and much more detailed feedback about product opportunities.
What Does It Take to Pull off a Good Hack-a-Shop?
Be ready the first hour. This puts a heavy burden on the facilitators but will be very important. Get access to data, address any infrastructure set-up requirements, and outline each session; these steps should be completed in advance as much as possible.
Creative and open collaboration are keys to the success of any Hack-a-shop. Participants need to be ready to step out of their comfort zones. Customers and techies rarely sit at the same table, but here you'll make the customer an honorary member of the team. Peter Pircher, head of the Catalyst Lab, highly recommends that "you need to facilitate the ability for this hybrid team to bond quickly."
In our first Hack-a-shop, Pircher encouraged participants to open up by gamifying participation. Points were awarded for use cases, presentations, demos, feedback, and being punctual. A friendly challenge evolved throughout the week leading to a strong foundation for the three-month project.
Below is a chart detailing our considerations for our Hack-a-shop, a framework you can use to help yours take off: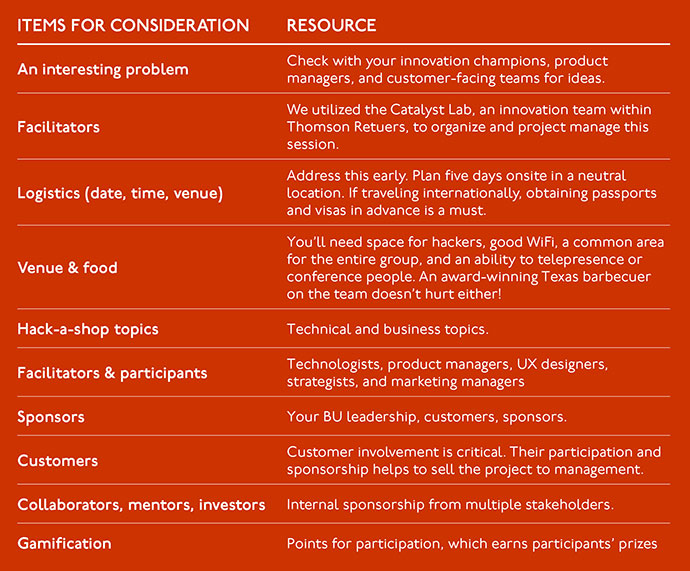 When you're able to not only test the technical feasibility but also the market desirability, you begin to accelerate innovation. We're all looking for ways to accelerate innovation and improve our successes, which is perhaps why I'm such a proponent of this concept.
Pircher echoed my feelings when he said, "A Hack-a-shop feels like a logical extension of the lean experimentation innovation format."
Bringing teams together to hack an opportunity with the customer present is the essence of innovating in real time. As we continue to look for ways to out-maneuver the competitive forces in Dallas today, it will be these types of innovations that will give us a competitive advantage.
---
Careers at Thomson Reuters: 

Discover opportunity on a global scale
Bring your passion: Build a career without boundaries. Do work that matters, with the flexibility to pursue your passion wherever it leads. Bring your ambition to make a difference. Thomson Reuters bring a world of opportunities.
Start your

job search

here.