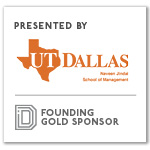 Startups: Off the charts on ideas and experience; needing talent to implement awesome visions.
College students: Off the charts on skills and abilities; seeking experience to prepare them for a future career.
Put them together in one room: Matches made in innovation heaven.
---
For the third year, The University of Texas at Dallas held an internship fair designed specifically for startups to harness the power of agile student minds. Many of the startups represented at the fair offered little to no pay for interns but what the fledgling companies provided in experience was priceless to those students looking toward their own entrepreneurial future.
"Dallas-area startups need talented young workers, with skills ranging from design to development to digital marketing," says Steve Guengerich, executive director of UT Dallas Institute for Innovation and Entrepreneurship, which hosted the two-hour annual event. "And our students want real-world experience working in a nimble, new venture."
"When we help the next generation's startups, we've done our job"
Steve Guengerich
The result is a win-win-win — for the startups, for the students and for the greater Dallas area, which is listed, depending upon the survey, somewhere in the top 20 of U.S. regions for startups.
"This annual fair provides a unique marketplace for two groups of people that need each other most," Guengerich says. "It's an essential part of the institute's mission to serve as a connector between the university and the greater Dallas/North Texas region."
Students and young organizations were required to register and take part in the event. The 24 ventures that attended represented market segments ranging from fitness to childcare to nonprofit management to integrated circuit development.  
Jonathan Hufnagel, founder of DASH, Digital Auction Showdown, was one of the attendees. "During the entire evening, I had students constantly walking up to me and introducing themselves," Hufnagel says. "Every single student was approachable and confident. It was a real pleasure to meet a ton of really smart students."
"When we help the next generation's startups, we've done our job," Guengerich says.
This is just one of the many events the institute sponsors each year for the startup community. Several events, such as the Commercialization Bootcamp and the Venture Development Incubator Program, are open to the greater North Texas community. (Entrepreneurs must apply to be accepted into the nine-month incubator program. Those applications are due August 25.) Other learning events are open only to UT Dallas students or alumni.