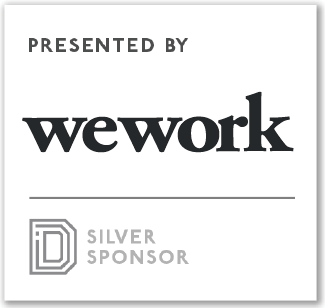 In 2005, Brad Neuberg kick-started the space sharing movement in San Francisco. The concept of merging independent stand-alone offices with shared workspaces was always his vision. However, not all people embraced or even understood the idea, but Brad had a vision and that was to revolutionize the industry.
Fast-forward to 2019 where coworking is now booming. Professionals from all walks of life are leaving traditional offices for shared office environments. A new generation of consultants, freelancers, entrepreneurs and even enterprise level companies are realizing the value of collaborative workspace. This amazing concept has taken hold across almost every industry, including our digital marketing agency.
So, why are all these businesses and individuals adopting this burgeoning concept? While the reasons will certainly vary from person to person, I'd like to share with you my top six.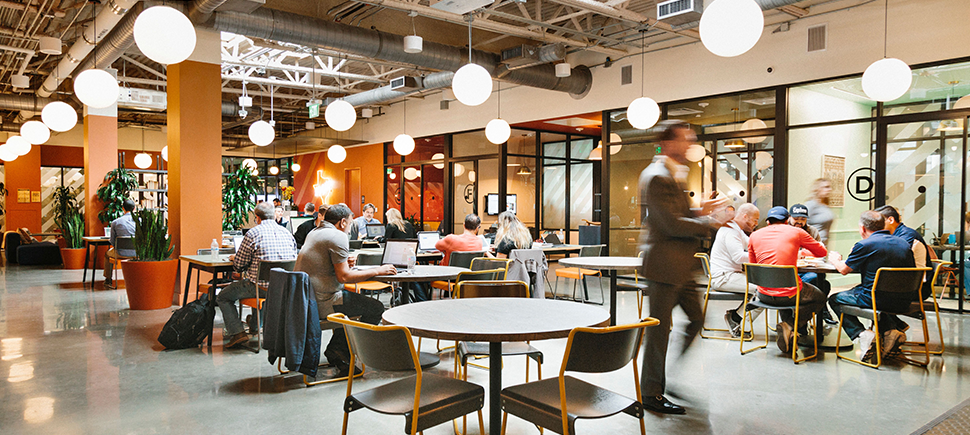 Learning from Leaders
WeWork at Legacy North, where I office, has an auditorium in the center of the space. It also happens to be right next to the kitchen where I get my coffee fix each morning. If I have time and a speaker is presenting, I'll stop and learn about their business. The opportunity to learn from thought leaders first-hand is invaluable. You can collect meaningful insight into their business and uncover potential marketing opportunities they may find equally valuable.
Collaboration and Marketing
As a marketer, I can't think of a better way to build and grow with an ecosystem of professionals. Regardless of where you go throughout the coworking space, you are going to run into enthusiastic and energetic professionals that are excited to share their various passions. The opportunity to strike up a conversation and build a lasting professional relationship is literally right around the corner.
Infectious Energy
In contrast to traditional office space, the energy in shared workspaces is off the charts. Many of the folks working here are entrepreneurs and industry experts that are constantly pushing the envelope of what is possible. Their energy for the workday and enthusiasm for life are contagious. It will certainly give you the boost you need on those days when coffee simply isn't enough.
Minimize Expenses
Leasing your own office space is expensive. Plus, finding an "affordable" location that has just the right amount of space you need is nearly impossible. The beauty of coworking spaces like WeWork is that you pay for the space you need. Amenities like Internet, cleaning and mail are included in the monthly rent. As a bonus, you also get access to conference rooms, private phone booths, and expansive, living-room like communal spaces.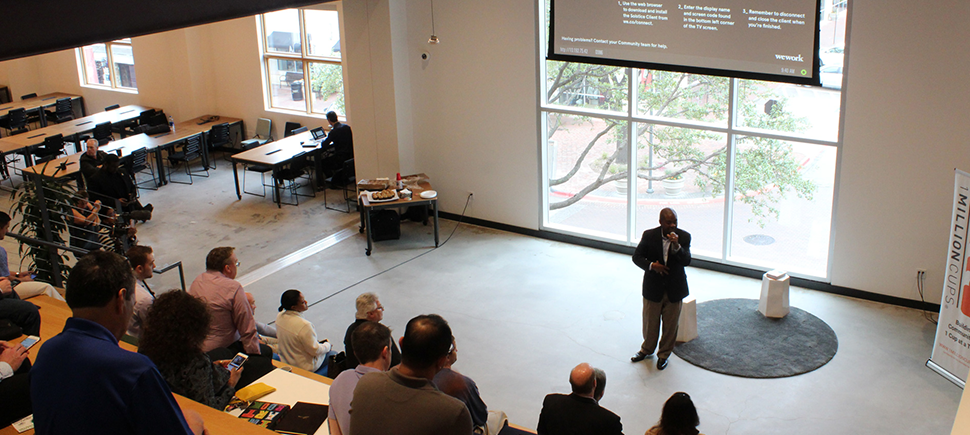 Perks
There are several perks offered by the coworking space that help it become the tight-knit community it's intended to be. As part of your space rental, you get access to complimentary refreshments such as coffee, beer, and WeWork's famous fruit water. There are also a number of hosted events and guest speakers to provide further opportunities to engage with others in the business community.
Morale
Working in this type of space just feels better to me, but don't just take my word for it. According to global research by Deskmag and Deskwanted 75% of workers are more productive. In addition, 80% have a larger business network and a whopping 92% have a larger social network as a result of these coworking spaces. People also claim to be more productive and generate higher revenue.
Coworking spaces are opening up at an unprecedented pace in big cities across the country, but none faster than my backyard–Dallas, TX. According to Dallas Business Journal, these flexible workspaces have doubled in just the last 18 months.
There are so many coworking locations and companies to choose from it can be a bit overwhelming, but after my first visit with to WeWork my decision was made. It seems like the brand name itself, WeWork, subconsciously or consciously fosters a culture of unfamiliar people working together towards a common goal–to succeed at doing what they love.
If you couldn't tell, I'm a huge fan of my office and am excited about the potential it provides our digital marketing agency. Together happy minds definitely create brighter ideas.
With 9 locations across DFW, WeWork has more space for more companies just like yours! Book a tour today and see how WeWork can give your business the space to grow.
This article was written by WeWork member, Benjamin Neupert on behalf of WeWork. Learn about how his agency, Edesen can help make your brand brighter at edesen.com.
All images: Courtesy WeWork

Get on the list.
Dallas Innovates, every day. 
Sign up to keep your eye on what's new and next in Dallas-Fort Worth, every day.