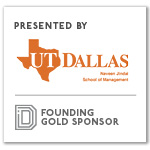 At any time, about $825 billion is due to small businesses across the United States. That's equivalent to about 5 percent of the nation's GDP.
Collbox cofounders Cameron Desautels and Matthew Darner say it's really worse than it looks. Of that, about 81 percent is more than 30 days past due — and of that astronomical figure, only $200 billion is ever sent off to a collections agency.
"The average small business has less than a month of financial runway," says Desautels, CEO and cofounder of CollBox. Not collecting accounts receivable, as they're known in the accounting world, can mean the difference between survival or failure for a small business.
Into this bleak picture, Desautels and Darner, both alumni of The University of Texas at Dallas, started CollBox, an online collections tool that helps companies using cloud-based accounting software. With a few clicks, a business can connect to a collection agency that has been vetted by CollBox.
Many businesses, when trying to collect on their past due invoices, find that collection agencies are not transparent about their success rate — industry watchers say that of the $200 billion that gets sent to a collection agency, only 16.5 percent ever gets collected — just $33 billion. In addition, the hurdles to even getting started are substantial.
Collection agencies negotiate fees, says Darner, CollBox cofounder and vice president for business development. Also, some have better success rates than others. And, he says, collection agencies typically focus on certain market segments — say construction or digital advertising or landscaping.
And then there's faxing — many collection agencies still operate by faxing documents back and forth. CollBox operates completely on the cloud.
"Our agency partners report back to us on a regular basis on the status of each collection and we report that to our customer," Darner says. "Typically, our users don't need to interact with the agency unless they have a specific issue or question."
The CollBox platform also retrieves important data.
"Because we're between the customer and the agency, we get the actual success metrics," Darner says. When a prospective CollBox client submits a bill for collection, machine intelligence that has been built into the CollBox platform will push that account to the agency that data shows is most skilled at collecting that type of bill. In addition, success rates will be tracked and, possibly just as important, client businesses let CollBox know if they have issues with the agency's tactics.
Attention CollBox Has Received  
The CollBox concept is so simple and simply elegant that it has earned two cash awards — a $50,000 prize in the QuickBooks Connect Hackathon in 2015 at which CollBox was named the grand prize overall winner, and most recently as the Spring 2018 UT Dallas Seed Fund recipient.
The UT Dallas Seed Fund is part of the graduate and undergraduate entrepreneurship Seed Fund Support classes, ENTP-6V99 and ENTP-4V00, in the Naveen Jindal School of Management. These classes teach students what it's like to work in a venture capital organization, from recruiting candidate firms to making final recommendations to a Jindal School investment committee.
Startups from students, alumni, faculty or staff are eligible to submit their business concept to the UT Dallas Seed Fund, which is managed by the Institute for Innovation and Entrepreneurship. This past spring, CollBox was awarded $25,000 by the class.
"Collbox is a good model for an investment opportunity that complements our teaching objectives at Jindal School," says Steve Guengerich, chairman of the UT Dallas Seed Fund and executive director of the institute. "They have a completed app that is available in Intuit's Quickbooks app store, early customer traction, and a giant market opportunity experiencing a clear problem for which they represent a novel solution."
Darner and Desautels, who met while UT Dallas students, are working full time on CollBox and have moved to Austin to be part of the Capital Factory accelerator program. In the first quarter of 2018, the company averaged 101 percent increase month over month growth in dollars sent to collections through the platform.
Using CollBox is free to the company with bad debt; CollBox earns its revenue by taking a portion of the collector's fees. Darner notes that earlier the better in the collection business. "The older a debt gets, the lower the chance of collection and, thus, its overall value." CollBox is making that first step to collections an easy one.

Get on the list.
Dallas Innovates, every day. 
Sign up to keep your eye on what's new and next in Dallas-Fort Worth, every day.