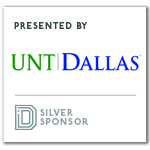 University of North Texas at Dallas professor Syeda Jesmin and her STRONG organization are working to have a profound impact on changing the conversation about suicide and mental health on campus and in the surrounding southern Dallas communities.

Jesmin, a medical sociologist/social epidemiologist, is an associate professor of sociology. Last December, she was awarded a three-year, $303,000 grant from the Substance Abuse and Mental Health Services Administration (SAMHSA), funding that will support a comprehensive public health approach to improve mental health at UNT Dallas and the surrounding southern Dallas communities.
The project received the moniker STRONG from her students, standing for Students and Teachers Reaching Out and Never Giving Up. Through the implementation of innovative programs such as suicide prevention training "Kognito," STRONG's goal is to increase awareness of UNT Dallas students, their families, faculty and staff members about suicide, depression, serious mental illness and/or substance use disorder.
1. The Substance Abuse and Mental Health Services Administration (SAMHSA) grant focuses on suicide prevention and mental health promotion. Speaking specifically about suicide prevention, why do you believe that while detecting risk factors for suicide, such as depression or severe traumatic stress, does it not make it easier to predict which people who exhibit those risk factors will ultimately attempt suicide?
It is a popular myth that people who die by suicide have experienced depression or serious traumatic stress. In reality, not all people who attempt or die by suicide have a mental illness. Research shows that only about half of the people who died by suicide had a known mental health condition.
Popular discourse tends to describe suicide as predominantly linked with mental disorders because we live in a medicalized society and rely heavily on biomedical models. Biomedical models assume that mental disorders are brain diseases. This approach is highly criticized by sociologists as research shows that the causes of suicide are much more complex. A high suicide rate is symptomatic of large scale societal problems. Data indicates that the rates of suicide increase during periods of economic crises, when unemployment and poverty rates tend to rise. Suicide rates are, in general, high among vulnerable groups who experience distressing life events or chronic life stresses such as unemployment, relationship breakdown, discrimination, being in debt or social isolation, criminal/legal matters, trauma, sexual abuse and rejection. Many suicides happen impulsively in moments of crisis when people feel they do not have control in their lives or there is no meaning or hope, and they cannot deal with such life stressors anymore.
2. A recent article in the Dallas Morning News reported that suicide rates for young Hispanic and African American males in Texas is on the rise. UNT Dallas is located in southern Dallas, a region which has high minority and low-income populations, and lacks sufficient mental health care facilities. Considering that, how crucial is it to bring suicide prevention methods onto campus and directly to students, many of whom grow up with trauma.
I am not surprised with this news. Mental health, mental disorders and suicidal ideation are shaped to a great extent by the social, economic and physical environments in which people live. The rising suicide rates among these minority young males suggest their greater exposure and vulnerability to unfavorable social, political, economic and environmental circumstances, interrelated with their racial/ethnic identities. They may experience higher levels of relative deprivation and a feeling of hopelessness while they lack access to mental healthcare services and coping mechanisms.
UNT Dallas students and south Dallas residents are, in general, at elevated risks for suicide. About 36% of the adult population has not completed high school. This area suffers significant economic distress, with close to one in every two families living below the poverty level. Unaddressed academic, social and economic conditions in this region pose serious problems for low-income, especially first-generation, college students who attend UNT Dallas.
In the past few years, UNT Dallas President Bob Mong has been meeting with local service providers, such as Metro Care, Methodist Charlton, and Parkland Hospital to discuss the rising mental health incident rates, no official medical drop-off center and fast-rising police and EMS calls, and determine the feasibility of building a mental/behavioral health facility in southern Dallas. For UNT Dallas, addressing the community's needs is critical.
The SAMHSA grant is extremely valuable for us to build essential capacity and infrastructure to promote wellness and help-seeking of all students. Additionally, this grant has helped us to offer outreach to surrounding high schools and communities, more specifically to reach out to those experiencing substance abuse and mental health problems and who are at greater risk for suicide and suicide attempts.
3. As part of the grant, you created the STRONG organization (Students and Teachers Reaching Out and Never Giving Up). What is the goal of this group, and what has participation been like among students, faculty and staff at UNT Dallas, and describe some of the events you have held to bring attention to this suicide prevention?
STRONG utilizes a wide range of evidenced-based activities to educate UNT Dallas students and their families about mental health issues and the stigma. We arrange informational presentations, tabling, movie screenings, banner displays, guest speakers, public service announcement competitions, book clubs, mental health screenings and many fun activities. On September 10, we observed World Suicide Prevention Day where a suicide attempt survivor spoke to a large crowd of students about her struggle and recovery, an event that was reported on CBS 11 (CBS 11 also reported on a suicide prevention program implemented at UNT Dallas through STRONG.)
Empowerment of students and faculty/staff is at the core of STRONG's efforts. The goal is to make people talk and realize that there is no shame in asking for help and that we all can play a role in saving lives. In order to build capacity, our Counseling and Wellness Center is hosting suicide prevention gatekeeper trainings for students and faculty/staff members. In the first year, our focus was on campus community, while in the next two years we are going to outreach to surrounding high schools as well.
4. Which methods specifically, do you believe can have the greatest impact on suicide prevention and deserve to be expanded to other college campuses?
Most suicides are preventable. We are heavily relying on peer-to-peer advocacy as a strategy to raise awareness to prevent suicide. This has been proven to be an effective strategy not only for suicide, but also for a wide range of health promotion programs. When students reach out to their peers, they are more likely to be successful in passing the messages since they share similar challenges and experiences on a day-to-day basis. This grant allowed us to procure a computer simulated program for students that uses virtual role-play to help them identify, approach, and refer at-risk peers. We have started a chapter of Active Minds student organization, which is dedicated to involving our students to change social norms and the campus and community environment.
I am very proud of STRONG's achievements so far. Based on our first-year outcomes, I believe STRONG is going to have a profound impact on changing the conversation about mental health on our campus and in the surrounding communities.
5. You are obviously an expert in this field, but has there been a particular discovery or interaction with a person at risk of suicide, or who survived suicide, that has had a profound effect on you?
The overwhelming frequencies at which I hear suicide stories, I get nervous and concerned. The World Health Organization (WHO) predicts that depression is going to be the leading cause of burden of disease in 2030. This alarming figure is a wakeup call for me to engage in research and find out strategies to address this public health epidemic.
A few years ago, I visited a local high school. The school has a beautiful pond and at one corner of that pond they have a nicely decorated peaceful area with plants, rocks and benches. This corner, as the sign says, is dedicated to the memory of the students lost in suicide. I was deeply moved. It might be morbid, but it reminds us of the undeniable scary statistic that suicide is the leading cause of death among high school students. It reminds us that we need to consider adding new strategies to our current approach to youth suicide prevention.

Get on the list.
Dallas Innovates, every day. 
Sign up to keep your eye on what's new and next in Dallas-Fort Worth, every day.