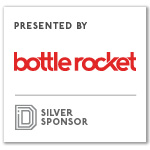 Who would have known that in nine short years, Bottle Rocket would create hundreds of successful mobile experiences (including four Apple Hall of Fame apps…to our knowledge, no other company has more than one), an award-winning authenticated viewing platform, and a culture that brings Silicon Valley to the Tollway? If you're into entrepreneurial success stories infused with passion and accomplished through working hard and playing nice, then you're in for a good read.
THE FOUNDER'S STORY 
It all began with a phone. "Some thought the iPhone was just a sleek new phone, but I felt it could be more," says Calvin Carter, our Founder and CEO. "Being an early adopter of technology, I waited in line for the first iPhone in 2007.  What quickly became clear to me was how this device would change how we do everything." The day after Steve Jobs announced the App Store was open to third-party developers, Bottle Rocket was born. Driven by this exceptionally innovative technology and its immense possibilities, Calvin designed apps on graph paper, worked with local talent to build these apps, and launched nine that first year.
"We were lucky enough to be a little ahead of the curve, which is why NPR, our very first client, partnered with Bottle Rocket to create their first iPhone app in 2009," stated Carter. "Fast forward to 2017 and we were absolutely honored—and very excited—when NPR came home to Bottle Rocket to launch their first foray into the living room with the NPROne Apple TV app. No more sitting in the driveway waiting for the story to finish."
The day after Steve Jobs announced the App Store was open to third-party developers, Bottle Rocket was born.
In a nutshell, that's how Bottle Rocket became one of the best specialized mobile development shops in the country. Mobile is the heart and soul of what we do, and that dedication has helped us launch more than 300 mobile, streaming device, wearable, iOT, AR/VR, voice, gaming, and connected TV experiences for our clients.
BORN HERE, BUILT HERE, NOT GOING ANYWHERE 
In the early days, Calvin worked from a local Dallas Starbucks amid students, other entrepreneurs, and that one guy who's always working on his screenplay. Nine years later, our more than 200 Rocketeers (what we call our employees) now occupy a 49,570 square-foot office right off the Tollway.
Through partnerships with some of the world's most discriminating brands like Coca-Cola, Starwood Hotels, and Chick-fil-A (not to mention many of our Dallas neighbors, including Mary Kay, Baylor Scott & White, and Southwest Airlines), we have been fortunate to grow our experience and lead our industry.
Our ascent from scrappy startup to industry leader did more than take us to our current modern and highly connected office space and earn us a client list that would make even the largest of companies drool—it also attracted the attention of WPP, one of the largest communications companies in the world. In 2013, we joined the WPP family and became part of a worldwide network that is more than 200,000 strong. This new relationship not only strengthened our global reach, but also helped solidify what we already knew—we had become a force to be reckoned with in the mobile industry.  
One of the coolest and most rewarding parts of working in such a vibrant community is what we get to do to give back to this place we call home. We love supporting charities, causes, and organizations that our Rocketeers care about. To us, it's more than simply giving money here or there. Sure, that's a part of it, but even more important to us, is our ability to make an impact on people's lives by sharing our craft and passions.
We host students from neighboring colleges, high schools, and junior highs (and sometimes even elementary schools) to show them the ins and outs of software engineering. We open our doors to industry professionals and partners to host meet-ups, hack nights, and think tanks. We participate in collegiate academic expansion programs to provide hands-on training and mentorship to shape potential future engineers. And one of our favorite things we've been able to do is grant a wish through the Make-A-Wish foundation to an 11-year-old boy who dreamed of developing his own video game. It will be in the App Store later this year.
"We live every day to be the engine that fuels the world's greatest brands, startups, and many in between."
Andrew Sevin
"In the modern startup age of Google, Facebook, and others, Silicon Valley success stories are defined by massive scale and users. On its own—and certainly through the WPP acquisition—Bottle Rocket stands out as a Dallas success story that we take great pride in. We live every day to be the engine that fuels the world's greatest brands, startups, and many in between. We're proud to call Dallas home, and excited to see what's in store for us over the next nine years," remarked Andrew Sevin, SVP of Business Development.
ALWAYS INNOVATING 
Innovation isn't something Bottle Rocket does from time to time. It's who we are. Our constant thirst for innovation and knowledge deeply influences our core values. "I believe in always being restless. We celebrate our achievements, but know we're never done. We're always wondering, 'What's next?'," mentioned Carter. "We love to ask why things are the way they are and seek to find ways to work collaboratively with our clients to serve their users and make the experience better."
Approaching our work like this has led to innovations that bring our clients to the forefront of their industries. Take Starwood Hotels, for instance. We reimagined the hotel user experience and asked tough questions with seemingly impossible solutions. In the end, we removed the check-in process from the equation. That led to SPG Keyless, the first of its kind in the hotel market. And there's more where that came from.
"We were there and ready to go for our clients on Day One with iPad and Android TV. Not to mention Samsung Gear VR, Apple Watch, and more iOS releases than anyone probably even knows exist. We have been very fortunate to have been on stage in Apple and Google's keynotes six times and are one of the first companies ever to be invited into Google's Developer Agency Program," says Carter. "The more you get to know us, the more you'll see that we're into setting the bar for the industry, both in the work we do and the relationships we build. It all comes from embracing the impossible."
One of our most celebrated ways of harnessing innovation is what we call Rocket Science. Every spring, we shut our doors for two days to allow our Rocketeers time to focus on their passions. Part hackathon, part imagination exploration, this innovation extravaganza is a time for us to reenergize while staying ahead of the competition. In just 48 hours, teams form, ideas are born, and prototypes and working models are built. We're talking robot arms, machine learning, and a very important ping-pong-table-in-use sensor. It's an amazing feat and a powerful tradition.
SO WHAT'S NEXT FOR BOTTLE ROCKET?
Where Bottle Rocket came from is interesting, but where we're going next is amazing.  In our next post, we'll explore what lies ahead for Bottle Rocket—we're visiting new realities, pushing the limits of the latest tech, and having conversations with devices. We can't wait to share more!
Learn more about who Bottle Rocket is here. 
---
Dallas Innovates, every day