Everywhere you look around the Health Wildcatters offices at 1910 Pacific Ave., you'll find color, artwork, and an environment intended to stimulate and inspire — something I saw firsthand during a recent tour.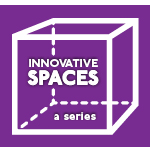 Co-founders Carl Soderstrom and Dr. Hubert Zajicek actually wanted the operation to be in an office tower when they moved the accelerator earlier this year and the Pacific Avenue location fit their needs.
Once the new location was found, "then we began to create something that was fun, whimsical, colorful," Soderstrom said.
For two years, the accelerator operated at 211 N. Ervay St., but it outgrew that office.
The new location offered wide open spaces and sunlight, Soderstrom said, giving the team the ability to create "things that make you go, hmmm," when you see them by utilizing the office's angles, along with artwork and bold colors.
INNOVATIVE SPACES: 
Dallas Innovates goes behind the scenes to take a look at businesses in North Texas that are driving creativity through innovative spaces in this ongoing series.
"The idea was that the space would allow hosting and housing," of the 10-12 health-related startups that go through the accelerator in each class. The startups' creators have access to investors and mentors who can help them achieve success, and Health Wildcatters provides workspaces and offices in which the startups can prosper and grow.
Zajicek recently showed off the accelerator where several startups were busy at work. The most recent class of startups recently ended, he said.
A mentor-driven seed accelerator, Health Wildcatters offers a 12-week program for health-focused startups in their early stages of funding. It also provides access to advisers, mentors, office space, and strategic resources that startups will need to grow.
Zajicek said the space has three main purposes for the health innovation community.
First, he said, "Everyone contributes to the program, so this a meeting place and this a vibrant place to exchange information and to teach these startups."
Secondly, the location has 25 offices and 20 permanent desks for startups to utilize.
"They work from here, they office here, take their meetings here, so this is their shared space, in a way," he said.
"Nothing happens here by accident, it's all purpose driven," he said. "They want to be in an innovative environment where they bump into incredible people who they normally wouldn't bump into."
And third, Health Wildcatters supports roughly a dozen nonprofit health organizations, providing meeting spaces and resources.
HEALTH WILDCATTERS IS THE HEALTH INNOVATION HUB IN DALLAS
"We have 17,000 square feet here and we've created what we call a health innovation hub, so this is also the meeting space of the Dallas health innovation scene," Zajicek said.
There's a large open auditorium and smaller conference rooms where the startups can interact with investors and attend functions, allowing for what Soderstrom calls "collisions to happen" between the startups and valuable resources.
Artwork creates focal points throughout the office space, including a striking blue statue against a red wall that mimics Auguste Rodin's "The Thinker," and a group of men climbing ropes up a wall near the startups' workspaces.
"I was just trying to show it's going to be a long, hard climb."
Carl Soderstrom
"When I found those, it was really thinking of the early stage companies who are trying to find their way," Soderstrom told me. "I was just trying to show it's going to be a long, hard climb."
But Soderstrom, who has a long background in the health-care industry, says he's not done with creating a memorable environment.
"There's plenty of spaces to add creative things," he said.
---
READ NEXT
Innovative Spaces: Sabre Puts Focus on User Experience
Health Wildcatters Gets New Office, 4th Startup Class
Why Lawyers, Investors Analyze Startups in Much the Same Way
---
Delivering what's new and next in Dallas-Fort Worth innovation, every day. Get the Dallas Innovates e-newsletter.