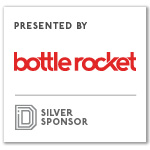 The digital revolution is in full swing. The challenge now is not creating new technologies, but rather innovating within existing technologies to meet the demand of customers living the Connected Lifestyle.
At the intersection of business and the connected user's goals lies opportunity. Bottle Rocket Founder and CEO Calvin Carter calls this intersection the "Connected Lifestyle." Companies that embrace it, he says, will thrive while others will be left behind.
What this means is that every digital customer experience, no matter the industry, is being compared to the likes of Starbucks, Uber, Netflix, and Facebook, among others. In fact, Carter says these national brands are every business's competition—like it or not

Data shows the Connected Lifestyle extends beyond the likes of Gen Z and Millennials. While those young professionals are the most demanding when it comes to innovation (some 69 percent say they consistently seek to buy from the most innovative companies), some 52 percent of Gen Xers and 38 percent of Baby Boomers also seek innovation and connectivity in their customer experience.
Moreover, research from June 2018 ("State of the Connected Customer" Salesforce Research) shows 80 percent of customers say experience is as important a company's products or services; 95 percent say they are more likely to be loyal to a company they trust, and 67 percent say their standard for good experiences are higher than ever.
Carter says for Connected Customers (or employees), digital experiences are as important, if not more so, than the product or service your company makes or sells. And they expect these experiences to be seamless across all digital touchpoints from websites, to apps, to voice skills, chat bots, virtual reality, augmented reality, and beyond.
Bottle Rocket is leading many of the world's most distinguished brands head on into The Connected Lifestyle.
Join Carter during Dallas Startup Week as he highlights his experience building an award-winning experience-based technology company in North Texas. He will take a deeper dive into The Connected Lifestyle and share how companies can overcome the challenges that they will face as they move toward success in this turbulent, and ever-changing world of technology.
To learn more about the Connected Lifestyle, visit Bottle Rocket online.

Get on the list.
Dallas Innovates, every day. 
Sign up to keep your eye on what's new and next in Dallas-Fort Worth, every day.