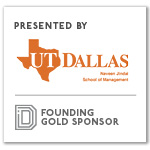 Everyone seems to have a different solution for invigorating STEM education for K-12 students. OnPoynt Aerial Solutions' founders didn't wait around for studies, however. The husband and wife team put together hands-on kits that allow students to open a box, build a drone, and fly it.  
Lo and behold — a lesson on construction, physics, aerodynamics, mechanics and robotics in one box. And the students are learning teamwork, risk-taking, grit, and innovation — without even trying.
The husband and wife duo behind OnPoynt Aerial Solutions
Ron Poynter and his wife, Rebecca Noah Poynter, started OnPoynt in 2012, back in the infancy of drone technology. He says students using the kits often drive their own learning.
"We find that students are really captivated," he says of the students' imagination — they envision themselves as a drone pilot or drone engineer in the future. "The most memorable moments seem to come when a girl, who has never built something like a drone, first launches it into the air. I have seen young women from middle school through high school react the same way. They are thrilled with what they accomplished, and so am I."
Poynter was a helicopter pilot in military and civilian life. He felt that his military experience in the US Army informed his experience in creating OnPoynt.
"The federal government announced future commercial drone legislation in 2012, which essentially transferred drone technology from military to commercial use. My experience in the Army meant I already had a background in aviation, knew the FAA rules and knew how to make safety a priority and keep a calm demeanor when it came to drone flying. This is why our kits include aviation guidelines, best practices, resources and safety equipment."
Rebecca Poynter is a 1986 graduate of The University of Texas at Dallas, so the company she and her husband started had access to the full range of entrepreneurship programs and facilities on campus, starting with its incubator, the Venture Development Center.
UT Dallas connection
"The VDC got us on track to define and reach our core business objectives as OnPoynt expanded rapidly with drones becoming more accepted in 2016," Ron Poynter says. "We still meet with the VDC team. In our regular meetings, the mentors ask what we need to continue growing our business and help us figure it out."
"Rebecca and Ron are great examples of the reach of our resources for startup founders at the Institute for Innovation and Entrepreneurship," says Steve Guengerich, the Institute's executive director. "The Institute exists to sever the widest range of UT Dallas stakeholders, which spans from current students to any UT Dallas alum. It also includes faculty and staff. In short, if you have a connection to this university and you have an idea for a new venture, like OnPoynt did, then we are here to help!"
OnPoynt recently won the UT Design Startup Challenge as a "high-potential startup for its drone racing and gaming system."
"It's been rewarding to watch Ron and Rebecca's business expand through creatively using new technology," says Bryan Chambers, director of Blackstone LaunchPad. "They are passionate about their mission, highly resourceful and dedicate to progress." Chamber says they've taken advantage of a range of UT Dallas support, including technical talent, funding, office space, and mentoring. "We look forward to continuing to support them."
More about the drone kits
Schools and other organizations purchase the everything-included OnPoynt drone kits. Videos on YouTube offer additional guidance. This gives adult leaders like teachers and camp counselors a low hurdle to getting this STEM project in their students' hands.  
As an educational activity, drones harness youthful nature. "Kids are risk-takers," Poynter says, "so when they fly, they like to test 'How far can I go,' 'How fast can I go.' If they're flying a drone they've built, they're incredibly in awe over what they built when it works.
"Even if it doesn't fly, it's a good learning experience for the students to discover what was wrong and fix it themselves."
Another important aspect of the kits is their difficulty level. Poynter says that "students gain a real sense of accomplishment when they can get their drone off the ground, have it do what they want it to do, and get it back on the ground without crashing. Students begin to see beyond the flying aspect and realize it is technology tool used to accomplish a mission."
High schools and universities also are embracing drone racing. Students build drones equipped with video cameras and transmitters to compete in races. "OnPoynt has seen an increase in orders for buildable racing drones," Poynter says.

Get on the list.
Dallas Innovates, every day. 
Sign up to keep your eye on what's new and next in Dallas-Fort Worth, every day.