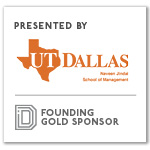 Don Tapscott, the global leader in spotting digital innovation's impact on huge segments of the worldwide economy — including finance and cryptocurrency — will headline the Emerging Technologies Summit at The University of Texas at Dallas. The summit will be April 18-19 at the UT Dallas campus, and will include experts in artificial intelligence, fintech, blockchain and distributed ledger technologies.
Tapscott, will speak on April 18, and has tracked digital influence and impact for decades, going back to the 1980s. His most recent book, written with Alex Tapscott, is The Blockchain Revolution: How the Technology Behind Bitcoin is Changing Money, Business, and the World (Penguin Books, 2016). His TEDTalk, "How the blockchain is changing money and business," has more than 2.8 million views on YouTube.
"Today's thriving economies rely heavily on financial technology, 'fintech,'  yet few users understand its importance to daily transactions, such as online and mobile banking, and its connection to blockchain," says Steve Guengerich, executive director of the UT Dallas Institute for Innovation and Entrepreneurship and a clinical associate professor at Naveen Jindal School of Management.
Guengerich went on to explain that "the goal of the summit is to bring together the pioneers in these areas, to build the ecosystem in the greater Dallas region and to enable the next generation's new ventures."
As fintech, artificial intelligence and blockchain work together and permeate day-to-day activities, corporate leaders have hired professionals who ensure these innovations are implemented in their own operations.
THE SUMMIT PARTICIPANTS AND SPEAKERS:
Leemon Baird, Swirlds Inc: Founder and CTO, inventor of Hashgraph
Raffi Gostanian, intellectual property attorney, blockchain and quantum computing
Peter Hunn, Clause.io: Founder, Accord Project, smart contract expert
Mark Hopkins, Roger Wilco Agency: Founder, IBM futurist and blockchain evangelist
Wes Williams, Goldman Sachs: Global Head – Security Incident Response, Head of Dallas Technology
"We are pleased to be among the presenting sponsors of the Emerging Technologies Summit, to reinforce our deep commitment to being an active ecosystem builder in the fintech and financial services industry generally, and in the North Texas region specifically," said Wes Williams, Head of Goldman Sachs Technology in Dallas.
Bryan Chambers, director of UT Dallas' Blackstone LaunchPad, says corporate sponsorship has permitted this event to include the industry's top thought leaders.
"Other key sponsors and partners, including Nano Global Corp., Texas Capital Bank, Tech Titans, Dallas TiE, Capital Factory and the Dallas Entrepreneur Center have enabled us to get Don Tapscott here. He's truly among the most influential tech strategists in the world."
In 2017, Tapscott founded the Blockchain Research Institute, a Toronto-based think tank that helps organizations understand and utilize the digital economy. It conducts research of the strategic implications of blockchain technology. The institute says it has undertaken more than 70 research projects touching on areas of financial services, manufacturing, retail, energy and resources, technology/media, healthcare and government.
A highlight of the summit, Chambers says, includes a showcase of startups and entrepreneurial companies that will demonstrate their use and impact of technology which leverage artificial intelligence, blockchain, distributed ledger technologies and IOT/mobility. A sample of innovative startups at the showcase include Swirlds (inventor of Hashgraph), Clinc, AmplifAI, Parkhub and RoboKind.
UT Dallas Naveen Jindal School of Management, Erik Jonsson School of Engineering and Computer Science and university's Institute for Innovation and Entrepreneurship are also sponsoring the summit.
Tickets, required for all events, are on sale for both days of events.
Wednesday, April 18
4 – 5:30 p.m. Executive Briefing with Don Tapscott of the Blockchain Research Institute (ticketed event)
6 – 7 p.m. Keynote with Don Tapscott, presented by Goldman Sachs (ticketed event)
7:15 – 9 p.m. Reception with Don Tapscott (by invitation)
Thursday, April 19
7:30 a.m. — 7 p.m. Speakers, panel discussions, breakout presentations, innovation showcase and event specifically for UT Dallas students. Ticket required for all events.
For information about the event, contact Sarah Crowe, Blackstone LaunchPad program manager, [email protected]. For a complete list of events, locations and ticket prices, go to the Emerging Technologies Summit website.
Get on the list.
Dallas Innovates, every day. 

Sign up here to get what's new and next in Dallas-Fort Worth.
And, you'll get the digital edition of the new Dallas Innovates magazine: 
The annual edition publishes in January.