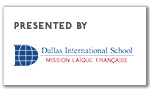 Dallas International School (DIS), an established private international school in Dallas offering a unique multi-lingual and multi-cultural education, has launched a COVID-19 webinar series that will discuss community-related issues surrounding the current COVID-19 global pandemic. The webinar series is set to be held on a monthly basis and will invite a panel of esteemed experts across industries throughout the Dallas-Ft. Worth Metroplex to address matters and explore ways we can work together as a community to curb the spread of the novel virus.
The COVID-19 webinar series kicked off on Thursday, April 30, 2020, to an audience of over 80 members in the Dallas community including doctors, professors, teachers and leaders from companies in the business community. The presiding panel included Catherine Lévy, Dallas International School Head of School, Dr. Andrew Masica, MD, MSCI, SFHM, Senior Vice President and Chief Medical Officer for Texas Health Resources, and John Olson, Microtech Laboratories President and CEO.
The first webinar in the newly created series, titled Reopening During COVID-19, discussed the current COVID-19 case count throughout the Metroplex and how it correlates to current growth rate data, the proposed phase approach to business reopenings throughout the Dallas area, and what the future holds for schools, businesses and healthcare operations in the coming months.
Following insight from the industry experts on hand, the panel opened up for a question and answer period where the audience proposed insightful questions regarding the operations of schools reopening for the next academic year, when would a proposed timeline allow us to resume normal daily activities in full again, and how would this ongoing pandemic change society and the way interactions take place in the future.
When discussing why open communication and transparency toward school and community health practices and procedures are imperative now more than ever, Dr. Andrew Masica said: "Historically, this is never something we've done before as a society. We've never tried to reopen life during an ongoing pandemic, so this is something we can all learn from together."
Businessman and Dallas International School parent, John Olson, agrees and hopes that this webinar series will inform people. "Taking preventive measures is the most important thing we can do right now. I don't know what's going to happen. We need to do everything we can to prevent illness. It's unclear what liability you would have to face for not doing everything in your power to prevent this. This is why discussions like this are incredibly important, so our community can be educated on all matters pertaining to COVID-19," states John.
Agreeing that the new webinar series is integral to the communication process throughout the Dallas community, Catherine Lévy, shares her ambitions for the regular webinar series, exclaiming, "With our dedication to the highest quality education, Dallas International School also wants to establish a forum where information and insights are exchanged between professionals and experts in their respective fields, especially during a time of uncertainty. This is why we created the webinar series and hope that it will foster open communication throughout the community and provide members with the knowledge and information needed to help in the ongoing battle against the current COVID-19 outbreak and all that it entails."
About Dallas International School
Founded in 1987, Dallas International School is the only private international school in Dallas offering a fully bilingual French and English program that also includes a third language in Spanish, Mandarin and German. With its internationally renowned curriculum and multiple language instruction, the school prides itself on a small class size approach, offering students the exposure to diverse cultural views through a rigorous, premiere educational experience. From Pre-School to 12th grade, Dallas International School prepares students for academic competitiveness thanks to its successfully-proven hybrid education system between a French and American-based curriculum. Offering an attractive French Immersion Program (FIP), Dallas International School gives non-native French speakers the opportunity to fully immerse themselves in the French language with the goal of becoming fluent and compelling as strong candidates for college and university placements once they graduate from high school (12th grade). The school also offers a strong Spanish, Mandarin Chinese and German language program. Dallas International School is committed to guiding students to lead fulfilling lives and become global leaders of tomorrow.
For more information, please visit: www.dallasinternationalschool.org.

Get on the list.
Dallas Innovates, every day. 
Sign up to keep your eye on what's new and next in Dallas-Fort Worth, every day.