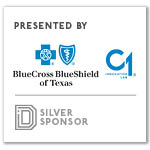 Hourlong meetings sprinkled across the calendar just don't cut it when the challenge is as big and complex as rethinking how employees interact with their health benefits.
That's where the design team at the C1 Innovation Lab, part of Blue Cross and Blue Shield of Texas, comes in. The team guides stakeholders from Dallas-area companies through an immersive three- to five-day engagement—known as a design sprint—to find creative solutions.
"Design sprints are really intensive sessions where we work collaboratively with partners to understand a problem and ultimately solve for it," said Summer Wright-Collins, associate vice president of design and Innovation with BCBSTX. "We're not taking a global blanket and throwing it over everything—we're trying to understand those unique journeys and really solve for those issues."
Design thinking approach
At the start of a sprint, the C1 Innovation Lab design team meets with stakeholders from the partner company to decide which big challenge to tackle. It's always phrased starting with "How might we …?"
For instance, one Dallas-based telecommunications company's phrase was, "How might we better the family planning and support experience by improving coordination and process fragmentation?"
From there, the design team gets to work. The sprint cycle includes some version of these steps:
Interviews. Members of the design team go into employees' workplaces and homes to have deep, personal conversations with them about their experiences. Employees share details about their health journeys that typically aren't available to a company's human resource department. Speaking with the people affected by the problem statement allows designers to more fully understand and better address their needs.
Ideation. After gathering employees' stories, the designers share that information with the company's stakeholders during a three- to five-day, heads-down engagement at the C1 Innovation Lab. Everyone puts their phone down and focuses on the problem at hand. They approach the issue from all angles and scrutinize possible solutions until they select a single concept.
Prototype and pilot. From there, participants build low-fidelity mockups of the solution to see how it would work in the real world.
New approaches to old problems
The Dallas-based company that tackled family planning benefits in its sprint is now piloting a dedicated concierge support team with on-demand access for parents throughout the maternity journey.
"They stuck with us and learned our legal, our supply chain, our governance process and policies and helped us to amend the solution into a way that was actually feasible," a participant from the partner company said. "They're still working with us to this day and will be with us until we launch and finish the pilot of this program."
Other sprints have focused on how to assess workers' risks of developing a musculoskeletal disease and how to better educate front-line workers on their health benefits.
"We want the health care journey to be joyful and fruitful and want people to have what they need to get well and healthy and thrive in their lives," said Wright-Collins. "And we at the C1 Innovation Lab build and create and design things that will help get people there. It's what we do."

Get on the list.
Dallas Innovates, every day. 
Sign up to keep your eye on what's new and next in Dallas-Fort Worth, every day.