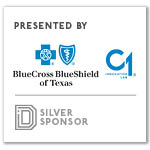 People don't usually think of health care as a creative field. In some ways it's not—diagnosing disease and crafting care plans rely on following well-established best practices.
"Providers lean on best practices, guidelines, protocols and algorithms to identify treatment plans that are most appropriate for their patients. Design thinking gives providers a tool to apply a human-centered lens to the application of those evidence-based practices," said Dr. JoAnn Welch, executive director of operational performance at the C1 Innovation Lab, part of Blue Cross and Blue Shield of Texas.
That's why C1 Innovation Lab is partnering with Dallas-area medical and nursing schools—to help their students approach old challenges in new ways.
The resulting solutions could potentially improve the care of patients for years to come.
Human-centered solutions
The C1 Innovation Lab's operational performance and design teams partner with medical and nursing schools in the DFW area to focus on solving for specific challenges they face every day.
One big opportunity was in asthma treatment. According to medical best practice, every patient should have an asthma action plan in their chart. This tool helps patients self-manage their asthma and is closely tied with asthma outcomes. But at one family medicine clinic, only 10% of asthma patients had a documented action plan on their chart.
Three medical residents, their residency director, and others from the medical school worked with the teams at C1 Innovation Lab to learn design thinking approaches and tackle the problem.
They discovered most asthma uncomplicated patients were sent to a specialist. That adds an extra step for the patient and added cost to the health care system as a whole.
The group, along with experts from C1, closely examined the issue through a design-thinking, human-centered lens and discovered there were many resources at the clinic that weren't tapped for asthma patients.
They created a clinic-wide plan to reach out to asthma patients ahead of their visit to make sure they bring what they need and bring in pharmacists to teach patients to use medications like inhalers to reinforce compliance.
They also developed a digital tool to live within the electronic health record that would show providers, at a glance, a patient's asthma control score and if they had an asthma action plan in place.
The approach is still in the pilot phase at the family practice clinic, but Dr. Welch sees big things ahead for this and other solutions developed jointly by health insurers and care providers.
"These changes can be diffused through the system," she said. "It's about changing the population's outcomes, not just Blue Cross and Blue Shield of Texas member outcomes. It can potentially have a really huge impact on the community."

Get on the list.
Dallas Innovates, every day. 
Sign up to keep your eye on what's new and next in Dallas-Fort Worth, every day.