North Texas is a big place, with plenty to do, see, hear, and watch. So, we scour the internet every week to find events and activities for you. As always, things may change at any time, so be sure to check the official website or registration page for the latest details.
And, if you know of a great event, tell us about it. 
---
THURSDAY, SEPT. 27 

CULT OF THE MACHINE: PRECISIONISM AND AMERICAN ART
Dallas Museum of Art in Dallas
DMA hours
Art and technology intertwine at this new DMA art exhibit. "Cult of the Machine" features pieces from the early 20th century that show how art and culture collided during the Machine Age. Items ranging from a 1930s Coupe to paintings of machines join together to tell the story of an American obsession with technology. The exhibit is already open so feel free to go and check it out today. Runs through Jan. 6.
Tickets are $12 to $16.
To register and find more information, go here.
---
THURSDAY, SEPT. 27
NETWORK AFTER WORK PLANO MIXER
Toulouse Cafe & Bar in Plano
6 – 9 p.m.
All business professionals are welcome to form new connections over food and drinks at this networking event. Meet members of your community in this casual setting while also getting the chance to relax after a long day of work.
Tickets are $15 to $59.
To register and find more information, go here.
—
HAROLD SIMMONS PARK PUBLIC WORKSHOP 7
Bachman Recreation Center in Dallas
6:30 – 8:30 p.m.
The Trinity Park Conservancy's ongoing series of "Reimagine Our River" workshops continue as Dallas community members bring new ideas to the table. Attendees can enjoy refreshments while they brainstorm for the future Harold Simmons Park. For additional events on various days, check out the complete list here.  
Tickets are free.
To register and find more information, go here.
—
HOW TO BE A YOUNG ENTREPRENEUR
WeWork Thanksgiving Tower in Dallas
7 – 8:30 p.m.
Age doesn't have to be a factor in the world of entrepreneurship. Three young entrepreneurs will help you on your path to success by sharing their own diverse entrepreneurial experiences. Panelists include Timothy Hoang, Christiana Yebra, and Bobby Thakkar – who have all become successful at a young age.    
Tickets are $10.
To register and find more information, go here.
---
FRIDAY, SEPT. 28
DALLAS REGIONAL CHAMBER WOMEN'S BUSINESS CONFERENCE
Hyatt Regency Dallas in Dallas
8 a.m. – 2 p.m.
Join attendees at the DRC's 22nd annual Women's Business Conference in discussing concepts such as "the idea of the quintessential woman" and "what culture says about perfection." Keynote speakers include AT&T Savings Plan Operations Director Jennifer Roberts and Fidelity Personal Investing President Kathleen Murphy. 
Tickets are $150-15,000.
To register and find more information, go here.
—
JACOB HASHIMOTO: CLOUDS AND CHAOS
The Crow Museum of Asian Art in Dallas
7 – 10 p.m.
After a multi-million dollar expansion, the Crow Museum is reopening and debuting its first major exhibition in the new space—Jacob Hashimoto: Clouds and Chaos. Numerous public and programs will be held through April 7 in conjunction with the exhibition, including an Artist Talk and Studio Workshop on Sept. 28. 2018 is significant for the nonprofit as it celebrates its 20th year and launches its next chapter as the Crow Museum of Asian Art, a name that reflects a diverse collection and community. 
Tickets are $9-20.
To register and find more information, go here.
---
SATURDAY, SEPT. 29 – SUNDAY, SEPT. 30

REBELCON
Hollow Hill Event Center in Weatherford
Saturday 9 a.m. – 10 p.m. and Sunday 9 a.m. to 4 p.m.
RebelCon will be an event like no other with a music festival, glamping, VR experiences, and much more. Guests can form business connections while having fun at this new entrepreneurial tech conference. 
Tickets are $277 to $697.
To register and find more information, go here.
---
SATURDAY, SEPT. 29
BRAINSTROM SERIES
Mudsmith in Dallas
6 – 9 p.m.
If you have an idea, but you're unsure of how to bring it to life, the Brainstrom Series is here to help. While attendees listen to a featured speaker, a notebook will be passed around in which everyone will write down their ideas. After the speaker is finished, everyone will go through the ideas together to help guests make their dreams into plans. 
Free
To register and find more information, go here.
INNOVATION TEAM DISRUPTION SERIES
Blackstone LaunchPad at UT Dallas in Dallas
7:30 – 10 a.m.
"Extended Reality (XR): The New Reality for Business" will examine different types of extended reality technology such as Virtual Reality and Augmented Reality. Attendees will learn what's new and next along with getting the chance to try hands-on demos.
Tickets are $15 to $20.
To register and find more information, go here.
—
OCTOBER TABLE TOPICS LUNCHEON
WBCS Office Building in Irving
11:15 a.m. – 1 p.m.
The Women's Business Council – Southwest is hosting a session titled "How to Let Go and Let Others Step Up." Speaker Neena Newberry will "help you let go, while helping others develop valuable skills" through five key steps. 
Tickets are $30 to $40.
To register and find more information, go here.
REIMAGINE COMMUNITIES: HARNESSING TECHNOLOGY TO INCREASE ACCESS TO OPPORTUNITY
Capital One Conference Center in Plano
11:00 a.m. – 5 p.m.
This peer learning event explores how technology is changing the way we work, how we learn and where we live, implications of technological innovations in these areas for wealth and income inequalities in the U.S and how technology can be harnessed to reduce inequalities, expand opportunity and promote broadly shared prosperity. 
Topics include
WORKPLACE EVOLUTION
Explore how AI and automation are changing the nature of work, skill requirements and job quality.
EDUCATION AND LEARNING
Explore how technology can support new models of education including remote learning, adaptive learning and immersive learning and prepare youth and adults for the jobs of the future.
CREATING PLACES OF OPPORTUNITY
Spark a conversation on how technology can support entrepreneurship, strengthen transportation connections and improve public services in historically disinvested neighborhoods.
BIG DATA AND ANALYTICS
A dialogue on how we can ensure that big data (and new analytic techniques to process big data) are used to overcome inequalities/discrimination and reveal opportunities to promote inclusion.
Free. To register and find more information, go here.
Credits: All photos, logos, and brand images are the property of their respective owners. Company, product, and service names used on this website are for identification purposes only. Trademarks included are the property of their respective owners.
---
READ NEXT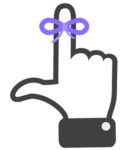 Save The Date: Hedera18, bigBANG! 2018, and Millennial Gala
YOU WON'T WANT TO MISS THESE UPCOMING EVENTS
Fill your calendar with the most innovative events in Dallas. Whether you're interested in attending a workshop, conference or networking happy hour, Dallas Innovates is here to provide you a guide for the who, what, and where of innovation in Dallas. Find upcoming events here.

Get on the list.
Dallas Innovates, every day. 
Sign up to keep your eye on what's new and next in Dallas-Fort Worth, every day.