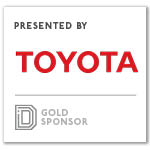 It's the rush when the car first takes to the road after the assembly line. Or the tears of hope when a partially-paralyzed family member walks again. Toyota Scholars' Day presented by Toyota Financial Services in June was about these moments of wonder and discovery.
"I didn't realize Toyota isn't just a car company," said Arianna Akinwunmi, one of 100 scholarship recipients of Toyota's annual Making Life Easier (MLE) scholarship. "I learned there's so much more. It's especially great for my generation."
Through its MLE program, Toyota Financial Services awards college scholarships totaling $1 million to 100 students across the nation each year since 2007. Recipients are selected based on their academic achievement and volunteerism in the community. On June 26, 24 scholars from the North Texas area attended Scholars' Day to meet MLE alumni, attend breakout sessions, tour the company's new headquarters, and celebrate their accomplishments.
At the event, scholarship recipients learned that Toyota is about moving people, whether it's down the road in a vehicle or up the stairs by use of a robotic leg brace.
Breakout sessions – offered to both parents and students – went beyond simply celebrating the immense achievements of these young people. The student session, with previous scholarship recipients and Toyota interns on the panel, provided a safe space for the students to interact, discover, and ask questions about college and life experiences that they may not have felt comfortable asking in front of their parents.
"This was the first time we led this kind of celebration, really focusing on the students and their awareness to the possibilities within Toyota," said Erika Doolittle, national manager of Corporate Social Responsibility at Toyota Financial Services.
Following the sessions, students and their families were led on tours through Toyota's new North America headquarters. One stop included TFS' award-winning Treasury, a state-of-the-art space that fuels cost-competitive funding for TFS. Another scholarship recipient, Kaylin Enyia, said, "I'm most excited for the opportunities in investing and financing. I definitely plan on applying for an internship at Toyota."
As Scholars Day concluded, TFS President and CEO Mike Groff addressed the crowd and shared the history of Toyota, explaining that what started as a loom company, to this day, continues to evolve beyond an automotive company.
"When Toyota introduced the Toyopet Crown to the U.S. market in 1957, it was a disaster – barely had the power to make it up California hills," said Groff." But that didn't stop Toyota. As you embark on your personal journeys entering college, I encourage you to start your own impossible."
And to help these youth start their impossible: each of the 100 scholarship recipients received a backpack stuffed with a laptop and other school supplies. "We are all inspired by your hard work and commitment to the community," Groff said to the students. "We're happy to help play a role in you achieving your impossible with some financial help."

Get on the list.
Dallas Innovates, every day. 
Sign up to keep your eye on what's new and next in Dallas-Fort Worth, every day.