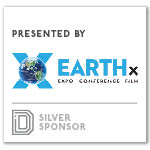 Texas-based non-profit EarthX is hosting the world's largest environmental expo, conference and film festival from April 13-22, 2018, in Dallas. The EarthX three-day expo, five-day group of conferences and 10-day film festival champions progress and innovation by bringing together environmental organizations, businesses, academic institutions, government agencies, interactive programming and thought leaders with interactive and immersive family entertainment, live music and sustainable food pavilions. 400 speakers are confirmed for 2018. Visit earthx.org to register for the 2018 event and receive free admission.
For all details, go here for the event guide.
During the Week
Visit earthxfilm.org for details
Wednesday, April 18
6:30 p.m.: Common Ground presented by EarthxFilm with Farm Aid at Dallas Farmers Market
At this pop-up community dinner, EarthX will bring farmers and ranchers together with those who love food, film, music and community gatherings. Screenings of that agricultural documentaries One Hundred Thousand Beating Hearts (15 min.) and Homeplace Under Fire (29 min.) will follow music and dinner. Ten percent of ticket proceeds go to Grow North Texas and $1 of every ticket sold supplies three meals for the North Texas Food Bank. The $52 price represents the 52-percent decrease in farm income since 2013.
Thursday, April 19
Opening Night for EarthxFilm with The Game Changers
6 p.m.: Green Carpet and pre-reception for Opening Night starts at 6:00 p.m. for patrons with passes and $35 tickets.
7:30 p.m.: The official kick-off of EarthxFilm, this exciting event will feature a screening of Academy Award-winning director Louie Psihoyos' new film The Game Changers. In the film, Psihoyos delves into the world of veganism, demonstrating the benefits to both human health and the environment of giving up animal products. A reception, drinks, and discussion will follow the screening.
It's The Weekend!
Friday, April 20
EarthxGlobal Gala at the Perot Museum of Nature and Science
7:00 p.m.: Celebrity icons and heroes in sustainability and conservation will walk the green carpet at the Perot for the 2018 EarthxGlobalGala. Multiple Grammy-nominated artist Colbie Caillat will perform her hits like Bubbly, Brighter Than the Sun, Try, and I Do.  Confirmed guests include Buzz Aldrin, Kevin Sorbo, Dr. Sylvia Earle, Captain Paul Watson, Harry Hamlin, Dante Wesley, Arthur RedCloud, Miguel Hoffman, Jorge Heredia and the entire cast of the Real Housewives of Dallas. It's eco-star-studded evening that honors visionary leaders in environmental education, film, and television with the Global Impact Awards – presented to Garrett Boone, Nike, Parley for the Oceans, Buzz Aldrin, John R. Seydel III and Danni Washington. The global event is also a family affair, co-chaired by Amy Turner and Jenna Turner Alexander, with their parents Jim and Julie Turner as Honorary Chairs.
April 20-22 at Fair Park
Visit earthx.org to register for the 2018 EarthxExpo at Fair Park and receive free admission. For all details, the event guide is at https://earthx.org/eventguide/.
Listen to the Earth Harp Collective, the world's largest string instrument
Check out the Lifesize Whale (you might need to look up)
Visit the Green Peace Hot Air Balloon, an EarthX exclusive
Tour the Tiny House Village
Try out some new wheels at the Eco Auto Show
Enjoy some great food and drinks (vegan options too!)
Be daring at the Outdoor Adventure Zone — from scuba diving (yes, at Fair Park) to climbing trees (with professional assistance)
Engage in some Virtual and Augmented Reality that can turn you into a tree or take you around the world
Check out brilliant minds work out environmental solutions at the 24-hour EarthxHack
Find some peace at Goat Yoga
Entertain and teach your children about the environment at the EarthxKids Zone
Find your inner filmmaker at EarthxFilm Workshops
Free live music with EarthxMusic, including
Saturday, April 21
Feature Appearance by Sustainable Soundtracks, a new music act from Sweden that is using pop music to raise awareness and stimulate action in the fields of sustainability, ocean sustainability, climate change and more.
12 – 1 p.m.:  Dallas' own Medicine Man Revival
1:30 – 3 p.m.: North Texas cosmic country band, Atlantis Aquarius
3:30 – 5 p.m.:  Austin-based blues and soul man, Black Joe Lewis
Sunday, April 22
12 – 1 p.m.:  Fort Worth's rock/country/funk band, Chucho
1:30 – 3 p.m.: Amarillo native Cody Jasper    
3:30 – 5 p.m.: Austin rockers The Band of Heathens
Where
Various Dallas locations, culminating at Fair Park in Dallas
---
READ NEXT
Earth Day Challengers: Odd Bedfellows Descend on Dallas
Business as a force for good can show the way: An Earth Day gathering challenges leaders to find common ground.
This week in Dallas, Texas, on the sidelines of EarthX—the planet's largest environmental expo, conference, and film festival—[the] organization Future 500 is bringing strange bedfellows together for our next series of conversations that will seek to heal the divides. Democrats will sit down with Republicans (WITHOUT SHOUTING!), and oil company executives will connect with the activists who chain themselves to refinery gates. Our challenge to them all: Find common ground. Prove we can work together to solve challenges and pursue a clean, prosperous future.
---
EarthX 2018
Festival passes and tickets are on-sale now. For more information, please go to earthxfilm.org. For more information, visit EarthX.org/edu.
Get on the list.


Dallas Innovates, every day. 

Sign up here to get what's new and next in Dallas-Fort Worth.